5 Tips For Choosing Timeless Bridesmaid Dresses
For couples who are tying the knot in a formal setting such as a church, house of worship, or a ballroom venue in an upscale hotel, the bride would usually choose a classic and timeless wedding dress. When it comes to bridesmaid gowns, it would be a good idea to choose classic and timeless design dresses. The styles of these types of dresses match well with a traditional wedding theme because their timeless details such as modest necklines and long hemlines reflect sophistication. For classic bridesmaid dresses, it is best to go with a neutral or softer color scheme. Avoid revealing maid of honor dress styles such as sparkly sequin dresses, deep V necks or designs that are too trendy or vibrant to ensure that they never go out of style.
Choosing the perfect bridesmaid gowns for your special day can be overwhelming and daunting. Apart from the endless number of color options, styles and silhouettes to consider, you also have to make sure that the dresses fit and flatter your crew. Everyone has a different budget, preferences and shopping expectations and as the bride, you would want to ensure that everyone looks gorgeous and feels amazing as they walk down the aisle. If these sound a little overwhelming, well do not worry. Here are 5 easy tips that will simplify your maid of honor dress shopping experience and help you choose the timeless bridesmaid dresses for your best friends.
1. Set A Budget
Before you began thinking about the bridesmaid gown styles or colors to choose from, the first step you have to do is to set a budget for the dresses.  Money can be a sensitive topic and if your bridesmaids are paying for the dresses, so do be careful with how you are going to approach this subject with them. Although it is an honor to be a bridesmaid at the wedding, not many will be thrilled to spend big bucks on a dress that they may only wear once. You may want to consider talking to each of your bridesmaids individually about their dress budget. Once you have an idea of what their budget is, you can focus your search on affordable classic bridesmaid dresses that will make everyone look fabulous for a lot less.
2. Choose A Dress Color
After checking out all the popular wedding colors and settled on a beautiful wedding color palette for your big day, it is time to decide which color will best suit your bridesmaids. There are a number of things that you would want to keep in mind when picking a dress shade for your squad:
Where is your wedding going to be held? If you are planning a garden wedding, then soft colors or pastel color bridesmaid dresses are ideal. If you are having a beach wedding, then blue or white bridesmaid gowns will be a good choice.
This floor length dress features ruffles framing the strapless neckline and an cinched waist. This elegant designed lux chiffon bridesmaid dress will definitely turn head. The flowy ruffles add a fun, feminine touch.
You may love the gorgeous hue of burnt orange or dark purple but these colors may not be the best choice for a summer wedding. Similarly, a floral bridesmaid gown may not be appropriate for a winter wedding.
If all your bridesmaids have similar skin tones, then you may want to choose a color that would flatter them.
3. Avoid following the latest trends 
Although crop tops and pattern dresses are the rage now, that does not mean that they will be chic 5 or 10 years down the road. Trends and fashion may go away but pictures last forever. If you want your wedding to be truly timeless, it is important to understand that less is more. Steer clear of anything too trendy or bright that may go out of style in the future. Do not go over the top with sparkles or overly sexy silhouettes.
4. Choose The Right Dress Fabrics 
When it comes to picking out the classic bridesmaid dresses, the choice of fabric is very important. You have to keep in mind the venue and theme of your wedding as well as your bridesmaids' comfort. Are you having a wedding in summer? Then chiffon is the best fabric for summer weddings because it is lightweight.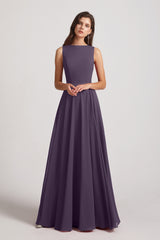 This bateau neckline chiffon bridesmaid dress is ideal for emphasizing the neck and the collarbone. This ageless look is both chic and flattering. The cut of the boat neck is modest, covering the chest and it is the perfect example of looking attractive without showing the cleavage.
If you are having a luxe wedding in the fall, satin bridesmaid dresses are perfect for evening affairs and cold weather weddings.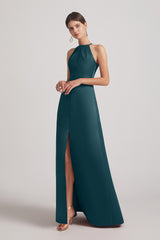 Embrace elegance and sophisticated style with this crinkle high-neck satin gown. This alluring A-line satin bridesmaid dress is perfect for hitting the dance floor and elevates the wow factor.
Timeless does not mean boring. There are many embellishments that you can have on the dress to keep the overall look timeless and classic. For instance, lace bridesmaid dresses that are often thought of as timeless style.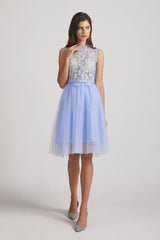 5. Choose Flattering Styles
Go for styles that are amazing and flatter all body shapes. Allow the dresses to show off your bridesmaids' personalities. Below are a few tips for choosing favorable dress styles for your bridesmaids. 
A-line Dresses – Traditional cuts like A-line is universally flattering on everyone. This silhouette looks amazing on any body type because it's fitted at the waist to create flattering angles.
Necklines – Different types of necklines can accentuate certain features. Let your bridesmaids experiment with necklines to create a look that everyone loves. The perfect choice is a convertible bridesmaid dress where your bridesmaids can show off a bit of their personality while looking cohesive.
Bridesmaid gowns with sleeves - If some of your bridesmaids are self-conscious about their arms or prefer a little more coverage on top, then maid of honor dresses with sleeves are here to save the day. Bridesmaid dresses with sleeve are also a good choice for winter weddings. No matter the shapes and sizes of your bride squad, bridesmaid gowns with sleeves feel timeless and sophisticate.