Can You Buy Bridesmaid Dresses From Different Stores?
So you have set the date, chosen the venue and theme, and found the wedding dress that you have been dreaming of, the next step is to ask your bridesmaids.  Once they said yes, it is time to begin picking out the perfect bridesmaid dresses for each and every one of your best pals. They deserve to look amazing out there after supporting you throughout the wedding planning process.
If you think that finding for your wedding dress is tough, well think again. Styling your bride tribe can be one of the most fun parts of the wedding planning but at the same time, it can also be one of the most stressful things for most brides. The bride wants something that fits her vision and style but at the same time, she also wants her best gal pals to feel comfortable and happy. From coordinating colors to styles to varying body types, it can be a difficult task. Finding the bridesmaid dresses is even more challenging especially if your wedding party members are from different geological locations. 
Some brides are known to have shopped for her bridesmaid gowns from different stores. Is this the best option to take? Well, scroll ahead to find out more.  
Buying Bridesmaid Dresses From Different Stores
One of the reasons why some brides choose to buy her maid of honor dresses from different stores is because the store which the bride has picked out the dresses from has run out of the sizes that she wants or cannot deliver all the dresses at the same time. The only solution is to shop for a similar dress from another store especially when time is of the essence.
Another reason is because some of the bridal party are staying out of town, hence this makes it difficult for the maids to try out the bridesmaids' dresses. As such, the bride may leave it to their bridesmaids to buy their own dresses by giving them the swatch color and the design she has in mind.
If you are in a similar situation like the above, this means that your best friends will be shopping for the bridesmaid dresses from different stores. Letting your bridesmaids shop for their own dresses for your wedding day means that there will be less stress for you. It will leave with you much time to concentrate on other things like finalizing on the wedding decor, guest lists and more. In order to ensure that everyone wears the same style, color and texture bridesmaid dresses, there are a few things to keep in mind.
Be specific
Make the dress hunt easy for your bridesmaids and yourself by being clear about what you really want and do not want. If you have a design and style in mind, be very clear about that details like:-
Dress color - If you have a dress color that you want, make sure that you put together a color palette of a few complementary colors for your bridesmaids to choose. This is because a mint to one person may be a different shade to another. It can be difficult for bridesmaids to find dresses in the exact same shade from different stores.
Length of the dress - Bridesmaid dresses come in a variety of hemlines like floor-length, knee-length, mini and etc. If you prefer that all your bridesmaids don dresses in the same length, do let them know. If you really do not mind different lengths, do let them know that too.
Material of the dress - There are chiffon bridesmaid gowns, satin maid of honor dresses, velvet bridesmaid dresses and many more. The different types of material are vast. If you choose to have all of your bridesmaids wearing the same exact color, then having dresses in different materials is a good way to add some dimension to the look. Do be specific on this too because having too many materials can also be distracting.
Style of the dress - If you are having a formal wedding, you do not want your best friends to wear semi-formal dresses. Make sure you let them know the dress code clearly.
The key is to be precise and clear. Before you inform your bridesmaids that they can choose their own dresses, do prepare your suggestions and requirements.
The final check
Give your best friends ample time to find the dress will allow them to get any necessary alterations done if needed. Having a deadline for the final dress check-in is a good idea so that everyone is on the same page before the final decision is made. Ensure that your bridesmaids inform you of their final dress choices before they purchase it to eliminate any last-minute stress.
Pros
Convenience - Your bridesmaids will appreciate your thoughtfulness because they do not have to fly or drive over to your home to try on the dresses. This will help them to save time and money.
Less stress - Having your girls buy their own dresses will takes the pressure off your shoulders.
Confidence - By allowing your bridesmaids to buy their own dresses, they can try them on, see and feel how the dress would look on them. When they feel good wearing the dresses, they will be happy and radiate confidence on your wedding day.
Price - It is expensive to be a bridesmaid. Money is very often one of the biggest setbacks for bridal party. When you let your bridesmaids choose their own dresses, they can find one that fits their budget.
Cons
Although some bridal stores may have similar design dresses, the color and material may differ. When you have your maids buying their bridesmaid gowns from different stores eventhough you have picked out a color and style, it does not make the dress shopping easier. There may be problem with the color like is it close enough to what you want or is the fabric the same? This may cause a lot of unnecessary stress on you as well as your bridesmaids.
Why You Should Buy Your Bridesmaid Dresses From One Store
It is best to order your bridesmaid gowns from a single store. This will help to ensure that the colors and material of the dresses coordinate. Although the color name may be the same and look the same in the photo, it may not turn out to be the same. The dress color may vary due to photographic lighting.
When you order the dresses from the same store, you will also have more control over what styles are selected. Doing so will save you from any surprises at the last minute. You do not want your bridal squad to look disorganized when they turn up wearing dresses that are of different shades and material.
Another reason why you should buy your bridesmaid dresses from one store is the bulk discount. Some stores will offer a good deal since you are buying bridesmaid gowns in bulk.
What To Do If You Cannot Avoid Buying Bridesmaid Dresses From Different Stores
If it is unavoidable that you have to choose your bridesmaid gowns from different stores, the best solution is to have your bridesmaids wear mismatched dresses. The bridesmaid outfits do not necessarily have to match from head to toe. Mismatched maid of honor dresses are one of the hottest trends in wedding. By having mismatched bridesmaid gowns, your maids can choose dresses that complement their body types and complexion. Your best gals can find something fun and flattering for her, whether it is different necklines or hemlines. There are few options on how to do the mismatched bridesmaid dresses.
Same Dress Style in Different Colors
If you have picked out a dress that you really like such as a V-neck tulle dress and want the same same silhouette for all your bridal party, you can still embrace the versatility of the mismatched bridesmaid dress style by choosing different colors.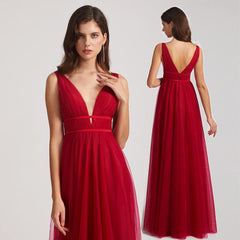 Mix Florals with Color Dresses 
For a stunning look, you can incorporate different designs and colors into your bridal party ensemble by playing with prints. Mismatched bridesmaid dresses with floral prints and neutral colors in different necklines make a chic line-up.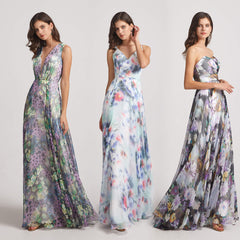 Same Dress Color in Different Shades
If you would like to have your bridesmaids stick to a certain color, you may spice things up a little by having each bridesmaid wear a different hue of that color. For example, if you choose the color blue for your wedding theme, you can have your bestfriends don dresses in a sky blue and navy.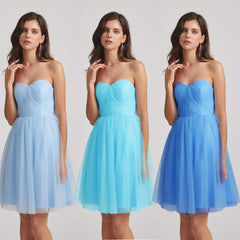 We hope the above tips will help you to make a decision on whether you should buy your bridesmaid dress from one store or from different stores.  
related articles:
Why Spandex Bridesmaid Dresses Are A Good Choice
A Guide to Bridesmaid Dress Alterations