Top 5 Open Back Bridesmaid Dresses
Congratulations on your wedding. Once you have said yes, it is time to start planning on the venue, seating arrangements, wedding dress and last but not least, your bridesmaid dresses. Whether they are your real sisters or best friends, your maid of honors deserve to look just as fab as you do when walking down the aisle. Although shopping for bridesmaid gowns takes less time than a wedding dress, it is still no easy feat because you are dealing with different body types and styles.
While you want to choose a dress that fits your taste and vision, you also want your bridal party to feel good about and most importantly, be comfortable in what they will be wearing. It is your big day but that does not mean that your maids should wear a one-time-only dresses for the occasion. Stick with sleek styles like clean lines, A-line skirts and subdued fabric outfit that your bridesmaids will wear time and time again. One of the most versatile and chic style trends that has been around for the longest time is open back bridesmaid dress.  
Backless bridesmaid dresses make a stylish statement at the bridal party. Wearing a backless gown is a classy way of showing some skin without revealing cleavage or too much leg. Check out this collection of top 5 open back maid of honor dresses from Alfabridal and find out just how easy it is to make your bridesmaid look and feel gorgeous.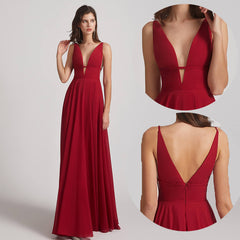 This dress is an elegant A-Line silhouette with a chic plunging V neck in flowy chiffon. A fitted bodice and a deep V in the back gives this dress a romantic look.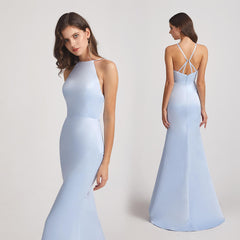 This blue satin dress features a high halter neckline that offers coverage and its dramatic lace up detail shows off the open back. The sheath satin skirt accentuates the figure and is a true statement-maker.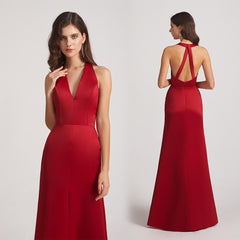 The slim bodice skirt with center front slit and ultra-feminine v-neck highlights the body's shape and femininity. The bodice laced with a center back seam lets you bare some skin.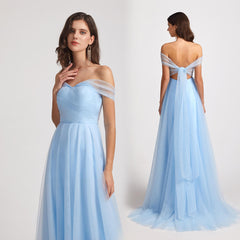 Who doesn't want to twist and twirl around on the dance floor in this beautiful convertible tulle long dress? This dress can be styled in many different ways like the Grecian cross-back wrap above. How very eye-catching!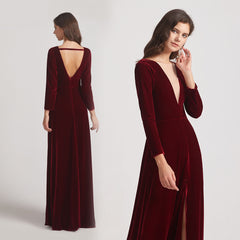 Made from ultra-soft velvet, this floor-skimming long sleeve dress is made for fall / winter wedding ceremony. A plunging open back with a slender tie adds a dramatic finishing touch
Backless or open back dresses provide a classy and intricate details in unexpected places. Definitely a jaw-dropping moment when the maids of honours walk down the aisle with the bride. This style is figure flattering and it is a great way to show off some skin in a way that is modest but flirtatious, sexy but elegant. The open back detail adds visual interest to a simple front.  Backless bridesmaid dresses would be perfect with an updo hairstyle and minimalist accessories. It is a style that your bridesmaids will be excited to wear!