Our boss, Mr Jonathan, has established a wedding dress factory since 2008 to provide wedding dresses, bridesmaid dresses, prom dresses and homecoming dresses customization functions mainly for the online dress website markets. Suzhou has many wedding and prom dress factories and bridal foreign trading companies.  Although the quality of the gowns varies from good to bad, however, it still takes up a large amount of the market share in the special occasion dresses foreign trading. Many websites provide pictures to our factory and then our designers will design the dresses according to the pictures provided. Our skilled tailors will sew and add embellishment to the clothes.  We will decide on the fabric used to sew the dresses based on the cost price given by each company. Many famous bridal shop websites in the market purchase their wedding dresses and wedding party dresses from our factory.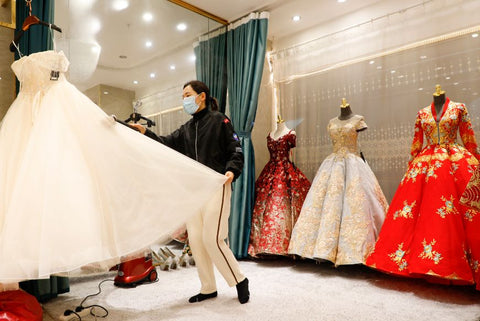 In 2020, our boss decided to build our own website to directly sell wedding dresses and wedding party dresses to customers. However, we have no experience at all in transforming from a traditional manufacturing factory to the new cross border e-commerce. Moreover, it is not the best time to enter the e-commerce industry for bridal & bridal party apparel industry. Five to ten years ago, this industry was easier as workers' salaries were lower, the fabrics cost less and the whole production costs for clothes were lower. And for this reason, all the garment companies were able to sell high quality dresses at a cheaper price. But in recent years, the salaries for workers have increased, fabric prices have also increased, especially lace, and all these factors have caused the price of clothing to increase. To ensure that their prices are competitive in the market, as well as to make profits for themselves, many bridal shop companies have to reduce the cost of their dresses. This has resulted in the frequent occurrence of the website photos and description not matching the actual product. This has resulted in a sharp decline of the reputation of China clothing websites and products made in China.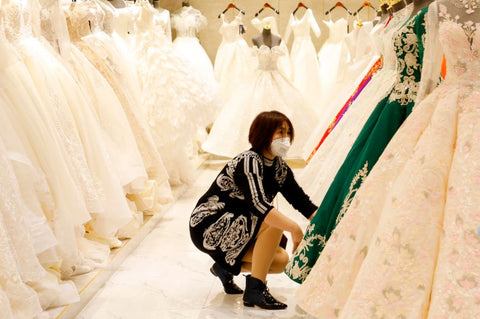 After careful consideration, our boss has made a decision to start trying with bridesmaid dresses.  As wedding dresses involve various lace fabrics, the cost is relatively high. Prom dresses involve embellishments such as crystals, beads, embroidery, appliques and many other adornments. The cost of producing  wedding and prom gowns is relatively higher and the production time is also longer compared to bridesmaid dresses. This is because bridesmaid dresses are often in simple designs, fabric used that is mainly chiffon, simple lace, satin and tulle. Bridesmaid dresses also has their own set of problems. For example, different dye batches will produce different color tones produced on the dresses. This is because of the dyeing process resulting in the fabrics having some colour differences. That's why if a customer wants to buy a set of bridesmaid dresses from us, we will recommend them to place the order together and we will use the same batch of fabric to produce the dresses. Of course the most important thing is the size of the dresses -  we will advise customers to measure their size properly and then choose their own size according to our size chart. Some girls have too big or too small breasts while some have larger hips, we would recommend them to choose custom sizing.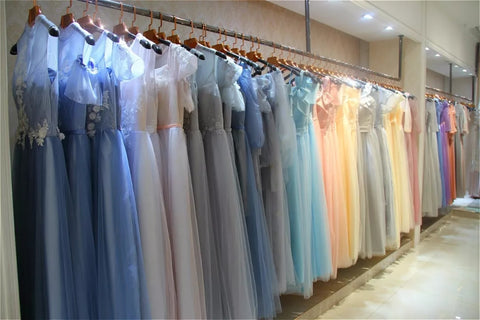 Before setting the price, we researched the prices of all the bridesmaid dresses in the market and then finally decided to set our price at around USD99 per dress. As we have decided to use better fabrics and the production cost is slightly higher, thus, our profit is actually relatively low. And in order to promote our dresses, we have to offer some discounts from time to time, which leads to the reduction of our profits.  Fortunately, we own a factory, thus we are able to save some money from our purchasing costs.  In terms of styles selection, we have listened to the suggestions of our designers and choose simple yet elegant styles. One of the designs that is body-friendly is A-line cutting.  A-line cutting has a higher percentage of suiting most body types due to the cutting that is flair from the waist down.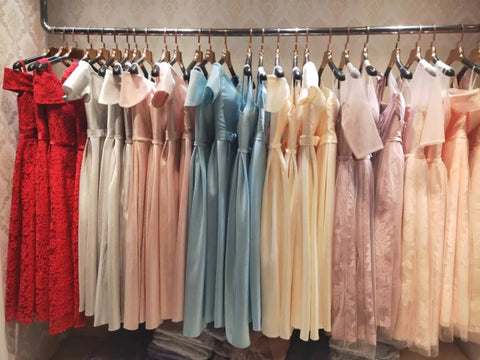 We hope to make a reputation with our bridesmaid dresses and then expand to selling wedding and prom dresses.  We believe that with good products and services, we will receive praises from our customers and our website will soon be well-known.  We do not have the ambition to become on par with David's Bridal, we only want to become a small China website that provides affordable and good quality bridesmaid dresses for many ordinary girls who are not prepared to spend so much money on their dresses.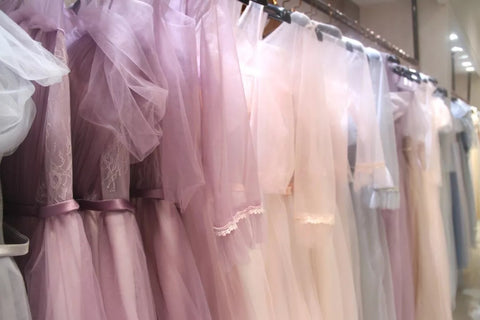 Speaking of services, we would like to affirm that our customer service staff will always get in touch with our customers to confirm on the colour and size of the dress as the colour and size of bridesmaid dresses usually come with many problems. Although our customer service staff can all converse in basic English, however, they have never studied English abroad. Thus, their English language ability is limited as they do not know how to express their thoughts in perfect and advanced English.  If you do come across any of our staff who are rude or offensive in their dealings with you, we sincerely apologize to you in advance.  We will never have any intention of offending our valued customers.  Our customer service staff have limited expression ability in English and also because of different cultures, we might say and use the wrong choice of words to express and communicate.
Lastly, if you have any questions, please feel free to contact at service@alfabridal.com.  Please don't be worried of troubling us.  We will be more than glad to answer any of your queries and concerns. We really hope that you will enjoy shopping at our website and will find decent dresses that you love at reasonable prices.
Welcome to follow our social accounts, where you can see some real dress videos and some fabric videos:
FB: @alfabridalofficial
IG: @alfabridalofficial
Pinterest: @alfabridalofficial