Five Bridesmaid Dresses For A Winter Wedding
Various sources would say that wedding services are now one of the most booming industries in business. Weddings have always been considered a special occasion so naturally, any couple would want everything to be extraordinary for their wedding given that it goes within their budget. For the last decade, wedding designs, set ups, and even bridesmaid gowns became more and more eclectic. As fashion trends around the globe became much forward especially with the ease of social media, brides these days often go for something that is far from the mundane.
One of the well-loved wedding themes and set-ups these days are season weddings. With that in mind, the wedding itself will take place in a romantic time which revolves around a particular season. Whether it be winter, spring, summer, or fall, all season weddings are a source of beauty and countless inspiration.
Though cold, winter is always associated with romance and sincerity. Isn't it wonderful to kiss the one you love and swear eternity while snowflakes fall from above everywhere? Match the whole scene with candle lights and you'll never fail to feel the love especially when done at night. You can also incorporate winter wonderland decors in your wedding venue and yes, in your dresses. Sparkles and crystals ladies? While we know that winter wedding look is fairly easy to achieve, the cardinal choice lies in the fabric that you will use. For such reason, you may have to properly choose warmer fabrics on your bridesmaid dresses such as velvet or maybe a touch of some faux fur. For this article, we will be dealing with five dresses which we think every bridesmaid in a winter wedding would love.
Long-Sleeved Winter Sparkles
Even if you will be dancing inside a grand hall on your wedding, it will still feel somehow cold especially when you have to go outside for a photo opportunity with the whole entourage. Which is why, it would be best to let your girls wear dresses with long sleeves. If you think it's a bit tad boring, add some sparkly details in it. They wouldn't ask for more especially if the dresses were made of velvet fabric.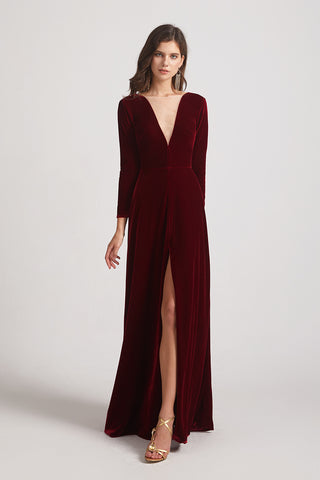 High Necked Winter Night
As much as you love fashion, don't neglect comfort. Upsetting any of your bridesmaids because of the winter air would be the last thing that you'll need for your special day. High-necked dresses would be great to keep them warm. It also goes well if you want that classy vintage effect on your wedding. To amplify the overall look of the ladies, let them wear sparkly diamond jewelry that would complement the dress.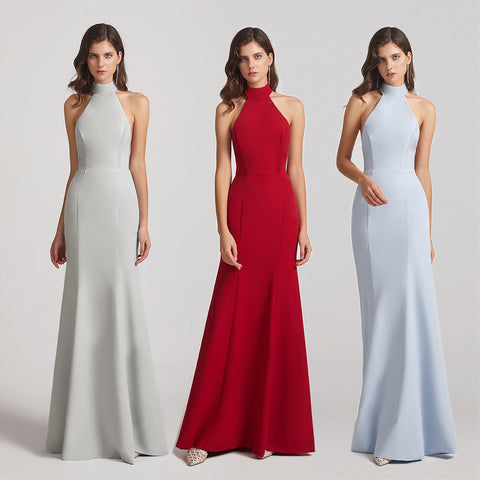 Winter Shades and Layers of Blue
For a winter wedding, you could never go wrong with the different shades of blue. The colors would instantly match the winter vibe you are aiming for and it is also such an easy color to look for in any dresses regardless of any style. Moreover, this is also a great way to highlight the personality of your bridesmaids especially if you, the bride, will let them pick the shade of their choice. Flowy chiffon dresses would be ideal in pulling off different shades of one hue. Just keep in mind that the dresses were made of layers so it won't be too cold for the bridesmaids to sport. A little faux fur on the girls' shoulders would also be a great match for a flowy dress.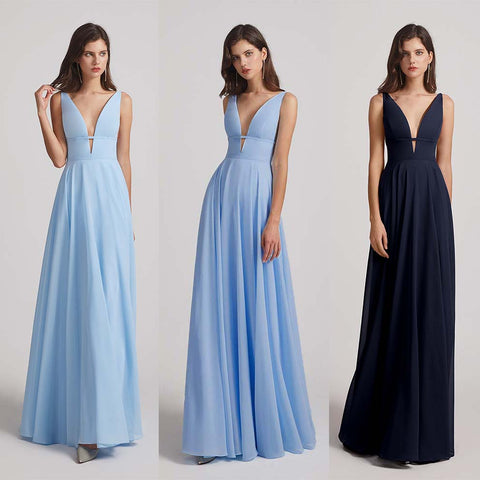 Winter Pastel
Pastels are normally seen and automatically connected to spring, but that's the great thing about colors. You can literally use them in any season and there is no such thing as a color for only one season. Pastel dresses for your bridesmaids would make your winter wedding look instantly chic. The dresses will also look so much better if they have lace details around them. Plus, it's a great play on the dress to keep it warmer. A fancy scarf in contrasting color of the pastel would also be perfect for that chilly romantic wedding celebration.
Long Muted Winter Jewels
Burgundy, sage green, gray, and silver are great alternatives for pastels if you're not feeling them. Another thing that you must consider when it comes to choosing a bridesmaid dress in a winter wedding is the style and cut of the dresses. Opt for dresses which are not too revealing. It's already a given that the air would be chilly so to combat that, long dresses would be your girls' best friends. You wouldn't want them to be bothered by the cold don't you?
We hope that our choices would make your winter wonder night more wonderful. Which of the bridesmaid dress would you like to wear if you were a bridesmaid?