Top 5 Blue Bridesmaid Dresses 2020
Today we would like to share about blue bridesmaid dresses. There are so many beautiful bridesmaid dresses in various blue hues on the internet or shared on social media. We especially love dusty blue, an absolutely charming and dreamy color to have at a wedding. Dusty blue gowns, also called stormy blue, is trending on the internet and have taken the wedding world by storm.  This angelic and absolutely captivating color is good at presenting bridesmaids in the most attractive way. Another color that's very much in vogue is baby blue or light blue. This blue hue is associated with the beautiful summer skies and calming color of the ocean, a newborn baby and everything sweet and beautiful. Bridesmaids in baby blue dresses standing next to the bride in an ivory or white gown is such a beautiful contrast and will probably be one of the best decisions you can take while planning a wedding.
If you are looking for a wedding color inspiration, dusty blue or stormy blue is absolutely worth a try. It is the dream wedding color. Today we will recommend our top 5 most beautiful and best selling dusty blue and light blue bridesmaid dresses! We bet you can't resist this unique and alluring color set on just about any fabric, especially on chiffon and satin gowns.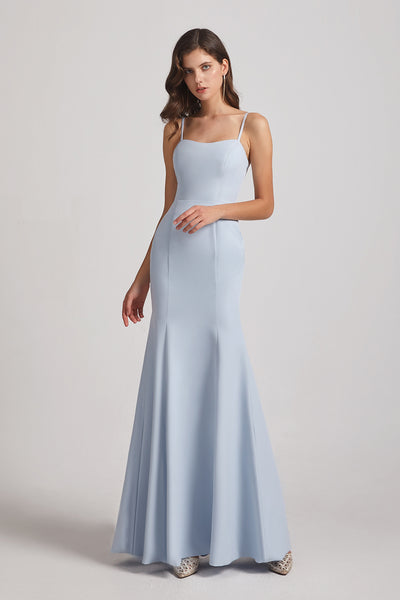 This is a glamorous floor-length dress with mermaid tail ending set in a glamorous satin fabric in spaghetti straps. This dress is perfect for bridesmaids blessed with an hour glass body.  The dusty blue hue is soothing to the eyes and so versatile and timeless.
2. One Shoulder Satin Sheath Long Blue Bridesmaid Dresses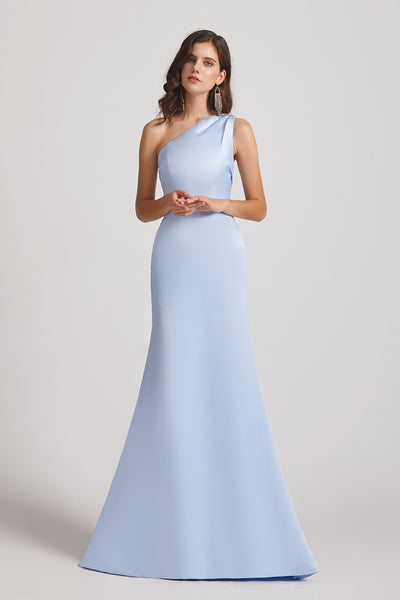 Your bridesmaid will look like a Greek goddess in this beautiful timeless piece in satin. Available in dusty blue and other shades of blue as well as full colours. The one-shoulder design with an open back and fish tail ending makes this dress absolutely gorgeous.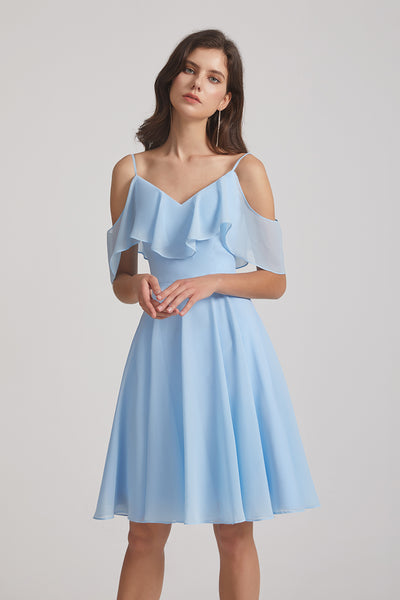 The short dress in baby blue with an A-line cutting is angelic and chic. It suits bridesmaids as well as girls searching for a prom dress or a formal dress. It's also body-friendly as it comes with a flair A-line skirt. Whether you're slim or larger in size, this dress is forgiving and it doesn't reveal too much of your chest.
4. Lace Halter Spaghetti Straps Blue Short Bridesmaid Dresses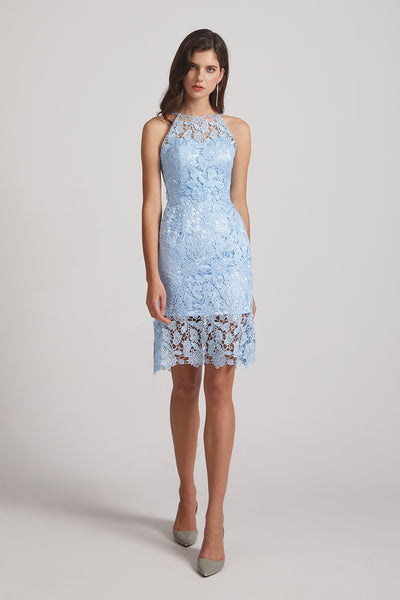 This knee-length dress in classy lace with a halter neckline design and double spaghetti straps open back is for slim girls and girls who are not so tall.  From formal to informal ceremonies, this dress in light blue is both classy and versatile and can be worn by girls with different skin tones.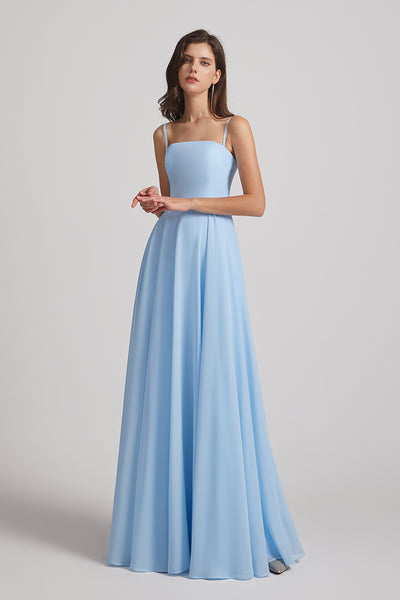 The classic spaghetti strap dress in floor-length is simple yet classy. The long flowy and flair skirt makes it  easy to move around when chaperoning the bride on her wedding day. Your bridesmaids will look sweet and demure in this elegant dress in baby blue.
Whether you're planning a summer soiree or a glam winter wedding, Alfabridal has a stunning collection of elegant bridesmaid gowns that your lovely tribe is sure to love. Take your time as you browse our vast collection of blue bridesmaid dresses for your blue themed wedding day.