Top Reasons to Choose Alfabridal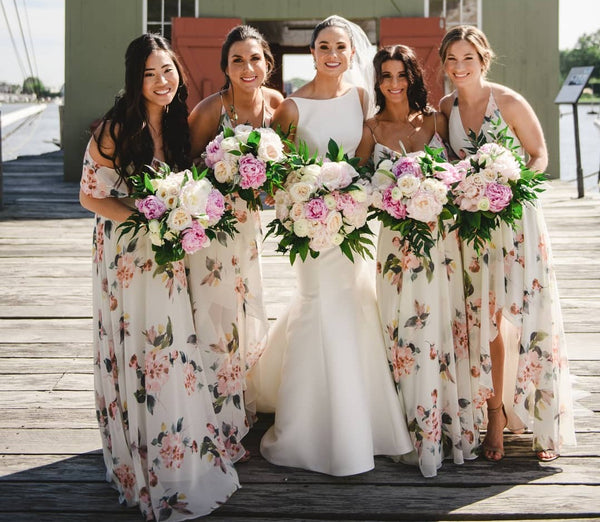 Now that you've found your dream wedding dress, it's time to embark on another dress shopping trip: the search for the perfect bridesmaid dress. Try to google bridesmaid dresses online, and you will be displayed so many bridesmaid gowns store. Alfabridal, the leading bridesmaids dresses retailer, will be shown as well.

If you are planning a wedding on a budget, Alfabridal will be your best choice for shopping high-quality bridesmaid dresses at lower prices. Check out our reasons for finding the perfect bridesmaid dresses for you and your besties at Alfabridal.
Why Choose Alfabridal for Bridesmaid Dresses Shopping
Reason 1: Low Price
If your friends have been to a bridal party before, they know that the bridesmaids paid for the dress themselves. But a gentle reminder is never a bad idea. When it comes to price, try to consider your friend's lifestyle. If you're worried that your wedding might be a financial burden for one or more of your bridesmaids, you can focus your search on a more affordable range, or choose a colour you like and let them choose their own style. Another idea: tell her about alfabridal.com. You can find beautiful bridesmaid dresses at low prices here. If you buy five bridesmaid dresses, you will get another 1 free. Paid for five dresses and get six dresses. It can save you lots of money.
Reason 2: Various Styles
Whether you want to create different Bohemian styles with a single colour, or mix and match different colours to complement each other, we guarantee you'll love Alfabridal's stylish Bohemian bridesmaid dresses! Besides boho bridesmaid dresses, there are still a variety of styles of bridesmaid gowns, sexy, simple, elegant, classic, modern, etc.
Reason 3: High Quality
When it comes to low prices, people are always worried about the quality of the bridesmaid dresses. At Alfabridal, you can shop your wedding party gowns without worrying about the quality issue. Na matter lace bridesmaid dresses, chiffon bridesmaid gowns, sequin gowns, tulle dresses, velvet or floral maids of honor dresses, we always choose the best high-quality fabric for our products. You can see the quality through our model pictures. There is no any Photoshopping involved in the production of our pictures. What you saw in picture, what you will get.