When Should Bridesmaids Dresses Be Ordered
If you would shop for the bridesmaid dresses, it is not really that simple as if it would be on your everyday life where you would just pick which clothes or dress that would fit your current mood. It is just like in wedding dresses that there is a lot of designers that requires bridesmaid gowns attire in being ordered at least 3 months' prior the wedding date of the bride, which really varies by the retailer. That does not even account for the alterations of the bridesmaids' dresses that needs to be done. So to ensure that you won't have to rush the process, it is definitely beneficial to shop at the necessary time ahead. In this article we will delve right into when should be the right time bridesmaid dresses has to be ordered.
Make A timeline For The Selection Of The Bridesmaids Dresses
When you have selected the dresses that you adore. The bridesmaids need to place an order. This often take at least 3 months to arrive. When the dresses do arrive, the bridesmaids may make any necessary alterations for the dresses that they selected, such as taking in the bust or hemming. This can take from 1 to 2 months, and it depends on how much work needs to be done. When you have considered all of the alterations and delivery, bridesmaids should order the gowns at least 6 months prior the wedding event. So, this means bridesmaids should start shopping at least 7 months before the wedding. Don't forget that some designers require all of the bridesmaids in a party to order all of their bridesmaid dresses at once, ensuring that everyone's dress made in fabric is in the same dye batch. If there is someone who is lagging, she might be putting the whole group behind.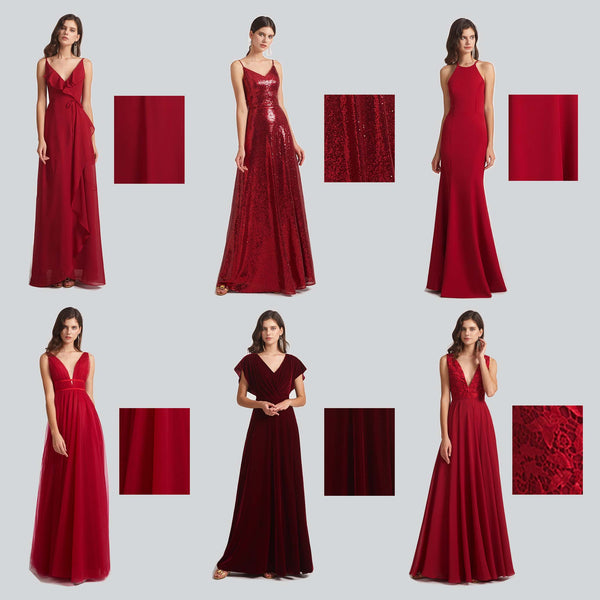 (click here: bridesmaid dress fabrics guide)
Explore Off The Rack Options
If the bridesmaids are choosing off the rack gowns, the timeline would be a bit different. The bride would simply need to use at least 1 month prior for shopping. Then consider another month or 2 for the alterations. But the bride has to also consider that off the rack options would be a bit limited. They sell out very quickly as well. So you are better off in looking at the bridesmaid dresses as soon as possible as to guarantee that everyone finds an option that they would love. 
Reserve Rentals Early
If you opt for your bridesmaids in renting their dresses, they cannot make the alterations in rentals. So it would be best to choose the preferred style several months prior, and ask each and every woman in reserving her size so that there would not be any conflicts in the availability. If it is possible, ask each and everyone of the bridesmaids in scheduling her dress to arrive at least a week before the bride's wedding. Everyone would be at ease that their maids of honor dresses are ready early, and there would be time in case that there are any issues to solve.