5 Ideas for Choosing Bridesmaids Dresses
"What to wear to the wedding?" — such a pleasant but at the same time a very difficult question for a bridesmaid. Let's discuss what bridesmaid dress to go shopping for and find the best option for you!
Option 1:
Wrap
Bridesmaid D
resses
During the current year, this type of gown became a perfect option for a bridesmaid. Wrap dress makes a distinct accent on the waist, flows down along the silhouette, and points out the V-shaped line of the neckline. The most important that no matter your body type, a wrap bridesmaid gown is flattering on everyone, so you don't need to worry about that. There are so many different varieties of this dress. It is available in any length and style. It can be with thin straps, short or long sleeves in a range of prints and colors.
(Shop this wrap dress)
Option 2:
Midi
Bridesmaid Dresses
A midi dress or midi skirt is where the hem ends halfway between the knee and ankle. These dresses are a huge trend this spring and summer season. That is because dresses with a midi length are the most practical and elegant option for the bride or her friends. They can look no less luxurious than long ball gowns, however, they are so much more comfortable. The main advantage of this type of dress is that If it's style is not too luxurious, you can easily transform it into a casual outfit for every day. Therefore, you do not have to worry about it sitting unused in your closet after the first wear. Another advantage of this length is that due to the fact that the legs aren't open too much, the figure is elegantly emphasized. But at the same time, If you have any flaws with your figure, they can be hidden by finding the right style and length especially for you.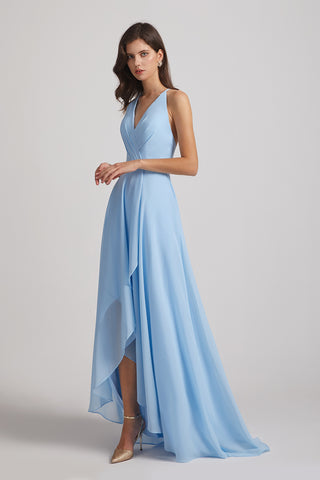 (Shop this midi dress)     
Option 3: Floral
Print
ed Bridesmaid D
resses
If your soul wants something fresh, original, or just a new option that you won't see in every wedding photo on your social media. Then, you definitely need to take a look for bridesmaid dresses with prints. There are so many variations that you can wear: flower and tropical prints, polka dots, gingham, bold stripes, fruit motifs, and so on. To ensure an incredibly elegant effect, be sure to go for sophisticated silhouettes like sheaths, wrap dresses, minimal slips, and A-line cuts as each style definitely skew more flamboyant than subdued. A wedding is a great opportunity to realize all your creative potential! You can mix all patterns with each other and make something unique. The main point is that bridesmaids need to find and put together 2-3 prints properly and then they will look well and remarkably on the general background of decorations.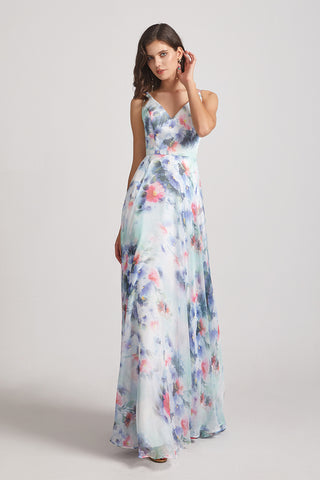 (Shop this floral dress)
Option 4:
Chic Black Bridesmaid Dresses
No matter how many trendy colors come and go nothing will ever look as elegant or timeless as a black evening gown. If you still think that these colors are appropriate only in everyday life or in the office, then you are totally wrong. You just need to take a look at how interesting and contrasting bridesmaids'  black dresses can be! But If you are so scared to put your bridesmaids in black dresses — whether they fear it's too dark, solemn, or formal, then we have a special life hack for you! In order for girls not to look like a big dark spot, you just need to mix two colors together, for instance: a black skirt and a white top or dresses with black and white patterns. And the even better benefit for bridesmaids is that choosing a black or white dress guarantees that they can wear this gown again.
Option 5:
Sophisticated
S
ilk dresses
Slip dresses have become increasingly popular with both brides and bridesmaids in recent years. If you want to be a total classic, choose a silk slip dress in your favorite color. Thin silk fabric looks delightful on trim women's bodies and creates a very delicate and refined appearance. It is a perfect option for the hot season. The most popular model this year is an elegant gown with thin straps. This dress makes you look more delicate, attractive, and helps your nearest and dearest to shine on the big day. 
Now you are an expert on how to choose the perfect bridesmaid dresses. Once you and your bridesmaids say "yes," there's nothing but heart emojis ahead! Rock your look, Bridal Party! Happy hunting!