Your Ultimate Guide To Accessorizing Bridesmaid Dresses
Accessories are like magic. When bridesmaids combines their accessories along with her bridesmaid dress she definitely becomes her best look since the accessories highlights and features her best style.Along with the bride, when bridesmaids compliment the outfit of the bride they look so stunning. From selection of jewelries to wear with the bridesmaid gowns, the process of accessorizing will make the simple outfit shine, such as basic and monochromatic style. Even now the hairstyle is done, her bag, and the maid's shoes can incorporate the look that she wants that goes with the theme of the bride.
Let Your Personality Shine
Everyone has their own taste. So, it is good to let their character flow and kick in, let the bridesmaid decide in accessorizing their outfit. She would love it since preference is a matter in letting yourself shine. Everyone wears the same bridesmaid dress usually in a wedding. So it is definitely amazing to have options in accessories because you can totally choose the style that you love. It is good to give the maids some guidelines in choosing their accessories such as being classy with pearls or stunning with crystals. If she prefers to wear some anklets, necklaces, bracelets. For the earrings if you prefer everyone in uniformity let them pick the final details. When you help them decide on the accessories this is fun and that is budget friendly.
Less Is More.
There is a saying that less is more, this also works in the case with jewelries. Being simple is elegant. Have you noticed that a woman looks more appealing with less accessories?  Especially if the bridesmaid dress is already bedazzling. You would want to incorporate it with simple jewelry to enhance your look. Plus, you can use the accessories again in other occasions.
The Bride's Outfit
A bridesmaid should compliment what the bride is wearing. Such as, if the bride is wearing a pearl necklace, bridesmaid should accompany this with pearl earrings. As bridesmaids incorporate the same style of accessories with the bride it would be like a perfect harmony. If the bride is minimal, the bridesmaid should wear minimal style as well.
The Color Of The Bridesmaid Dress
If the Bridesmaid is wearing a specific color like a blush bridesmaid dress, rose gold metal would suit this nicely. If she is wearing a slate blue, silver metal would be more appropriate.
About The Hairstyle
If you are going to go with an updo look, dangling earrings would be so fun to wear. While when the hair is down, studded earrings would be beautiful to accompany the style. Also, putting barrette or hair clip can up the look a notch. Crowns or floral hair pieces would make the look stunning as well but ask the bride first if you're going to wear these.
Styling Different Necklines
Necklines are so crucial and important in bridesmaid dresses. So here are some ideas to follow.
Sweetheart Or Strapless Necklines
Going strapless is so much fun! There are a lot of options for accessories. A statement necklace and a dangling earrings would suit it. Or a dangling earrings and a necklace. Choker necklaces is nice to wear too. Also you can try a choker necklace doubled with long necklace. It is so much fun how so many combinations can be worn.
(get this sweatheart bridesmaid dress)
One Shoulder Necklines
If you're wearing one shoulder necklines you don't need to wear necklaces since it is already cute and the necklace would overwhelm the bridesmaid dress. Instead opt for simple earrings and cute bracelets. Drop earrings are perfect for this outfit.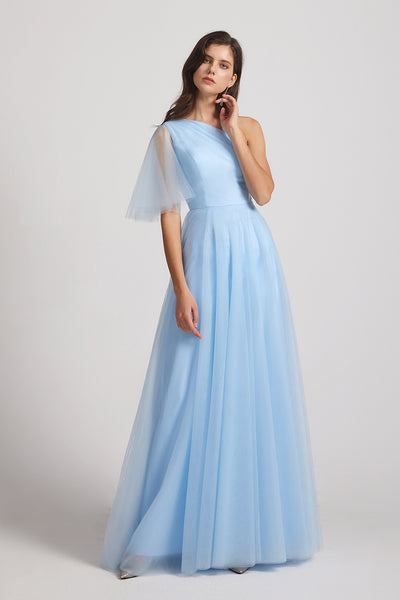 (get this one shoulder bridesmaid dress)
V-necklines
V- neck bridesmaid dresses are our favorites. Even without accessories v-neck dresses stand on their own but pairing them with pendant necklaces would be so lovely. You can always personalize pendant necklaces with initials, charms and photos. Chokers and double necklaces would suit v-neck bridesmaid dresses as well.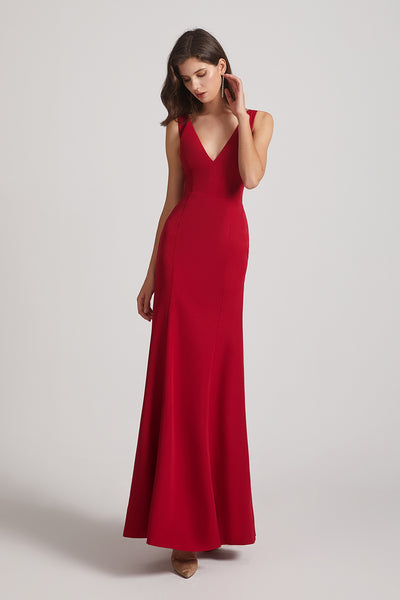 (get this v-neck bridesmaid dress)
Halter Dresses
Accessories for halter bridesmaid dresses are simple. Drop earrings and a bracelet would suit the dress so well.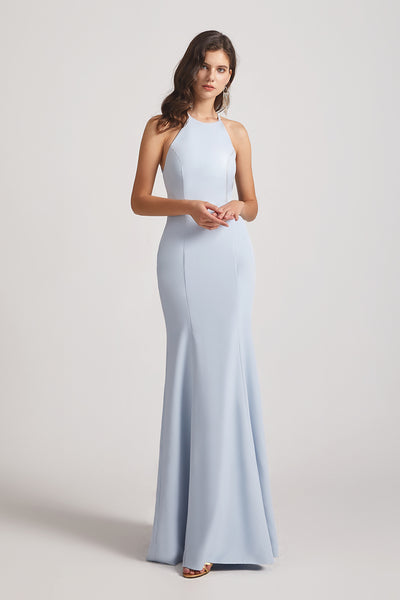 (get this halter bridesmaid dress)