Fall Bridesmaid Dresses, Chiffon or Velvet?
Besides adding color and interest to the styling of the big day, bridesmaid dresses can also bring a theme or palette together. So you are planning for one of the most important day of your life and you cannot decide if you would like to outfit your best friends in chiffon or velvet, well, you have come to the right place.  Do read on to find out the differences in both fabric.
As the season becomes cooler, it is important to consider which type of fabric will be most suitable for the weather. With the perfect fabric and silhouette, the bridesmaid gowns can still be a beautiful option. Let's start with velvet bridesmaid dresses. This year, we have been seeing the resurgence of 90's trend such a chokers, scrunchies and windbreakers on the fashion front. Nothing has a style renaissance quite like velvet, the quintessential fabric of the 90's. Velvet seems to be an unexpected choice for bridesmaids, but this fabric is rising in popularity.  The velvet just makes any look feel so luxe and are great on all body types.  Eventhough velvet dresses could be suitable all year round, they are particularly good choices for fall or winter weddings.
Honestly, you can hardly see bridal parties decked out in velvet dresses every day unlike cotton, crepe organza or tulle. Although these fabrics own the bridesmaids dress market, but velvet is in a class of its own.  Velvets tend to come in deeper and darker color palette so for the bride who want a rich jewel theme, go for colors like this beautiful autumnal marigold color that is so on-point.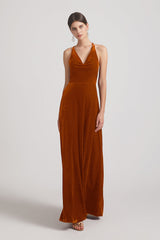 You can also have your squad in matching velvet dresses, mix colors and styles in the same fabric.  Perhaps, you may even throw in a velvet dress or two among different fabrics just to add some texture to a mismatched bridal party look.
Besides adding a unique element to a simple, plain styled dress, the beautiful velvet texture with its subtle thickness also adds extra warmth for the wearer like this lovely half sleeve V-neck bridesmaid dress from Alfabridal.
Style tip:  It is important to use minimal accessories and avoid sparkly or shimmery accents when selecting a velvet dress because this can often clash.
If you live in an area that is warm all year round or your ceremony and reception are going to be indoor, then chiffon bridesmaid gowns will work for fall or winter weddings. Chiffon dresses are a popular choice and timeless classic at weddings. The flowy and delicate feel of the fabric complements traditional and contemporary styles.  A chiffon dress has the right amount of fluffiness, figure-flattering and flows right over any problem areas. Your bridesmaids are going to thank you for this.  This forgiving fabric is amazingly versatile and wearable season after season.  With just a few tweaks, a chiffon maid of honor dress can be turned into the chicest maxi dress for spring. Long chiffon bridesmaid dresses offer a classic style while shorter ones add a touch of modern feel.
Embrace a modern vibe with this flutter sleeve design chiffon bridesmaid dress.