A Complete Guide to Velvet Bridesmaid Dresses
Are you looking for the perfect Velvet bridesmaid dress to wear? Something that not only has got durability, but it's useful, can be diverse and harmonized, and will blend in with lots of shades and styles. Today I will talk about velvet bridesmaid dresses, discover them, style them, and discuss the facts why they have become a trend and a generic need.
Velvet is Perfect for Winter Occasions
When winter is setting in the air, the best option to look elegant and stylish is velvet because they are perfect for keeping yourself warm and looking chic at the same time. The fabric is so luxurious yet straightforward when styled. 
You can replace velvet with any apparel piece, and yet have a sophisticated ensemble ready right there. You can style up with velvet on festivities like bridal parties as a bridesmaid and many more. A velvet dress is the best thing one can have in your wardrobe for chilly season gatherings.
As the wedding season is approaching, it's always better to go with velvet bridesmaid gowns over glitter or sparkles. Velvet can look smart and elegant if appropriately styled. Many famous designers claim that wearing velvet dresses gives a diverse sensation because of how it rubs on your skin, which can be quite soothing. 
No doubt, it is a deluxe material that, when done right, makes you look a zillion times better and increases your self-confidence. Some main reasons to consider wearing a velvet bridesmaid dress:
SMOOTHNESS AND SOFTNESS
Velvet is soft, not only for you but for the people around you. The reason why it is so comfortable to wear is its softness and smoothness. Imagine wearing something soft for your wedding. So, it's an excellent choice to go with a velvet bridesmaid dress for your wedding festival. 
VELVET IS A DURABLE FABRIC
You can wash your velvet dress as many times as you like, and it won't lose its touch. It can be washed thrice more than any other material clothes, and it will still look elegant and fresh to wear. You can stretch them however you like; it won't lose its form.
VELVET BRIDESMAID DRESSES ARE NEVER OUT OF TREND
Velvet is classy and evergreen. On the other hand, it looks great on everyone. Having your bridal party with velvet maid of honor dresses will give your party a trendy as well as fashionable look.  
GREAT FOR WINTER WEDDINGS
Having a wedding party in winter? A velvet bridesmaid dress can keep you warm while making you look sophisticated in winters.  
ALSO A GOOD CHOICE FOR SUMMER WEDDINGS
Having a wedding in summer? And want to choose a bridesmaid gown for it? Well, a velvet bridesmaid dress will be a good choice for a summer wedding as well. You can style up in velvet if the region you live in isn't boiling up to 39 degrees or close. For summer, choose something lightweight and loose, and for that purpose, the velvet maid of honor dress is the ultimate choice one can have.
EYE CATCHING AND FLEXIBLE TEXTURE
Including velvet bridesmaid dresses to your party will make an awesome addition. The texture as well as colors are eye catching and this will be surely noticed by the guests around you. I can assure you that these velvet bridesmaid gowns will be the Center of attention, everyone will be talking about it.
Our Breathtaking Attires of Velvet Bridesmaid Dresses
Velvet has always been my personal favorite. If I need to select a fabric for a bridesmaid gown that will surely be a velvet bridesmaid dress. I have some suggestions for you as well. Grab your velvet maid of honor dress from our spectacular picks only in $99.00: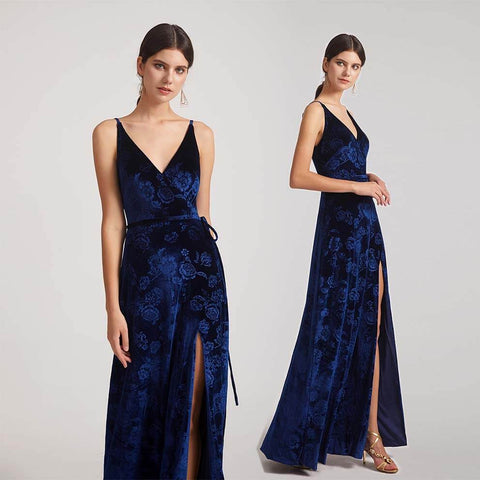 If you're jumbled among all your clothes to wear to your next dinner party or as a Velvet bridesmaid gown for a winter wedding, then you should consider going for this moonlight blue dress with floral patches and ditch the rest.  
This is the unique one out of velvet bridesmaid dresses because of its floral pattern and a must to buy. It will make you look dreamy, and you can style with some pearls on the neck to make this dress look elegant. You can wear it with silvery heels and a bag to further enhance the look. You will look super delicate and young.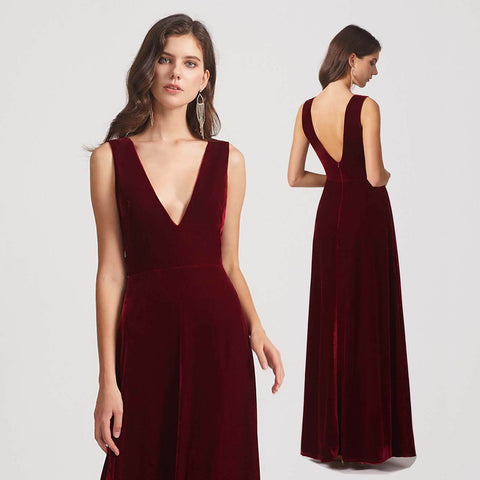 I love how easily this dark red dress accentuates the body. It is perfect for wearing at a wedding and looks extravagant. This low-cut velvet dress is perfect to wear as a maid of honor dress while completely feeling comfortable. You can rock the outfit by wearing some golden or black heels and add a small clutch, and you are good to go and rock the party. 
The velvet bridesmaid gown should be the utmost choice if you want to look the best in the town.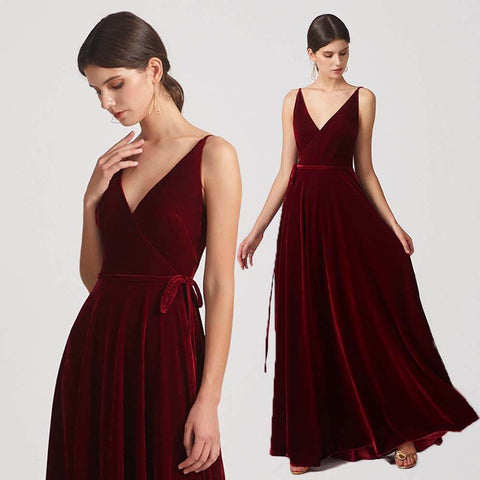 It is a lovely cherry looking dress with the perfect backline, and sleeveless can easily be dressed up for a wedding with heels or pumps for a more relaxed execution. Moreover, you can wear maroon earrings further to add a touch of glamour to the outfit.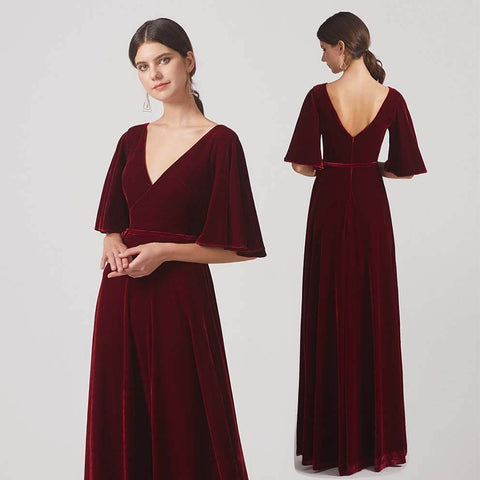 The v neckline makes this dress look chic and how flowy it is. A perfect outfit for a wedding as a bridesmaid because of the butterfly-like sleeves and a sophisticated yet straightforward neckline. It is best if someone wants to add a more traditional theme to their wedding ceremony.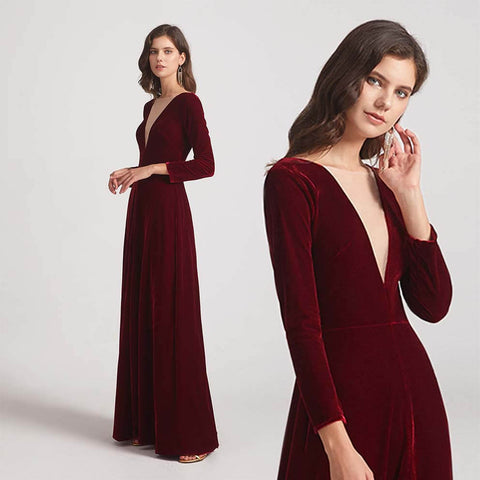 This blood-red long slit dress is ideal for a bridesmaid dress and any other distinct event during the spring and wintertime. The deep V- Neckline and the tight Long Sleeve makes the dress look vintage and classy. The stereotypical fabric is comfortable to wear, with the softness of velvet and dedicated texture. 
The dress is a mixture of grace with a hot front cut ornamented on the dress that will be perfect for all bridesmaid parties.
This top of the line Maroon is definitely what you need to wear on any occasion, it will surely bring grace to your personality.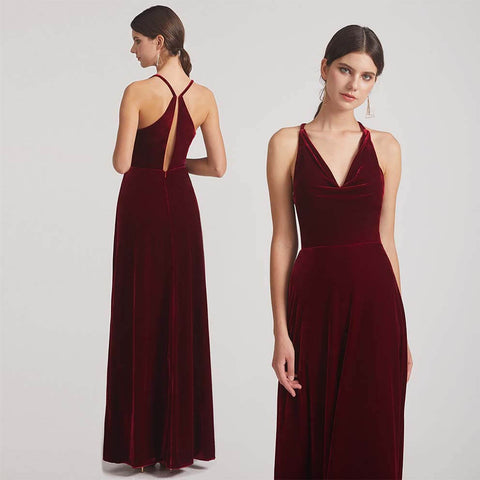 The above is my utmost favorite dress. By God, I can't keep my eyes off it. This velvet bridesmaid gown is definitely what should be an essential part of any wardrobe. The style, the stitching, the class, everything is just perfect.
Accessorize with Bridesmaid Velvet Dresses
As you know, in the early days around the 1970s, velvet dresses became very popular, even Queen Elizabeth and Catherine the Great used to march through their castles in a velvet gown, so it's also linked with royalty. Velvet is making a massive comeback in the fashion industry even though some might not feel confident wearing them.
Well, that's because they don't know the right technique for wearing velvet. You must be thinking about style up with velvet as it is one of the complicated fabrics to attire. Here are some inspirations and ideas on how you can style up with it and consider it while wearing velvet.
Stockings: 
You can always wear stylish stockings underneath your dresses as it is smart and comfortable to wear. 
Jewelry: 
If your velvet dress is too plain, you can add a bunch of jewelry, and you are good to go. For example, you can wear hair accessories to style up your hair or try a different hairstyle. You can wear elegant and minimalist earrings or a necklace to enhance the neckline of your dress.
Shrugs and coats: 
A shiny black or red velvet coat could easily be fused into different clothes.
Embellishments and Shoes:
Wearing the appropriate shoes with your velvet bridesmaid dress will instantly make your whole outfit look classy. Finding the right shoes is not a complicated task. Moreover, it's better to go for heels when wearing a velvet as it adds more grace and inches to your clothing and body.
Pro Tips to Carry Velvet Bridesmaid Dresses
Don't overdo: 
Velvet always looks good when worn in a minimalistic and straightforward way. For example, while wearing velvet bridesmaid dresses, don't wear the same material shoes or clutch along. It's a big NO!
Dress all the way:
Yes, there are several options to get these dresses stitched in, moreover, if you are looking for a velvet bridesmaid gown, it's best for a full-length one.
Show a little skin:
When wearing a velvet bridesmaid dress, make sure you style it correctly and aren't fully covered. You can add a low neckline or get a sultry cut in between the dress to make it look classier.
These velvet bridesmaid dresses are the best way to look attractive, fashionable and elegant at a wedding party. You can mix and match with your friends, and look fabulous. They are a perfect fit to wear in winter. Check out the whole collection of ALFABRIDAL-velvet bridesmaid dresses here.  And hurry to grab your favorite one now.