How to Pick Bridesmaid Dresses
When the bride chooses the best bridesmaid dress for her special day it can be a bit overwhelming to say the least. There is an endless number of color options, styles and silhouettes to consider. The bride also have to choose bridesmaid dresses that would fit and flatter each member of the group.
Right, and also everyone has different budgets as well. They would also prefer different things from shopping and expectations. The bride would love everyone to look and feel amazing in their bridesmaid gowns. Without further a do this guide would be so helpful.
Set a reasonable budget. So before choosing bridesmaid dress styles or colors, you have to set a dress budget first. Yeah, being a bridesmaid would be such an honor but not everyone would like to pay $200 for a dress that they would wear on one time. Speaking of money would be a sensitive topic for some of the ladies so you should be totally considerate and ask each and everyone what is their budget. Once you have asked everyone and you have speculated which budget fits, even if their budget is mid range to high end, it won't hurt to browse affordable bridesmaid dresses which will make everyone look good for a lesser price.
Pick a dress shade. After considering all of the most popular of the wedding dress colors as well as staring at most color swatches for hours on end, you have finally decided for the beautiful wedding color palette. Now it is time for you to have finalized the colors from your wedding color palette which will suit the bridesmaids. 
Venue. If you are planning a garden party wedding. Wearing pastel colors and soft shades bridesmaid dresses will fit so perfectly with this setting. What about saying I do nearby the sea. You should consider opting for bridesmaid gowns in shades of blue that will match sea and sky.
Season. Even if you would have wanted that gorgeous eggplant bridesmaid dresses in your wedding, dark purple may not be the best choice for summer daytime wedding setting. Floral print maid of honor dresses will look out of place in the winter as well. 
Skin tones. Does your bridesmaids have the same skin tones? You should take advantage of this by choosing a color that flatters them. On the other hand if they have a variety of skin tones, you should consider creating an ombré effect with your bridesmaid dresses. This would definitely look fantastic that will go so perfectly with each of their complexions.
Opt for flattering styles. When you consider everyone, maybe one of the girls has killer legs that she would like to show but hates her tummy. Also, what if one of the girls have toned abs but she has no chest. So you have to talk with your crew about which one is their best and worst features so that you could find the best dress styles for them. 
Some Tips In Choosing Flattering Dresses Ror the Bridesmaids
Styles
You should pick A line dresses. Did you know that the universal flattering bridesmaid dress is the A line dress. It looks so perfect for any body type because it's fitted at a lady's natural waist thereby creating flattering angles.
Play around with necklines. There are specific types of necklines which can accentuate certain features. You should allow your bridesmaids in experimenting with necklines so that they can create a look that they adore.
Consider bridesmaid dresses with sleeves. So, if one or more of the bridesmaids are self conscious about their arms, bridesmaid gowns with sleeves will totally solve this problem. It would also be appropriate in the winter.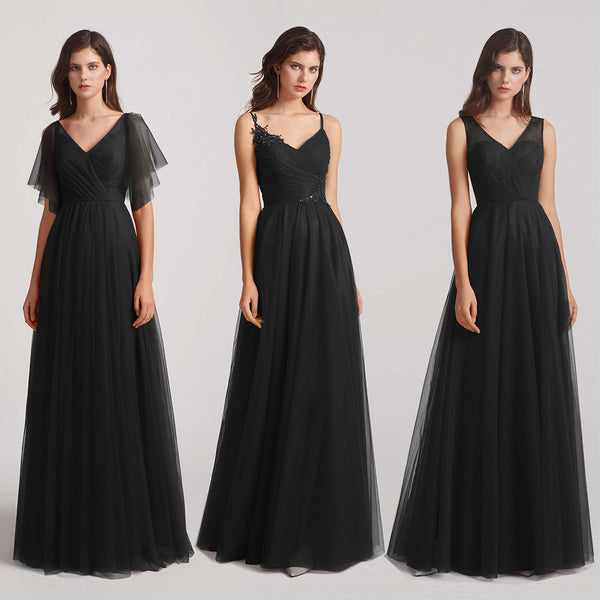 (click here: can bridesmaids wear different dresses)
Fabrics
With regards to looking for bridesmaid dresses, your decision of fabric matters more than you may might suspect. There is your bridesmaids' solace to consider, just as the scene and topic of your wedding.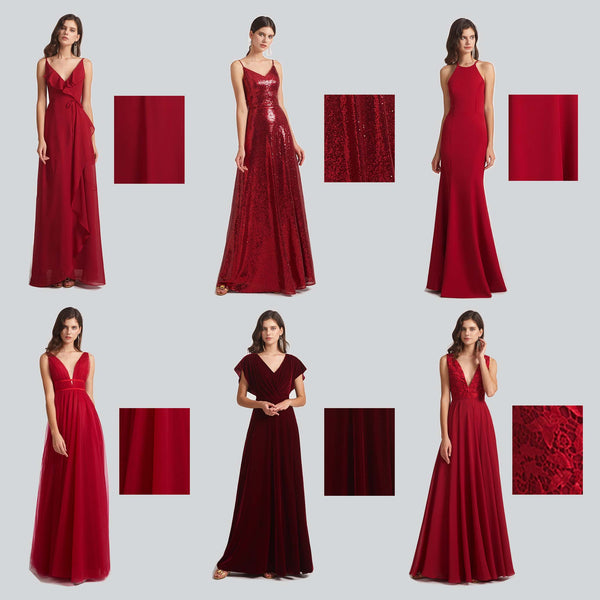 Is it accurate to say that you are having an outdoor summer wedding? Chiffon is the go-to fabric for summer weddings since it's lightweight having a simple weave.
Are you having a luxury wedding in the fall? Satin fabric has a glistening sparkle that is ideal for night issues and chilly climate weddings.
In case you're a miserable sentimental, there's likewise classic lace bridesmaid isolates to consider. In getting a better feeling of what you like and don't like, we suggest requesting a couple of fabric samples and going over them with your bridesmaids.
In the event that your big day is set for 2020 or past, it's critical to pick bridesmaid dresses that will stay in vogue for quite a long time — if not decades — to come. You would prefer not to glance back at your wedding photographs and recoil at the hues and styles you decided for your wonderful besties.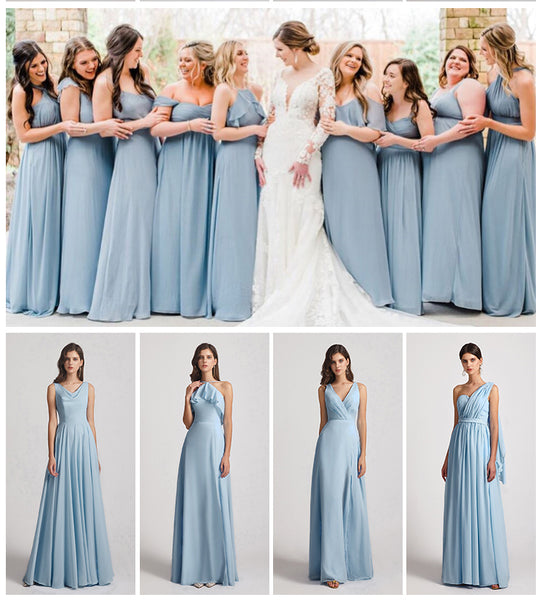 (click here: new bridesmaid dress trends 2021 you'll love)
Which patterns will stay hot in 2020? While we can't state for certain, these maids of honor dresses have just shown their backbone:
Blush bridesmaid dresses. You truly can't turn out badly dressing your young ladies in blush dresses. Romantic with an advanced edge, this pink palette is for all weddings. The best part is that the blush works with a wide range of settings, seasons and skin tones. 
Dusty blue bridesmaid dresses. This shy shade of blue has made them swoon throughout recent years. It's an all around complimenting shade that works wonderfully with blue and grey wedding hue palettes.
One-shoulder necklines. You should totally let your bridesmaids channel their internal Greek goddess by wearing one-shoulder bridesmaid gowns. This Grecian-style dress has been in vogue for a very long time (a great many years, truly) and isn't disappearing at any point in the near future.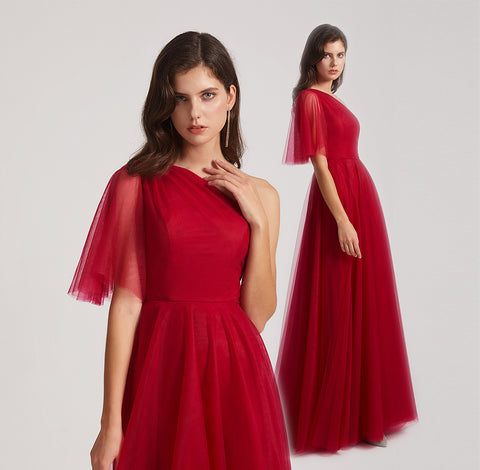 (get this one shoulder tulle bridesamid dress)
Navy bridesmaid dresses. Exemplary and complex, navy bridesmaids dresses are a dazzling decision for any season. Hype nautical is the theme for a late spring wedding or make an amazing contrast against white snow for your winter pre-marriage ceremony.
Floral bridesmaid dresses. In case you're stating "I do" in the spring or summer, your bridesmaids will adore wearing floral bridesmaids dresses for your wedding day. This pattern has genuine backbone on the grounds that there are simply such a significant number of approaches to make it your own. For example, you can pick striking, splashy florals or keep your prints little and delicate, matching upon your unique personality.
Mix-and-match bridesmaid dresses. There is nothing superior to a mix and-match wedding party. This pattern makes looking for bridesmaid gowns a complete breeze since everybody gets the opportunity to pick their own dress style. Although in spite of the fact that you would like to set a couple of restrictions like everybody must pick a similar color or dress length. The key is to somewhat loosen up for some rules. If you pull this pattern off the right way, we totally guarantee that you'll be more than content with the outcomes.
Plan Your Dress Shopping Experience
For some prospective ladies, picking bridesmaid dresses is a once in a blue moon experience that they can't envision managing without their besties. For different ladies, it's a task that is simpler for everybody to do without anyone else in their own time.
Which dress shopping experience is directly for you? Think about the accompanying statements: 
Shopping with a group. In case you're going dress shopping with your crew, it tends to be a great holding experience for everybody. You'll get the chance to clunk champagne, "ooh" and "ahh" over various dress styles, most likely offer a few giggles and walk out feeling sure about what you bought. 
Shopping solo. Shopping without anyone else is simple, quick and a brilliant decision on the off chance that you have a few — ahem — profoundly stubborn bridesmaids who may destroy the dress shopping experience for you. Additionally, a portion of your bridesmaids may like to wear their dress alone and do their shopping when it's helpful for them. In the event that you go this course, simply ensure that you set clear boundaries and have everybody check in with you before they request in ordering their dresses. 
While we're thinking of the regarding the matter, remember to get everyone of your bridesmaids professionally measured! It is extraordinarily basic for bridesmaids to misunderstand the size, so make sure to get their estimations, and check the designer's size graph before you put in a request.
Think About Bridesmaid Dress Accessories
Remember to take a look at wedding accessories for your bridesmaids. From an amazing pair of heels to shimmering adornments, the little subtleties can add the ideal final details to everybody's look.
Pick a comfy yet stylish shoes. In the event that your bridesmaids will stroll on the grass to arrive at your open air wedding setting, forget about the stiletto heels and settle on something more down to earth. A couple of wedges, flats or shoes with a low heel will help spare them from shocking falls in the muddy grass.
Always mix and match your metals. In case you're giving your bridesmaids rose gold earrings, ensure that the remainder of their gems is additionally rose gold. 
Keep it basic. Be cautious about going over the edge with wedding embellishments. While you should let them have a state which accessories they pick, give them a few rules so you won't have any unsavory astonishments on your enormous day. 
Consider cover ups. In fall and winter, be circumspect to your bridesmaids by giving them something to shield themselves against the cold climate. Having them wear comfortable pashminas or night cloaks can raise your wedding party look while serving a practical purpose.
Extra Tips To Keep In Mind 
Think about simple dress styles. When you need to take a glance back at your wedding photographs without recoiling at your decision of bridesmaid dresses, keep their look simple and straightforward. Perfect and simple dress styles are timeless and are more less likely to look horrendous in photographs a long time from now. 
Make your Maid of Honor stand out. As the most exceptional individual from your wedding party, your maid of honor deserve some acknowledgment. Consider dressing her up in an alternate bridesmaid dress style or color than everybody to make her look stand out. It will cause her to feel extra special on your wedding day as she should feel.
Pick junior bridesmaid dresses cautiously. On the other hand that you have junior bridesmaids in your marriage party, ensure that you pick a junior bridesmaid dress that is age fitting and agreeable. Likewise, remember that her folks will be paying for the dress. Be accommodating by picking a sensibly estimated outfit. 
Adhere to a timetable. Make yourself certain in arranging your bridesmaid gowns at least a half year ahead of time. Bridesmaid dresses can take famously long to show up, and the additional time will give you a cushion in the event that significant adjustments should be made. 
Be available to proposals. In the event that one of your bridesmaids comes to you with a recommendation or a worry about their bridesmaid dress, attempt to be open and considerate. Possibly one of your voluptuous bridesmaids is battling to feel certain about the dress style you're genuinely considering for everybody. As an old buddy, you ought to be eager to listen when she has a genuine concern. 
However, recollect that you're in control. Simultaneously, you'll need to perceive when one of your bridesmaids is being nonsensical. On the off chance that your bridesmaid is making an enormous arrangement out of wearing a yellow bridesmaid dress since it doesn't work with her appearance, don't hesitate to overlook her opinion and do precisely what you need. Keep in mind, this is your wedding and you ought to have the last say in what your bridesmaids wear for your huge day.