How Do I Choose A Bridesmaid Dress When The Bride Will Wear A Red Dress?
As for deciding the bridal part,  it would be a lot to plan for, and of course everybody is very excited for this big day. Why not be bold and choose red bridal gown for the bride? Red bridal dress looks so fabulous and stylish. It is a symbol of luck in some cultural norm as well. You have sat down with your crew for the discussion of the topic about what to choose and what the bridesmaids is going to wear since you're wearing the red dress as the bride. While it's a bit much overwhelming into deciding whether which color would best in coordinating outfits with the red bridal gown, numerous couples like to accomplish a strong look or a muted look as well. So you should opt to consider into deciding which color, style, length, material would suit very well with the red dress. Generally, bridesmaids should wear the look that would made the bride stand out. Anyways we will discuss here on how to decide which is the best.
Decide the guidelines on what will bridesmaids wear. Whether the bride have decided the material of the fabric to choose in her wedding like chiffon for example for outdoor weddings during the summer. For the style and length it depends upon the body type of the bridesmaids, for example it would be best to pick A line bridesmaid dresses as it compliments all body types. But it is best also to discuss with the bridesmaids which one would feel comfortable with everyone of the crew.
Choosing neutral schemes. The color that is neutral and muted would allow the bride to take the focus. When the bridesmaids will wear muted colors the bride your stand out. So color palettes such as champagne, beige, nude, grey would be so fantastic and luxuriously whimsical for the bridal theme. This would be a clean look to consider if you decided to do this color hue. 
Considering the cultural aesthetics. Whether it is western culture wedding. You would opt to choosing the color black for the bridesmaids as it looks so daring with red and the bride would look like a rose against her best ladies in black. We would call this Rose themed wedding.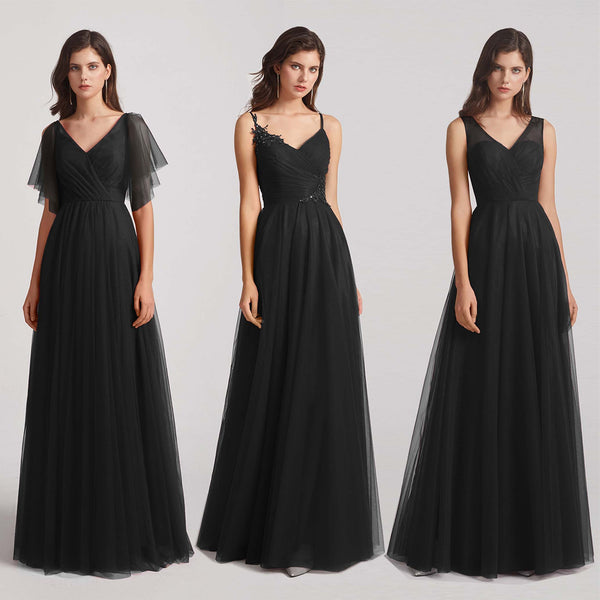 (shop tulle bridesmaid dresses)
If this is an Indian wedding, Indians aren't really that particular about what our bridesmaids would wear as long as it compliments the bride and that the bride would stand out more than the bridesmaids. So we do tend to play around a lot with bold colors. Indians like bold colors usually. The best color to use with red bride would be champagne.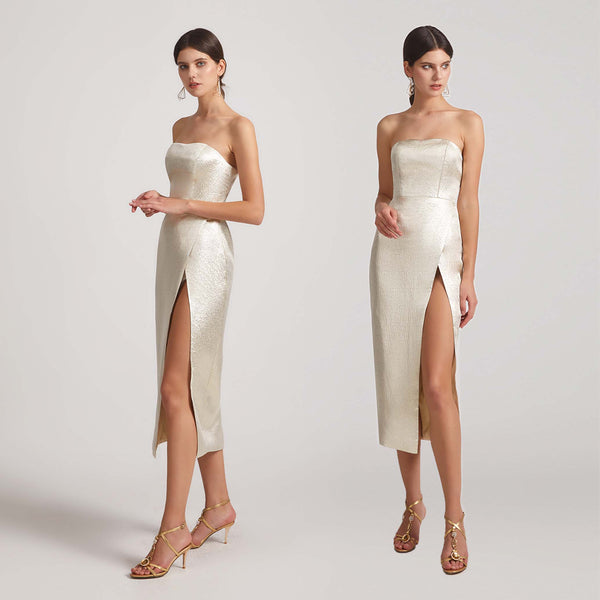 (get this metallic bridesmaid dress)
For the chinese brides they are required to wear red as a part of their tradition as well. Their weddings are usually very colorful as well thanks to the splash of vibrant colors everywhere in their cultural norm. It would be best to choose dark blue bridesmaid dresses as it is a beautiful choice to go with red. But if the bride would like muted color scheme, white bridesmaid dresses would be fantastic to consider as well. Neutral scheme would be amazing to opt in Chinese wedding also as it would compliment everything as neutral color palette suit all other colors especially a red bridal gown.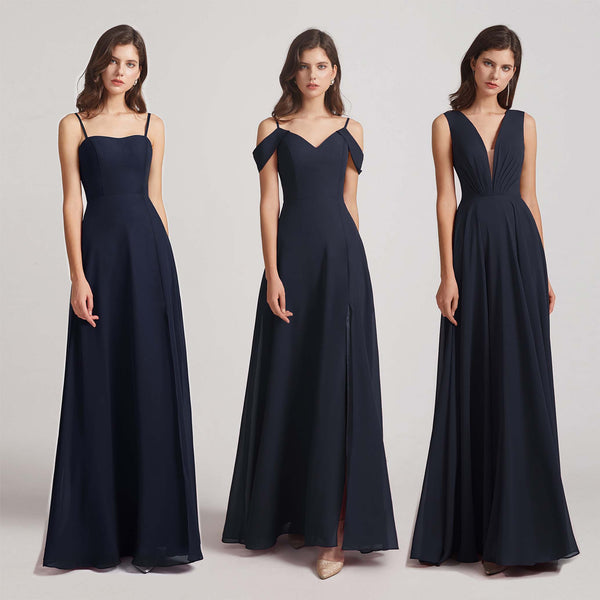 (shop chiffon bridesmaid dresses)