Top 5 Flattering Chiffon Bridesmaid Dresses
Chiffon is a universal bridesmaid dress fabric that is more affordable than other fabrics like satin, silk and velvet. Chiffon is great for designs with ruffles and pleating because it's thin enough to fold, tie, drape and layer, and also strong enough to hold its structure. Chiffon is a great fabric for a year-round wedding, but it's especially lovely for summer and spring weddings because it tends to be a pretty breathable fabric.  Chiffon is a perfect fabric in looser and free-flowing styles like A-lines, circle skirts, wrap dresses and asymmetrical hemlines.
Chiffon has this light, flowy, fairy-like and romantic feel and look. Take a quick look at the chiffon bridesmaids dresses from Alfabridal. You will be amazed by their wide collection of elegant and sweet flowy A-line dresses in more than 50 pretty colors that are sure to look good on any girl with any body type and shape. Check out these top 5 flattering chiffon bridesmaid dresses from Alfabridal!
We love this soft halter neck cutting A-line dress with thin spaghetti straps, graced with a lovely high neck and a flattering flounce at the bodice.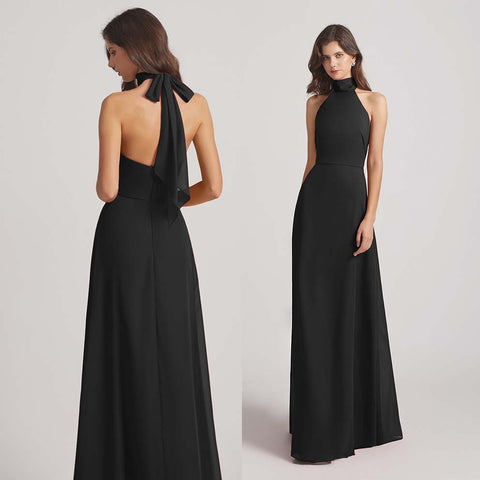 This seductive A-line chiffon dress showcases the wearer's shoulders and collarbones, drawing the eye upward, creating a balancing effect.  The exposed shoulders make the wearer look slimmer. This elegant dress is supported by a classy ribboned collar gently tied behind the neck, which looks like a long graceful ribbon from the back. The defining feature is the sexy backless design in floor-length A-line hemline.
The mesmerizing short dress is a multiway A-line chiffon dress. It comes with a long sash which can be tied in multiple ways, making this dress very versatile.  It can be worn as a tube dress or as a one-shoulder dress. It's a pretty flattering dress for petite girls. This is certainly one dress where you can wear for more than one occasion with the multiple ways you choose to tie the sash around the dress. It allows you to show up to any event in style and comfort.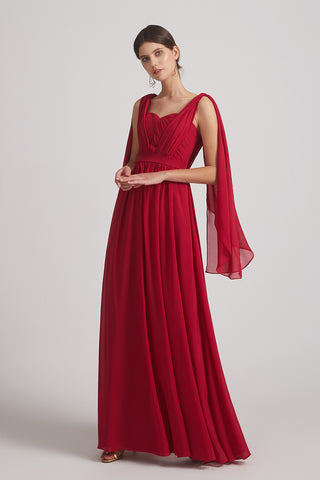 We simply love convertible and multiway dresses. Since the dress can be worn to more than one occasion, it is definitely well worth the money spent.   This glamorous dress in full colors comes with two long sashes which can be tied in multiple elegant ways – from a halter neck convertible to a one-shoulder dress to a tube dress, a sleeved shawl dress and many more. You just have to use your creativity to get the most out of this magnificent dress.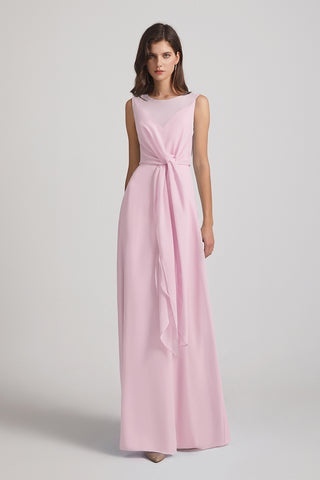 This simple yet elegant A-line sleeveless dress with jewel neckline is for the modest bridesmaid who prefers not to bare too much skin on the collarbone and chest.  The tie-waist design gives it a sophisticated edge and unique accent.
Oh, in case you don't already know, Alfabridal offers swatches & fabric order service. If you are not sure about the fabric or color you want, you could order the sample first to have a check!