Trendy Floral Bridesmaid Dresses 2020
Hello brides, let's talk floral bridesmaid dresses in particular!
You asked your favorite girlfriends to be your bridesmaids and they agreed.  They're all happy for you that you're getting married to the love of your life and can't wait to be a part of your bridal party. So now it's time to start scouring the web for affordable bridesmaid dresses for your lovely tribe!
Choosing the right dresses in the right color and style for your bridesmaids can be a challenging task.  Bridesmaid dresses are just as important as the bride's wedding gown. They need to complement the bride's gown to perfection yet should not overshadow the bride and steal her thunder. The bridesmaids dresses also need to be in compliance with the wedding theme and last but not least, they have to be elegant and catchy because the perfect bridesmaid dresses can set off the wedding dress, flowers and invitations, and help set the tone of the whole wedding. The right bridesmaid dresses can put up a beautiful contrast with the bride's gown, making it sparkle even more than it does on its own.
If you are having a flower-themed wedding or are having an outdoor wedding in summer and want your squad to be in floral prints, Alfabridal has a lovely collection of budding floral motifs bridesmaids gowns.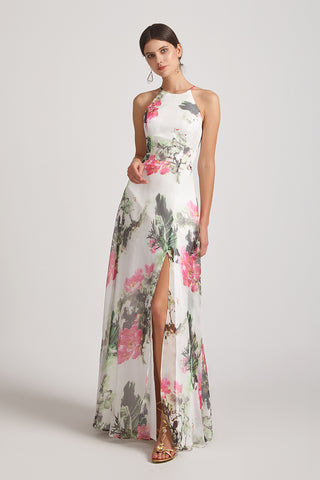 This floor-length dress with a deep front slit and halter neckline is elegant. Perfect for girls with broad shoulders and killer legs. With pastel prints of charming peonies and an open back design, this dress almost guarantees that any arrangement of dresses will look beautiful together.
2. Floral Chiffon Convertible A-line Ruched Bridesmaid Dresses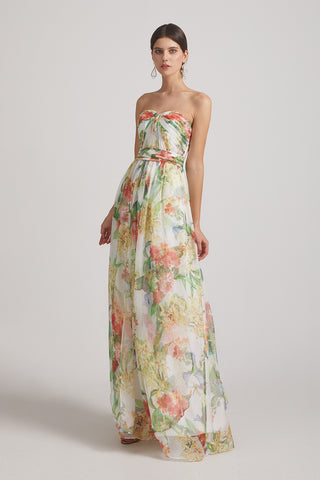 The is a stunning floor-length tube dress in soft chiffon. With bold colours of floral print, it is perfect for an outdoor wedding on a lovely summer day. It comes with a detachable sash that can be tied in multiple chic and elegant ways.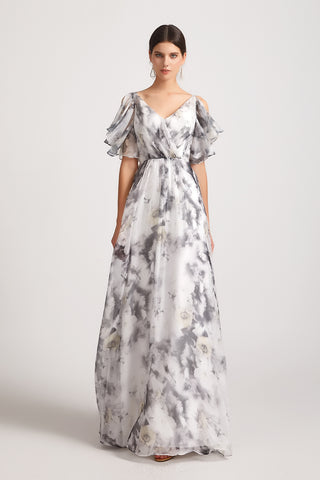 Brides with a floral wedding theme can pick this floral A-line chiffon dress in neutral shades. The V-neck design with a V-back design is elegant and feminine.  It's a stylish cold shoulder floor-length dress with soft flowy ruffles.
4. Floral Cold Shoulder Chiffon Short A-line Bridesmaid Dresses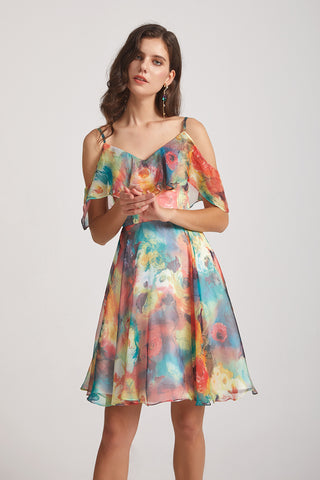 The short dress in vibrant and colourful floral print is a gorgeous addition to a wedding party during the spring and summer months. The warm weather months present the perfect opportunity to break out of your wintertime rut and dress your girls in cheery, colourful prints – a fresh alternative to the same old monochromatic, matchy gowns. This short dress with unique cold shoulder design suits shorter petite girls who don't have the height for maxi dresses.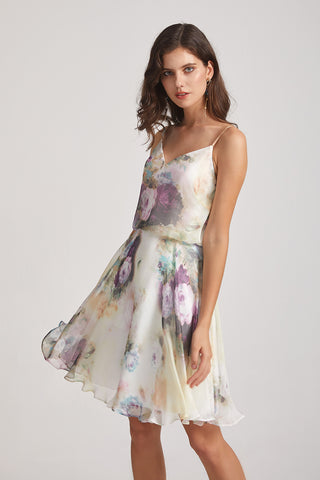 Let your best gals be the statement piece in your wedding with bold florals across the board. This chiffon short dress with a V-neck and V-back design comes with oversized flowers in sweet pastel hues. After your "I do's," your besties will certainly be able to get more use out of a flower-patterned dress again as wedding guest attire or as an elegant summer dress for weekends and vacations.
And the best part is all the bridesmaid gowns at Alfabridal are under $100!