Top 5 Modest Bridesmaid Dresses 2022
Chapels are becoming a popular wedding venue for many couples especially if they want an intimate and personalized wedding ceremony. For those who are planning for a church wedding, there are rules about dress codes for ceremonies in a church building.
If you are looking for a modest approach to your wedding and would like to find modest bridesmaid dresses for your best friends as you walk down the aisle, you will be glad to find them at Alfabridal. This leading online retailer is dedicated to offering beautiful dresses that complement every body types. Church wedding is very traditional so it is best to avoid any dresses that are too revealing. Avoid above knee hemlines or other revealing dress styles if you can as these will look out of place. Having said that, your squad do not have to look boring. Eventhough the spotlight is on the bride, it is also important for the bridesmaid to look their best. Go for simplicity, but at the same time making sure that the dresses reflect sophistication. Your best maids do not have to wear something elaborate to look gorgeous. Even the most modest dress can dazzle and shine. Below are top 5 modest bridesmaid gowns that are trending this year.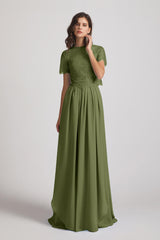 Opting for a gown with sleeves is the safest choice for a church wedding.  Bridesmaid gowns with sleeves are both trendy and timeless. Sleeved maid of honor dresses like this pleated short sleeve dress, are easy to wear and offer just the right coverage.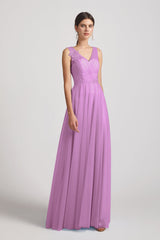 Long gowns in silhouettes like A-line look very grand in traditional settings. Or choose a hemline that ends at the knee or below. This v-neck applique A-Line long tulle dress look stunning.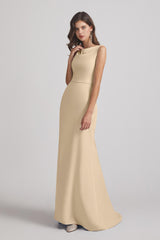 It is usually safest to choose a dress with a higher neckline like this cowl fitted trumpet dress. Dresses with high neck offers coverage in front and it is best that your maids style their hair updo to make sure the high neck stands out.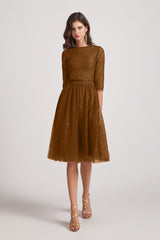 Sleeved bridesmaid dresses like this 3/4 sleeve knee-length lace dress look flattering on most figures. Bridal dresses with sleeves are a great way to ensure that all of your bridesmaids feel confident and beautiful when walking down the aisle at your traditional and modest ceremony as well as on the dance floor.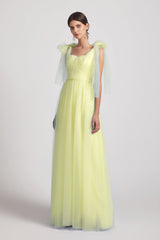 A convertible dress is one that can be worn in multiple ways. It typically features an a-line skirt with two long straps that can be tied or wrapped to create different styles. Whether it is a halter style, one shoulder or drape over the arms to cover the back and shoulder, the options are endless. It is just as easy to create a gorgeous look with a conservative dress. Your maids can pick the style that best flatters their body if you choose a convertible dress for them.
Alfabridal's impressive range of bridesmaid dresses comes in a range of colors and minimalist style. This make it easy for you to find the dress that you want.  Always do your research early and narrow down your choice. Remember to consult your bridesmaid before you make the final decision on the style to get for them.