Top Bridesmaid Dresses Colors For Spring Wedding
There is always something special and romantic about weddings in spring. Not only is this the season of of change after a long winter, the warmer weather and spring sunshine are definitely welcomed. There is abundance of flowers and pastel color details that make this season perfect for a wedding. Spring is regarded as the most romantic time of the year to hold say I Do. This is the reason why many couples choose to tie the knot in this season.
Very often, the spring season is associated with pastel palettes such as pink, purple, baby blue and white for floral bouquet, wedding decor to bridesmaid dresses. A wedding day is not only just a special day for the bride, but also for the bridesmaids who have been there for her through many of life's biggest milestones. As such, the bride will want to find a dress that not only reflects the style of her wedding but also fits all the girls and make everyone happy.
If you are planning for a spring wedding and have chosen the wedding gown of your dream, it is time to begin another gown shopping journey and it is the quest for the bridesmaid gowns. There are many perfectly spring pastel shades to choose from. Pastel are light colors such as dusty sage, lavender, sky blue and more. Pastel bridesmaid dresses are undeniably romantic. The hues that everyone are seeing everywhere now are beautifully subtle and versatile, and can work with any types of weddings such as seaside nuptials to garden ceremony. Also, these toned down hues look great with each other so they really super easy to style. There are also pastel dress styles are available in warmer fabrics like velvet and heavy-weight crepe making them appropriate for fall or winter weddings.
When picking out a color for your wedding, where do you begin? With many options and shades to choose from, it can seem like a daunting task. Well, do not worry because we are going to show you some of the best bridesmaid colors to inspire your big day. These gorgeous colored dresses will complement your stunning white gown perfectly and also a finishing touch to your wedding color theme. With an abundance of hues and silhouettes available, you can surely find a pastel dress to suit your bridal party.
Popular Bridesmaid Dresses Colors for Spring/Summer Weddings in 2021
Classic Bridesmaid Dresses Color - Blue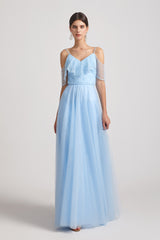 Something old, something new, something borrowed, something blue. Do you know that one of the most popular wedding colors is blue? With its romantic quality, sky blue is widely used in spring weddings. A true wedding classic that is perfect for any bridal vibes, this shade is universally flattering and can work for any wedding venue or wedding vibes,  whether the ceremony is outdoors, the beach or a city affair. Its calming shade goes amazingly well with white and exude a serene vibe when matched together. When used solely instead of pairing with other colors, it is more beautiful and elegant. From sky blue to striking navy, there is a shade for every season.
This cold shoulder A-line dress is the perfect, elegant bridesmaid gown for any type of wedding. A unique cold shoulder design makes this beautiful sky blue maid of honor dress another classic that all bridesmaids will love. Sky blue is great for spring weddings no matter the wedding style is modern, vintage or rustic especially when it pairs with light pink and white. This dress is the perfect choice for all body types.
Trendy Bridesmaid Dresses Color 2021 - Dusty Sage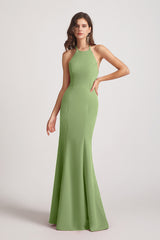 Are you curious about the dusty sage color? Dusty Sage is a light pastel green hue that conjures a serene image of peaceful meadows and open fields. Dusty sage bridesmaid gowns are another popular choice and for good reason! This fun and soft shade is clean, minimalistic and works well all year-round.  It also compliments every skin tone and hair color. This hue makes a perfect addition to a neutral color palette for any season. Dusty sage maid of honor dresses look absolutely stunning in photographs. It is a beautiful choice and your bridesmaids will thank you for this.
Pin-thin halterneck straps, criss-cross back and textured silhouette,  this stylish maxi dress has it all. Your bride tribe will absolutely love the comfort and style of this sage green bridesmaid gown!
Romantic Bridesmaid Dresses Color - Dusty Rose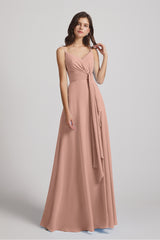 There is nothing quite as romantic as pink, blush or dusty rose. Elegant and romantic, a dusty rose wedding color palette is perfect for spring / summer. A close cousin of blush pink and plum, many people are fawning over this subtle color that is making its way into more and more spring and fall wedding palettes. Maid of honor dresses in this lovely ballet-inspired shade are universally flattering and look gorgeous on a wide range of skin tones. This gorgeous hue coordinates well with other traditional wedding colors like mauve, which is a dusty version of purple. Dusty rose bridesmaid dresses whether with floral prints lace or sequins are sure to satisfy even the most picky lady of your bridal party. 
This A-line chiffon dress is a classic yet breezy style with right mix of elegant and boho. The flowing chiffon fabric exudes a soft, feminine feel that looks amazing in dusty rose. With a V-neckline and flowing A-line skirt, it is a flattering and comfortable choice for bridesmaids of all body types.
Fresh Bridesmaid Dresses Color - Mint Green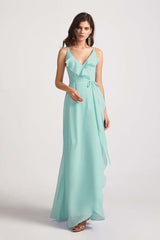 Mint maid of honor dresses have been trending for a while. If you are a bride-to-be who loves keeping up with the latest trends, then this shade of green should be considered. With your bridal party in mint bridesmaid gowns is definitely a refreshing change. This hue is fresh, feminine and timeless. No matter if it is a destination wedding, a rustic wedding or a garden ceremony, mint bridesmaid dresses are versatile enough to complement any wedding theme. This beautiful color offers a certain calmness and peace to the wedding ceremony and this would make the guests feel comfortable and at ease. There are dresses with sleek silhouette, modern necklines to dresses with lace accents, mint bridesmaid gowns are perfect for the effortless mismatched look.
This V-neck long chiffon mint maid of honor dress is the epitome of minty fresh, featuring flutter sleeves and a punchy shade. For the bridesmaid seeking more coverage on the arms, this flutter-sleeve style is an elegant choice. The V-neck with a little tie at the waist is an ultra-flattering silhouette.
Modern Bridesmaid Dresses Color - Lavender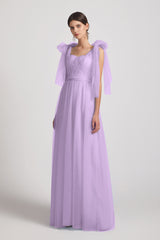 A simple way to incorporate lavender into your wedding is having all of your bridal party wear it! Dress them up in lavender for a soft pop of color that all weddings need. Lavender is not overpowering, breathaking and look flattering on every skin tone. This lovely purple hue combines beautifully with many wedding color quite well. Whimsical and romantic, lavender bridesmaid gowns will always be a popular choice for brides. Lavendar maid of honor dresses are great all year round.
This convertible lavender bridesmaid gown is sweet with an ethereal feel. Complete with a cute sweetheart neckline and flowy tulle skirt, this lavender dress feels playful and romantic.
Timeless Bridesmaid Dresses Color - Pearl Pink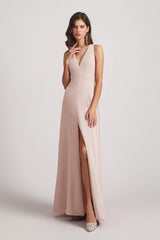 There is nothing prettier than bridesmaid gowns in pearl. This tender color is one of the most romantic and sweet colors! It makes everything look beautiful and effortlessly romantic. This hue is very popular today and very easy to work with.  Many designers have created beautiful bridesmaid dresses with lots of feminine details. Dressing some of your bridesmaids in pearl pink  and others in sequined rose gold is ideal for a mismatched bridal theme in spring.
Minimal and chic, this long split  A-line gown is both romantic and modern. This dress is ideal in warmer temperatures while the skirt flows beautifully with a lightweight feel. So if you are looking for a punchy maid of honor dress color to brighten up your big day, then suit your bridesmaids up in pearl pink dresses.
Stylish Pastel Colors for Bridesmaid Dresses - Floral Theme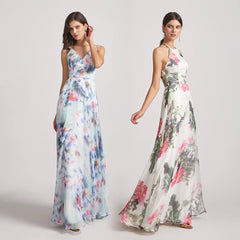 Nothing screams spring or summer like a floral print. Floral printed bridesmaid gowns are a perfect choice for your lineup of gals in spring. Regardless of a bold design or subtle print, they are a romantic alternative to solid pastel colors.  If you are interested in a mixed maid of honor dress style, floral print bridesmaid gowns are also a good choice to break up solid colors. They also add dimension and texture to coordinating dresses.
Other Bridesmaid Dresses Colors
There are some other bridesmaid dresses colors you might like, such as mauve, dark navy, pale yellow, etc. But there are different opinions on black bridesmaid dress color. People will ask if it is bad luck for bridesmaid wearing black bridesmaid dresses. In general, black gowns are a fine choice and aren't worse than the gowns of light or bright hues. Everything depends on your wedding style, location and what exact dresses you choose. Even better: choosing a black bridesmaid dress guarantees your girls can wear their gown again.
Conslusion
There are plenty of beautiful choices both in long and short versions for you and your bridesmaids to choose from. For a classic spin on pastel maid of honor dresses, simple styles in a single shade will look polished and timeless for a traditional bride. For brides who prefer minimalist wedding, sleek slip dresses with subtle shades will complement the modern aesthetics. If you are planning for a destination wedding, bridesmaid dresses in dusty blue shades or coral are just perfect for the seaside wedding. If you prefer mix and match, perhaps you may want to try different pastel colors, textures and prints for the effortless mismatched look. 
Read More Guides: