Trend Alert - Sequin Bridesmaid Dresses
So you thought you were done with dresses after finding your wedding gown?  Well, think again. Your next mission is to look for some stunning bridesmaid dresses for your tribe. One of the most special days in any woman's life has to be her wedding day. All eyes are on the bride as she makes her way down the aisle on this very special day and it is the perfect day for her to shine. However, that does not mean that the bridesmaids do not deserve to shine too. If you want your best friends to look like a million bucks on your wedding day, they will need the perfect outfits.
It is time to let the cat out of the bag on the hottest bridesmaid trend now. Let it be known that you heard it here first - Sequin bridesmaid gowns are all the rage now. This shiny look is not only reserved for dinner or cocktail parties and if think that this sparkly trend is over the top for your wedding, think again. Do you want your leading ladies shine with a hint of old Hollywood glam? Give them a little something sparkly on your big day by outfitting them in sequin bridesmaid dresses. Shimmering fabrics are having its moment in the bridal fashion world and is often a popular choice for winter bridesmaid gowns. There is just something about the cold weather and holiday season that make everyone long for a bit of sparkle because sequins are festive. However, sequin maid of honor dresses also work well for other seasons too because they come in different shades and you will be able to find one that suits your taste no matter the season.
Reasons For Why You Should Consider Sequin Bridesmaid Dresses:
Sequins Are Classic
Fashion trends are seasonal and like floral prints that are always associated with spring, sequins are synonymous with the festive period. However sequins are no longer constraint to a certain season and can be worn all year-round.  The history of sequins stretches as far back as the ancient Egypt and has always been elegant and timeless. Sequin bridesmaid dresses are one of the trends that never go out of style.
High End Look For Less
A dress style that look more expensive than it really is will definitely have to be an embellished dress. With a dash of sparkle, sequin dresses are a class of their own and give the expensive look for less. Which is why sequin bridesmaid gowns are perfect for a glamorous affair or a jazzed-up wedding.
Making Your Maids Stand Out In Sequin Gowns
Brides who do not want the bridal party to look over the top and flashy with sequins can consider just having the maid of honor in a sequin dress while the rest of the group wears tulle or chiffon bridesmaid dresses. This is a great opportunity to make the maid of honor stands out and be given the special recognition she deserves. Another choice is to treat your girls to a mix and match party for a refined and eye-catching look. Your maids can wear the same dress styles but in different colors or pair sequins with other fabric like tulle. A popular fabric used in making bridal dresses, tulle and sequins go hand in hand.
Best Choice For Glamourous Wedding Venues
Whether you are saying 'I Do' in a vineyard or a posh hotel, sequin bridesmaid dresses bring out the right amount of glamour. Nothing says evening glam like a dress that shimmer and shine. Your bridesmaids will definitely feel more sophisticated in a sequin dress.
This Is A Style Your Bridesmaids Will Feel Comfortable Wearing
It is not easy to find bridesmaid dresses that your squad will love because everyone has a different style and color preference. Sequin dresses will definitely appeal to your entire bridal party. After all, women have a penchant for all things that glitter.
A Dress That Can Be Worn Again
Buying a bridesmaid dress is not every best friend's way of splurging.  In many cases, it is the bride who will select it and very often it is a one-style fits all. The bridesmaids usually end up with an unflattering gown that collects dust in the closet. When you chose sequin dresses for your besties, they will definitely be able to find ways to wear it again. Sequin dresses are incredibly versatile and did we say timeless again? Sequin bridesmaid gowns are perfect both on the dance floor at the wedding as well as New Year's Eve parties.
Below are some of favorite sequin maid of honor dresses that are the style statement your gal pals will want to make. These on-trend dresses are without the in-your-face glitter so don't worry about these dresses being over dramatic.  With stylish silhouettes and modern necklines these bridesmaid dresses are totally sleek and adding their own personal styles to these is easy.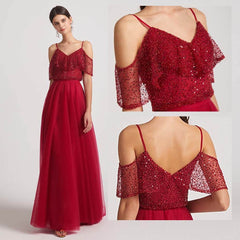 This elegant cold shoulder beaded bridesmaid dress creates a look that is both classic and contemporary. This sexy yet romantic dress is complemented by the open V-back.  Its feminine silhouette is one of the most universally-flattering styles on the market and will make your bridesmaids very happy indeed. If you are looking to re-wear a bridesmaid gown, you will have to get one that does not scream "a maid of honor dress!" This ruffle A-line dress fits that bill.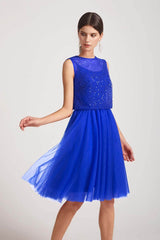 For a petite bridesmaid, this lovely short and flirty sequin dress may just be the perfect bridesmaid dress and later, a cocktail dress. The beaded bodice on this round neck dress has a feminine touch. The dress is a good fit for a casual wedding, since the skirt is just at the knee. Dress it up with a pair of heels and be ready to celebrate the new couple. Once the wedding is over, your maid can pull this dress out of the closet for any party or function in the future.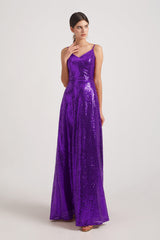 This glamourous sequin bridesmaids dress may be the closest thing you can get to a dress made out of stardust. The twinkling of sequins has a dreamy look with an enchanting feel that will dazzle the wedding guests. Its sophisticated color will give your wedding ceremony an air of elegance. You can imagine the sparkle the sequins will showcase both on the dance floor at the wedding or when it's time to welcome the new year. When your dress is this gorgeous, braving the cold for a photograph is definitely worth it!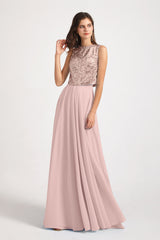 Sequins are gorgeous but they can also add up a lot of extra weight. This simple jewel sleeveless sequin top dress won't weigh you down and it has a relaxed fit, airy and uber-flattering. Its modern-looking sequin top is what sets this dress apart from the typical bridesmaid dresses. This is a good option for a fall wedding, and then can be worn again for a holiday gathering.
Same But Different
The bridal party do not have to wear identical gowns to coordinate with one another. One of the latest popular trends is mixing dress styles that allows every bridesmaid to have their own style in a gorgeous unique gown. Brides and bridesmaids are loving the idea of one color in different styles. They can incorporate the sequin in their same color dresses but with a variety of styles like spaghetti straps or different neckline such as V-neck or round neck. This is a great option if your bridal party consists of different shapes and sizes.
If you have bridesmaids who are not into beads and sparkles, well fear not. You can also mix-and-match these sequin bridesmaid dresses with their non-sequin counterparts seamlessly while keeping the same color gowns.
One Color But Different Tone Bridesmaid Sequin Dresses 
Rich and gorgeous, sequin bridesmaid dresses come in an array of colors and styles to suit any bridal style.  Nowadays, many brides and bridesmaids are moving away from the uniform look. The bride tribe will be wearing different tones of the one color. For example, peaches, ombre pinks, and purples are popular and are great in photos. This will again allow bridesmaids to pick and choose the color that best suits them.
How To Accessorize When Wearing Sequin Bridesmaid Dresses
It is important to shine smartly in a sequin bridesmaid gown. It can be totally classy when styled right. When your maids are wearing sequins, you also don't need to worry much about donning bridal accessories to elevate the look. The sequins are a statement in themselves, making them effortlessly elegant for your high-end nuptials. If your best friends prefer to accessorize, then opt for a simple necklace and a couple of tasteful stud earrings are all they need.  
Necklaces
Use the neckline of the sequin dress as a guide on whether to wear a necklace or not. V-necklines, because of the deep cut in the bodice allows more room for jewelry, making it possible to accessorize with a simple, slightly longer pendant necklaces. For a strapless sequin dress, it is best to go necklace-free. 
Earrings
Plain metals complement almost all sequin dresses. As such, silver or gold pendant earrings without jewels are an ideal choice. A classic pair of diamond earrings are a beautiful choice for accessorizing dresses with sequins. If you want a little more wow factor than the traditional studs, statement earrings are a great as long as they are not over the top. Do ensure that the colors are consistent, or matches with the bridesmaid dress.
Always remember that sometimes the best things come in small packages.