Where to Buy Cheap Bridesmaid Dresses?
After months of searching for your dream wedding gown, you've finally found it. You can tick this off your Wedding To-Do-List now. Your next task is to find the perfect bridesmaid dresses for your lovely girls. We all know that bridesmaid dresses aren't cheap. But you really want your chaperoning girls to look stunning in their dresses for all the photos that you will be taking together on your big day. Fret now. There are many ways to help your bridesmaids save some money on their dresses without bleeding their bank accounts dry.
Check out our tips on finding the perfect bridesmaid dresses for your besties without having to break the bank:
1. Buy Pre-Owned Dresses
Most girls only wear their bridesmaid dress once, so why not check out pre-owned wedding dresses sites to find the perfect dresses on the cheap?
 2. Opt For Short Dresses
Shorter-length dresses usually cost less than floor-length looks and bridesmaids appreciate them more since they can wear them again to other parties.
 3. Rent Instead Of Purchase
Bridesmaid gowns can be very expensive, and depending on the style, it may be difficult to find an occasion to wear the dress again. If your girls are only going to be wearing the gown once, you don't have to spend so much money on the dresses. The money saved can be spent on make-up, hair-do and accessories.
4. Buy Online
Since shelf space is not an issue online, there are designs, sizes and colors to choose from that cannot always be in a physical store. The online route usually opens the door to endless choices and the prices are usually cheaper. Online shops that specialize only on bridesmaid dresses such as Alfabridal often have an extensive collection of gorgeous styles at prices that you'll love.
Alfabridal offers high-quality yet affordable bridesmaid dresses in long & short styles, chiffon, lace, sequin, velvet, tulle and many more fabrics. With over 56 colors and hues to choose from suitable for all shades of skin color and body shapes. No matter what style you want, cute, classy, retro, sexy or simple, you can find it at Alfabridal, every piece of bridesmaid dress at Alfabridal comes with a price tag of only $99. Yes, you read it right. You just have to buy a piece to see the quality for yourself.
Today's plunging v-neckline bridesmaid dresses are extraordinary and designer chic. If you think a plunging bridesmaid  gown is right for you, scroll through our collection of comfortable and affordable dresses. For example, the design of this dress focuses on the deep V neckline, elegant and sexy.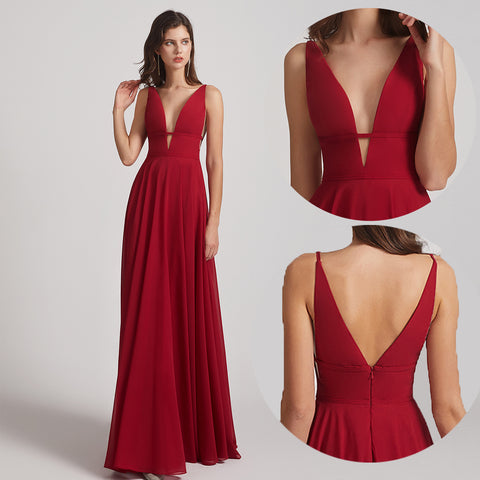 Shopping for bridesmaid dresses online can save time, money, and energy which can be put to better use. Work with your bridesmaids closely during this time to ensure that no one is left in the dark and that everyone is on the same page, especially when it comes to budgets and timelines. All the best in your bridesmaid dresses shopping!