Top 5 A-line Chiffon Bridesmaid Dresses
The materials you choose for your bridesmaid dresses will affect how your bridesmaids feel on the day, your wedding dress and the photos.  The same color can be entirely different when done in two different fabrics. Similarly, the same dress design will drape differently depending on how structured or soft the fabric is.
Chiffon is the ultimate bridesmaid dress material as it is both thin but sturdy, delicate but bold.  Chiffon is usually very sheer which gives it that whimsical, draped look.  Chiffon is also one of the most versatile dress materials and most sought after for bridesmaid dresses. It is a great pick if you want to re-wear bridesmaid dresses, or you are looking for any kind of versatile evening wear.  Chiffon doesn't cling to your body, thus it's a good choice for dresses with layers. It is commonly used in a layered style, to cover up the sheer effect that is characteristic of the material. This light fabric feels cool on the skin. Hence, we think this material is ideal for outdoor weddings in the warmer months.   You can pick chiffon for your bridesmaids dresses if you want them to look ethereal and like Greek goddesses!
A-line dresses are body-friendly. This type of dress fits at the waist and gradually flares out towards the hem, which makes the dress look like an "A" shape. It is perfect for both casual and formal setting, and you can dress it up or down with ease. This style is best suited for pear-shaped bodies, as it shows off your lovely shoulders and adds a feminine touch to your lower half while camouflaging any undesirable parts on the belly.
We have picked 5 top A-line chiffon bridesmaid dresses from Alfabridal that we think your girls will love and will look absolutely gorgeous in.
The dress is an elegant A-line chiffon dress. The halter neckline design makes this dress very glamorous. It's a sleeveless floor-length dress with an open back. This gown will look fabulous on girls with broad shoulders and those with slender arms.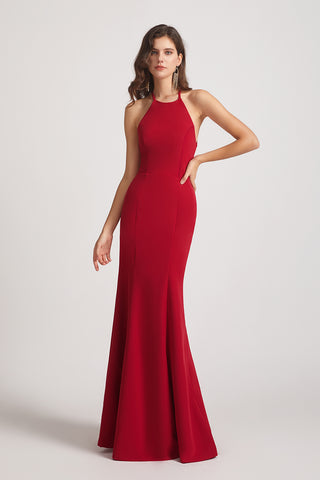 2. Sleeveless Cowl Chiffon A-line Blue Bridesmaid Dresses
The dress is a modern A-line chiffon dress. The cowl neckline design makes this dress so elegant. And the V-shape neck line creates a slim illusion on girls with a round face.  It's a sleeveless floor-length dress with an open back.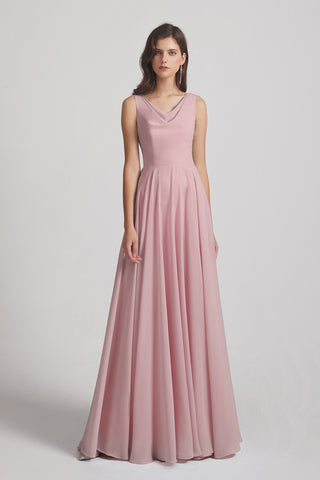 3. Sweetheart Convertible A-line Long Chiffon Bridesmaid Dresses
The dress is a dramatic A-line chiffon dress. It comes with a convertible design which makes this dress so versatile. It can be worn as a tube dress or with spaghetti straps for more comfort.
Brides with a floral wedding theme can pick this floral A-line chiffon dress in neutral shades. The V-neck design with a V-back design is elegant and feminine.  It's a stylish cold shoulder floor-length dress with soft flowy ruffles.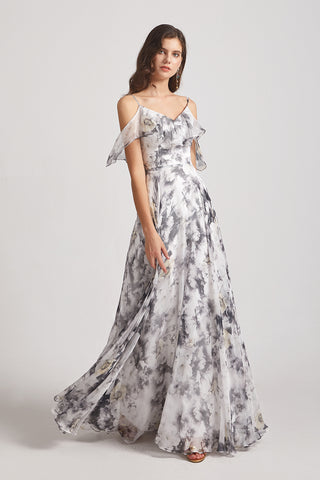 The dress is an elegant A-line slit chiffon dress. For girls who do not wish to bare too much of their shoulders and upper arm, this dress is the perfect fit. It comes with a V-neck design, which creates the illusion of height and slims down a larger frame while also creating the illusion of a slimmer neckline, especially if you have a double chin.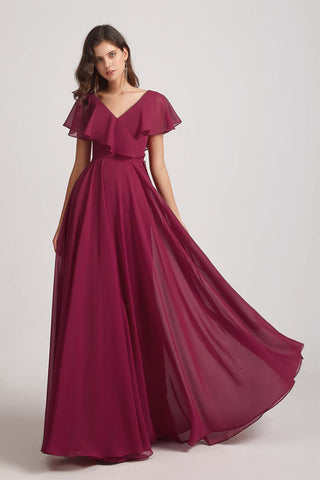 Most of the maid of honor dresses at Alfabridal are available in full sizes and over 50 sweet pastel, earthy and neutral colors.