Top 5 V-neck Chiffon Bridesmaid Dresses
A V-neck dress is the type of dress with V-shaped neckline.  Some openings are really deep (plunging neckline), while others are high and wide.  V-neckline bridesmaid dresses are compatible with almost any body type. V-neck cutting gives a vertical impression to the wearer's look, making her look slimmer and taller while making the face look sharper. This type of cutting is suitable for girls with a round face or double chin. Bridesmaids with broad shoulders, thick torsos and short necks should opt for V-neckline dresses as these type of dresses will flatter them.
V- neck dresses give a vertical impression to one's look, making them look leaner, longer, and taller. This type of dresses is good for ladies who have broad shoulders, thick torsos, and short necks. Whether you are petite, skinny, or plus size, the V-neck will still flatter you. V-necklines are very popular with our customers as they are alluring and breezy. The following 5 V-neck chiffon bridesmaid dresses are our top picks for 2020. 
1. Double V-neck Ruched Chiffon Long Champagne Bridesmaid Dresses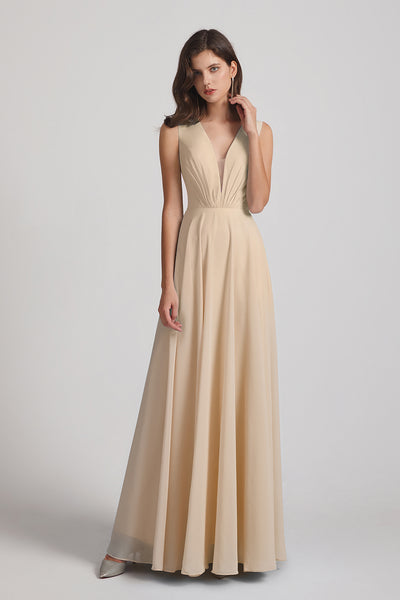 The fitted bodice with ruched design and swirling skirt of the fit-and-flare has a way of complementing the feminine shape like no other. Whether the wearer is slim or larger in size, this dress has all the flattering features - from a deep V-neck to a ruched design and a flare hemline. And it's so comfy as you can move about freely in a flare skirt.  You really can't go wrong when rocking a fit-and-flare dress in soft chiffon.
Fit-and-flare long chiffon dresses that have pleats are great choices that flatter the hips without bulking them up. Folds on the bodice help even out curves below and the pleats minimize midsection bumps.  This dress in burgundy is an ideal dress for girls with full hips and thighs as this design flatter the hips without bulking them up.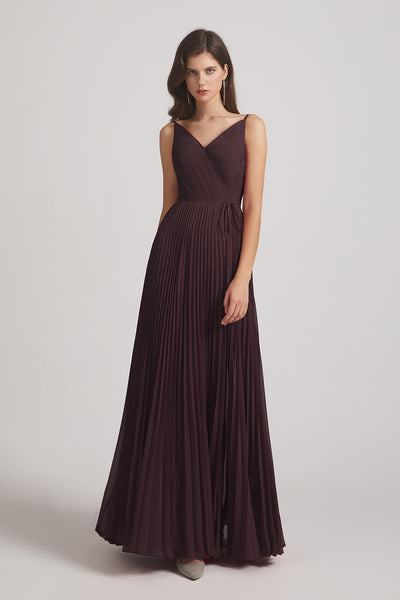 A princessey dress in sweet light blue or any pastel color, this demure dress is for the modest girls in the bridal party. Don't you just love the pleated fit bodice embellished with flutter sleeves?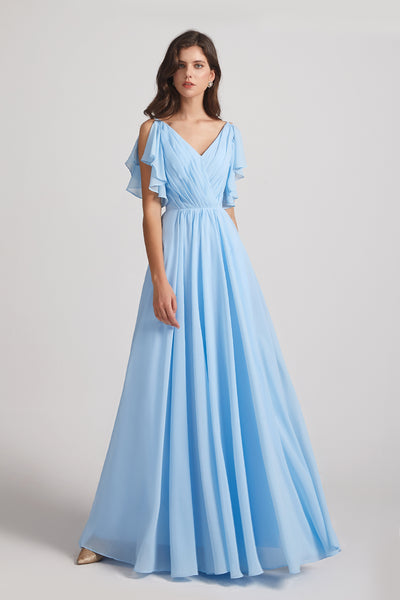 Bridesmaid dress separates are unique, versatile and perfect for any bridesmaid. This chic two-piece dress can be adorned with a sparkling link belt for a more sophisticated look. After your big day, your besties will certainly be able to get more use out of a two-piece short dress again as wedding guest attire or as an elegant summer dress for weekends and vacations. It can also be worn as mix and match with other pieces.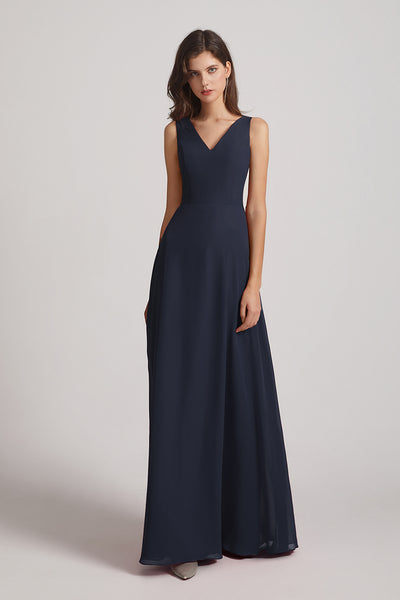 If you have a body with the curves to flaunt, this is your dress!  It has the right cuts at the right places. We especially love the unique back with a ruched design and open back adorned with a flowy long sash that flows elegantly as you and the bridal party sashay your way around.
Have you been bridesmaid gown shopping lately? Tell us what you're looking for and we'll be pleased to answer your questions 😊