Best 5 Satin Bridesmaid Dresses 2020
Trends come and go in the fashion world and so are wedding trends. Although wedding trends are not as transitory, they also change on a seasonal basis.  There are certain colors that would be trending at particular times and silhouettes that would be favored over others at specific periods.
Are you looking to outfit your bridesmaids so that they look just as fabulous and glamorous as you do on the big day?  Then you may want to take a look at satin bridesmaid dresses.  Nothing says elegance like satin.  The word satin refers to the "weave" of the fabric and it clearly describes the smooth silky finish that is seen on gowns and lingerie. This fabric is very versatile and smooth.  Do you know that satin dresses photograph exceptionally well?  This is because satin is a high-sheen fabric that looks stunning under any lights. Your squad will look beautiful in any location and in any lighting.
Another good reason to choose satin dresses for your bridesmaids is that its silky fabric work for most body types which makes the wearer not only look great but feel comfortable and confident as well. As satin dresses tend to be heavier than dresses made of other fabrics, they are more likely to stay put.  This is important because your maids would not have to pull or push the dress all the time to make it sit correctly.  Satin dresses are also easy to hold in place so it will help when your best friends want to pull their dresses up to drop it like it's hot on the dance floor.
Satin bridesmaid dresses are good choices if you want full glamorous vibes, traditional or formal wedding, or planning for an evening reception. Not sure how to start your search for satin bridesmaid gowns?  Check out the Top 5 Satin Bridesmaid Dresses below: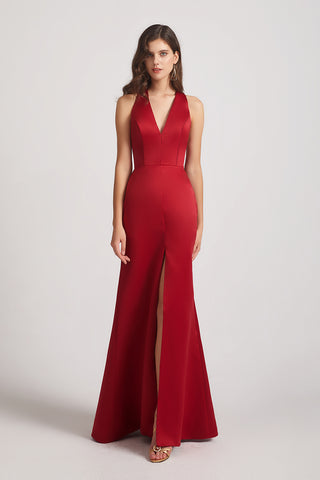 Vibrant colors like red, blue and purple are particularly glamorous in satin.  This sleeveless red dress features a plunging V-neck and front split for added drama.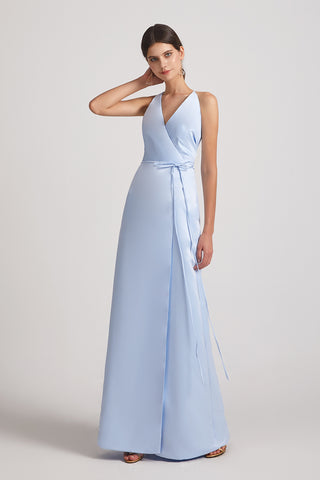 V necklines were highly popular in the late 90's.  This style is making a major comeback this season. Time to channel some old Hollywood vibes in this V neck fitted dress.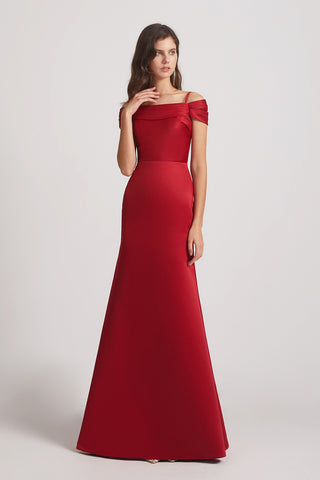 Simple, sophisticated, and sleek.  This off-shoulder spaghetti strap dress offers a romantic element to your bridesmaids' look and will definitely set hearts aflutter.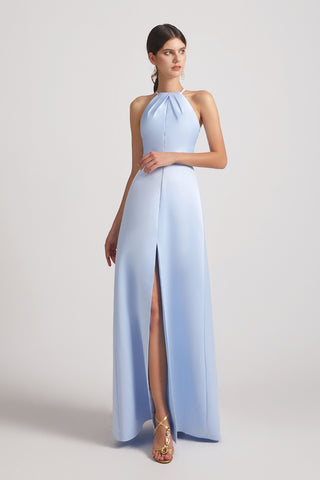 The sleeveless halter neck dress features a flirty front split and a racerback detail.  Sophisticated in the front and sexy in the back, it is the perfect combination for a classy bridesmaid.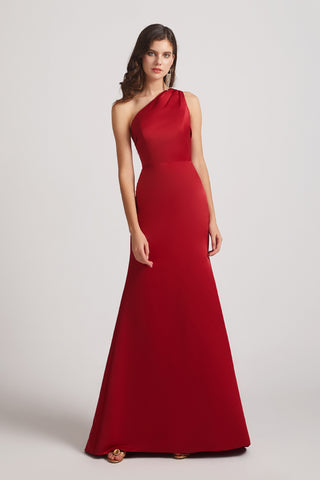 Simple and classic, this one-shoulder satin bridesmaid dress features a sleek modern look. Its long flowy skirt is ideal for twirling across the dance floor.
Since satin is one of the most common fabrics for wedding bridal parties, this means that you would have many choices when it comes to shopping for satin bridesmaid gowns.  Satin fabric gives off a luxurious look but it is not an expensive fabric. You can find reasonably priced satin bridesmaid dresses that will make your gal pals feel like a million bucks at Alfabridal. 
Related Acticles: