Top 5 Floor Length Chiffon Bridesmaid Dresses
There's something about floor length dresses that make them so alluring that every bride and bridesmaid would love to jump into one. They exude elegance, glamour and charm.  If you are planning a formal wedding, long gowns for your tribe are the best option.  Since guests are expected to come in evening attire and the role of a bridesmaid is so important, black- and white-tie weddings are those rare occasions when long bridesmaid dresses for bridesmaids are a must. 
There are so many advantages for your bridesmaids to be in a floor length dress on your special day. With legs covered up, self-conscious bridesmaids won't have to worry about imperfect legs. And since their shoes won't show, your girls can wear what they feel utmost comfortable.  If any of your best girls are in her second or third trimester, she will feel more comfortable in a long dress with a flare hemline.    
The variety of styles for long gowns is so extensive. Chiffon is an especially popular fabric for floor length dresses.   Chiffon is usually very sheer which gives it that whimsical, draped look.  Chiffon is also one of the most versatile dress materials and most sought after for bridesmaid dresses. 
We carry a nice collection of floor length chiffon bridesmaid gowns. Every design has its unique features. With so many gorgeous designs and colors to choose from, how is a girl going to choose a dress? We have picked top 5 floor length chiffon bridesmaid dresses that we love for this season: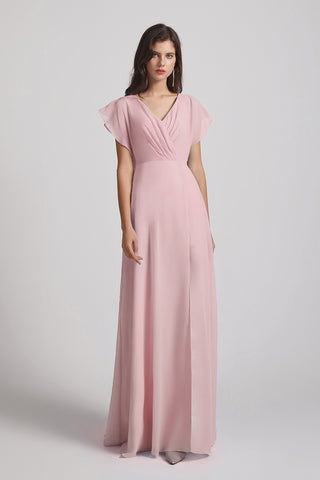 Charming and angelic, this dress has a leg-revealing side slit and the soft frills of the cascading flutter sleeves add a touch of etherealism to the wearer. We love the open back of the dress. This is a flattering dress to girls with a flawless back and killer legs.
Your bridesmaid will look like a Greek goddess in this beautiful timeless piece in satin. Available in dusty blue and other shades of blue as well as full colours. The one-shoulder design with an open back and fish tail ending makes this dress absolutely gorgeous. This dress is the perfect dress for girls with an hour glass body.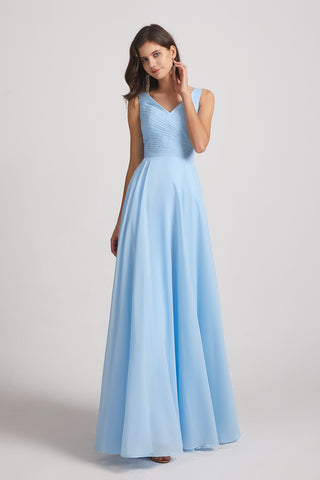 The fitted bodice with ruched design and swirling skirt of the fit-and-flare has a way of complementing the feminine shape like no other. Whether the wearer is slim or larger in size, this dress has all the flattering features - from a deep V-neck to a ruched design, a flare hemline and a graceful long ribbon at the back of the waist. And it's so comfy as you can move about freely in a flare skirt.  You really can't go wrong when rocking a fit-and-flare dress in soft chiffon. Whether your wedding theme is pastel hues or bold colors, this dress is available in full colors.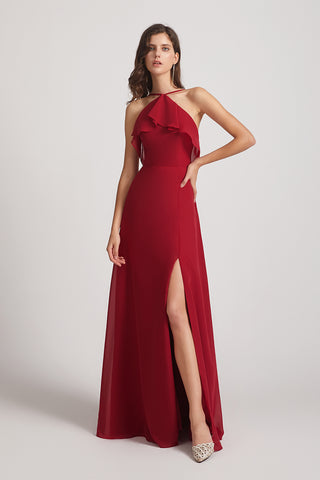 A Marilyn Monroe halter neck with cross straps at the low back, the star features of this dress is the ruched design on the bodice. It's so easy to fall in love with fit and flair long dresses as they have a certain alluring charm and complements the feminine shape like no other.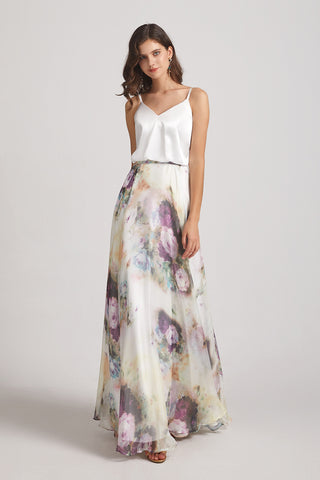 There are so many reasons to choose floral prints for your lovely girls' dresses.  They add just the right touch of flirty fun to really make the special girls in your life look splendid while keeping them comfortable enough to dance the night away at your reception. For outdoor weddings during spring and summer, the dresses will blend in perfectly with nature. You're going to go insanely overjoyed when you see how colorful and resplendent the wedding photos are.