Bridesmaid Dress Fabrics Guide
 Are you shopping for your dress but don't understand a word that the bridal stylist is saying? Well, don't fret because in this article everything will be laid out for you. There is a lot to consider in picking out the right bridesmaid dresses and knowing what kind of fabric you like and how they are best worn makes the process a bit less overwhelming. Bridesmaid dress fabrics are not created equally, especially when it comes to their seasonality. When people say that bridesmaid wear is not seasonal, at some degree that is not really true, just as you would be choosing in wearing certain weight fabrics, colors, or patterns for spring, autumn, summer this can be same about the wedding gown selection. The rules over the years have loosened up, bridesmaids have loads to choose from currently. Although, sartorial norms still do apply. Like a satin that is heavy still remains uncomfortable as for the summer, likely a cotton sundress would be out of place for an autumnal ballroom reception. Bridesmaids will be the one to choose which style she likes along with the bride but of course old rules are still beneficial in selecting correctly.
Choosing a fabric tend to be a personal one. Each silhouette and style of the bridesmaid dress will dictate the direction. There are some fabrics that are fat better suited for the structured designs. Others are great for flowing, and light looks, others are for larger than life ball-gowns. There is a rise for popularity among modern, constructed fabrics likely an overtaking among the demand for the traditional favorites such as the satin. This is correlated to increased in destination weddings and the fact that more structured fabrics travel better, as do lower maintenance synthetics that is like for example a polyester that would not fall into  victim to wrinkles. Lace and crepe is travel friendly as well but it is delicate in nature.
Here is a guide for fabrics which is often used in creating bridesmaids dresses.
Batiste 
This is soft and lightweight. A transparent fabric that is made of plain weave and usually takes the form of an overlay or veil. It is perfect for the warm weather months such as during the summer or spring. This material is embodiment of a sophisticated celebratory garden. 
Brocade 
A brocade can be made from a synthetic fiber or from a silk. It is distinguished by jacquard that is woven into a fabric. It is full of great body, the material is lighter but stiff than a satin. It is a perfect choice for a structured gown during the winter or fall. Otherwise, it is too heavy for the warmer seasons. This elegant material is best for formal occasions.
Charmeuse 
It is delicate and rich like its name. A luxurious fabric characterized with matte finish inside and a glossy sheen on the outside. It is typically made out of silk. It is usually cut on the bias and it's soft drape makes it so popular for flowing styles. Slinky fabrics, soft, sinuous often better lend themselves to slim or narrow dresses with looser fit. The ultra lightweight fabric that is so suitable year round. Although this fabric tends to be sexy summer or spring staple. You do have to be mindful that this fabric tends to cling and is difficult to alter. 
Chiffon 
This is one of the lighter fabrics which is often used as an overlay as an accent detail because of its transparent and sheer style or in layers. It is made from rayon or from silk. The matte fabric has an ethereal and floaty vibe that is so perfect for a boho bridesmaid. It is very airy and light structure which makes it great option for the spring and summer weddings, while the weightless appearance make it best for silhouettes and goddess styles. This delicate fabric can be fragile.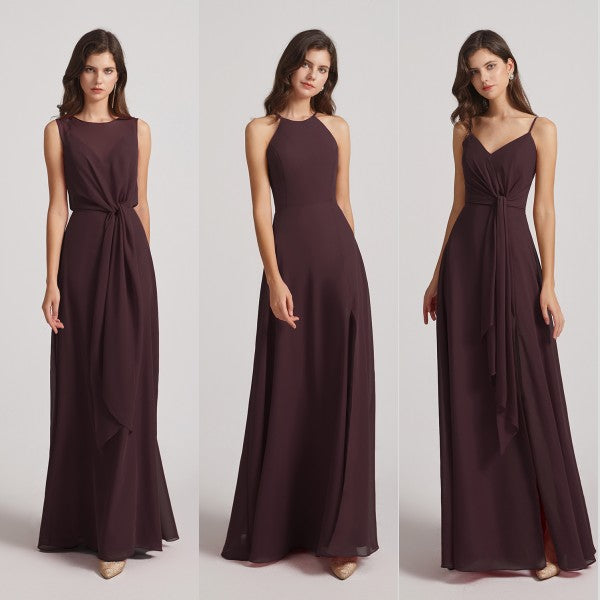 (shop chiffon bridesmaid dresses)
Crepe 
It is made out of soft silk or a lightweight rayon. The crepe is crinkled and gauzy which is perfect for soft silhouettes. This fabric that is shapely is great for accentuating curves but it also works well in minimalist designs or in bridesmaids jumpsuits. A-line dresses or mermaid dresses are some of the most classic choices for this fabric which is an all year round fave.
Damask 
It is very similar to brocade because it has raised designs but damask is of lighter weight. There is a historical and traditional quality in this fabric. The pattern is in dull jacquard. It is the same color as the fabric. The material is best suited for constructed styles with a little bit more structure. Damask is suitable for all seasons but is appropriate amongst fancy formal wedding style.
Dotted Swiss 
Breathable and lightweight. A dotted swiss is fashioned out of a muslin fabric having an evenly dispersed, dotted motif which is ideal for summer or spring wedding for outdoors. This playful traditional fabric has a ladylike and sweet quality. This is very suiting in a garden party setting.
Dupioni 
This fabric is slightly rough, with coarse fibers, having a charmingly raw and organic aesthetics. This is very suitable for dramatic silhouettes like ballgowns since it is a full bodied silk which does a good job at keeping its shape. The material is good for all year round. 
Faille 
This fabric is woven from cotton, silk, or rayon. It has a crosswise rib effect, with a structured ribbed finish. It has a substantial structure holding an air of sophistication. You can wear it all year round but it's more popular on cooler months. It is fabulous for modern or minimal designs.
Gazar 
It is woven from silk, wool. It has a crisp and smooth look unlike organza. Silk gazar has its prominent limelight when featured worn by Kate Middleton. The translucent yet stiff material holds its shape well and is best used in romantic, structured designs, as well as full skirted styles like ball gowns. 
Georgette 
Lightweight and sheer. It is spun from silk or polyester having a crepe surface. It is perfect for the top layer of bridesmaids dresses since it has a soft silhouette. Having a floaty characteristic makes it ideal for feminine silhouettes that moves with the body. It is more appropriate for warmer seasons.
Lace 
This is the most popular fabric for bridesmaid dresses since it is extremely diverse in texture, pattern, weight, and embellishments. It is accepted by all cultures since it has a feminine, delicate, romantic characteristic, and works well in every shape. It is woven from cotton or silk, which is often used as overlay or detail in adding vintage or romantic vibe. Graceful material comes from many styles such as french laces like Chantilly which means very detailed and open, Alençon which is bold motifs with corded trim, Venise which is heavier and more textured. It can be worn all year round but Italian Venise suits in the winter.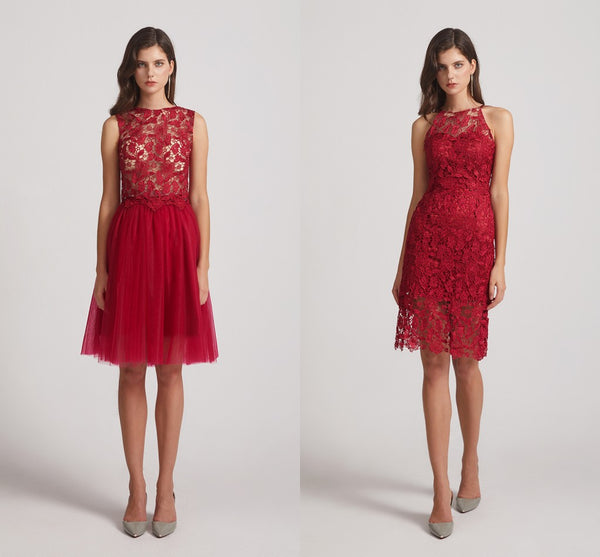 (shop lace bridesmaid dresses)
Mikado 
Having a shiny finish made this heavier type of silk Mikado gained its popularity. The thickness of the fabric provides structure which can be tailored in architectural and sophisticated designs. It can be multi seamed and molded into sexy narrow mermaid dresses and strapless ball gowns. It can be worn all year round but being heavy it would suit the winter.
Moire 
It is typically made of heavy silk taffeta or polyester. Moire gives the illusion of glistening water when it is seen in light. It is characterized by a wavy design. This fabric is very heavy that is why it is suitable only on winter. 
Organza 
It is lightweight and sheer like a chiffon, which holds a more structured silhouette. Which is ideal for warm-weather weddings. It has a lustrous finish and a crisp drape if synthetic fibers are incorporated, but it is traditionally woven from silk. Organza is mostly used for layered gowns in adding fullness in trains, ballgowns, veils as it does not add weight. This makes it perfect for whimsical frothy looks and princess moments. The sheer material of the fabric is the epitome for romantic enchanted garden setting. 
Pique 
A polyester net is used in making a pique which creates a diamond pattern. It's texture oozes out a feminine texture. The fabric such as pique is usually used for veils. But it can be used in dresses of course. Since it has an airy mixture it can be used in spring, summer, and autumn. Theme such as dainty designs with vintage romance touch works with pique fabric so well.
Polyester 
It is synthetic and inexpensive which can be woven with any fabric. Having a wrinkle resistant and less delicate such characteristics makes polyester satin very common alternative to silk. This fabric can be worn all year round, although it's a bit uncomfortable in summer months because it's not breathable. This fabric is very durable and has constructed quality to it.
Rayon 
This fabric is very smooth and is similar with silk. Rayon is very affordable and more elastic. A semi synthetic fiber that is lightweight and breathable. This works so well in summer months but can be used all year round. Even if it's inexpensive, it wrinkles easily which makes it not a great option for draped styles or constructed designs. 
Satin 
The beauty of the satin is the drape, sheen, and the hand. It is smooth and heavy. From nylon and silk fibers that create a high thread count. Silky satin is one of the more traditional wedding dress fabrics. Since satin usually refers to a finish, it can be made from blend or polyester. It is suitable for all seasons from its weight. Although if you opt for winter duchess fabric is the most heavy and suitable for cooler months. Satin is fabulous for constructive designs such as ruched or ball gown styles.
(shop satin bridesmaid dresses)
Shantung 
This fabric is plain woven cotton or silk which features a weave that is subtle resulting into a raw and rubbed texture natural look. Since it is medium lightweight, it is appropriate for all seasons. A volume that is luxurious. This fabric has a fabulous drape which is flattering for all figures. 
Silk 
This is one of the most expensive and traditional fabric. It is not only versatile but timeless as well. Silk comes in different textures and styles, durable, suited for all seasons, but is quite delicate in summer months. Woven into cloth, spun into thread. Variety of silk includes silk Mikado, silk gazar, shantung, faille, and dupioni.
Taffeta 
It is made from synthetic fibers or silk and is available in different styles. The more that it is stiffer, the higher is its quality. Light for the summer and rich for winter. This versatile and crisp fabric can come in any color and looks iridescent from the weaving process. A constructed fabric that is great for A-line dresses and full skirted ball gowns.
Tulle 
Characteristic of a gauzy, sheer, open weave which is similar to a netting. It has an airy vibe but can be ruched to add structure. Since it is very delicate it is mostly used as gown's lining or as the veil. Usually it comes in different weights and levels of stiffness. It is very popular for sexy illusion styles, necklines, cutouts, barely there sleeves. It can be incorporated in lace designs and worn all year round. Although the fabric snags easily so keep that in mind.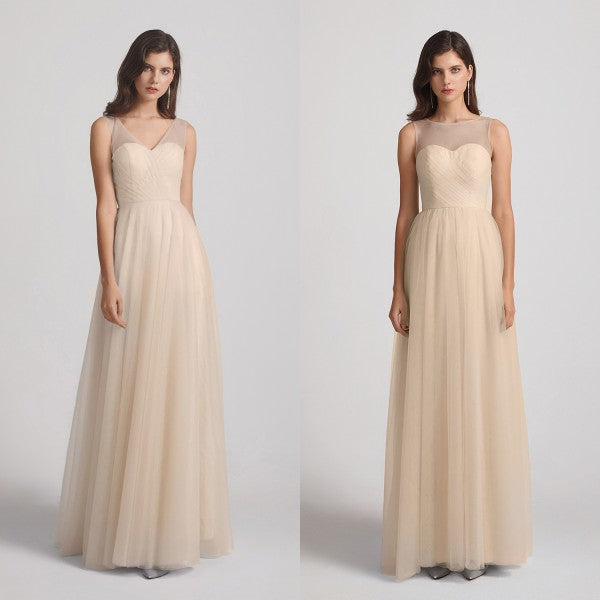 (shop tulle bridesmaid dresses)
Velvet 
Thick and soft. It has a feted face. Velvet's heavy weight makes it suitable for for cooler months such as fall or winter weddings. It is very luscious as a fabric which makes it amazing for vintage inspirations and regal looks as well.
(shop velvet bridesmaid dress)
Voile 
Breathable and lightweight. It is made from wool or cotton and is semi transparent. Since it has a casual look it's perfect for informal weddings. The fabric has a characteristic natural drape that is fabulous for flowing styles without that much structure.
Zibeline 
From straight fibers, zibeline is woven in a single direction for a shiny finish. The silk zibeline is mostly used for wedding dresses. Since it is a constructed fabric which makes it optimal for structured designs such as A-lines or with fit and flare.
Introduced so many kinds of bridesmaid dress fabrics, you can choose your favorite bridesmaid gown according to your wedding theme, wedding season, wedding color and etc.