Bridesmaid Dresses: Chiffon or Satin? You Need to Know
Now in our modern times there are loads of innovation. Brides have loads of options to choose  or what is her preference of fabric of the bridesmaid dresses in her wedding event unlike on the ancient times. The variety might be too much to make a choice, it might be a bit overwhelming in planning. So to start, it should be by considering the time of the year which you'll be married. If the wedding would be held indoors, or if it would be outdoors. Deciding to eliminate some fabrics would be beneficial if you are in summer season, or on the other hand eliminate some fabrics if it is too lightweight for the winter.
Then you can narrow the choices by the price. There are fabrics that are far more pricey than its synthetic twins. You should opt to narrow your search even further if you know what style gown you want and which fabric suits to the style of the gown.
Lastly, you should consider which kind of wedding you'll be having. If you would like it to be formal, if you would like it to be indoors, then a delicate fabric would be so amazing. But, on the other hand if you are having your wedding outdoors and it is an informal one, it is better to pick a fabric that doesn't wrinkle so easily and which is not too delicate. There are pros and cons in most fabrics, so in this article we will compare if chiffon or satin fits your preference.
Chiffon Bridesmaid Dresses 
This fabric is a machine woven from a silk or it may be a synthetic fiber like a nylon. A chiffon would be sheer, soft, and it would be transparent. Since it has an ethereal quality, it is often used for overlaying the gown's skirt. It is very popular for sleeves, wraps, overskirts as well. It is often layered. Chiffon can be made from rayon which is affordable or silk which is more expensive. It has a fluid drape that is soft which is really the best for overskirts, sheer sleeves, layered weddings, empire gowns, and ball gowns. Chiffon is more affordable than a silk. It is much less expensive. It is lightweight, and available in variety of colors. However it wrinkles easily not as much as silk which is quite delicate.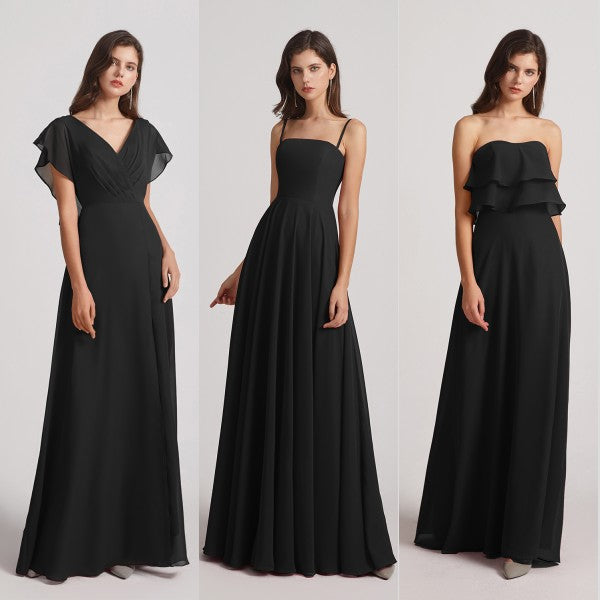 (shop chiffon bridesmaid gowns)
Satin Bridesmaid Dresses
It is obtained from a natural silk or from a synthetic fiber nylon. There is a distinguishing feature of satin which is that it has a high thread count that comes from using a lot of layers of fiber. Silk satin is the most traditionally used among wedding gown fabrics.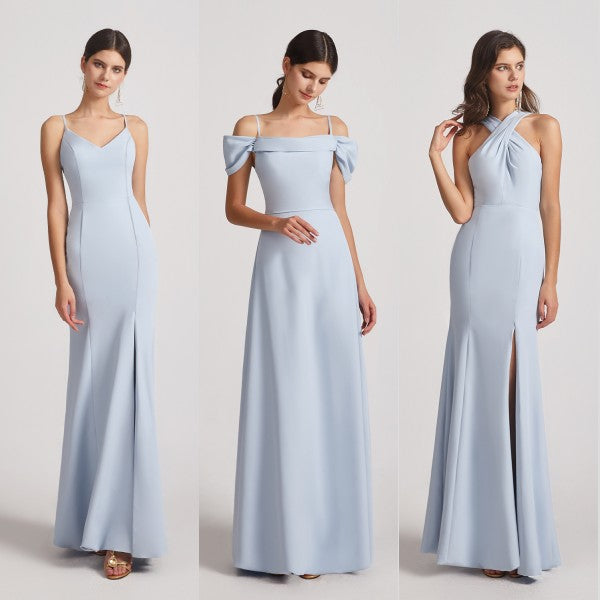 (shop satin bridesmaid gowns)
Bridal Satin & Duchess Satin & Peau De Soie Bridesmaid Dresses
It is much like a satin which is obtained from a woven silk. Synthetic fibers could be used in weaving this type of satin fabric. This is a heavier fabric that works well in winter since it has a very high thread count that makes it a heavier fabric. But it is used in other seasons as well. It has a buttery soft, dull lustrous, rich finish, fine ribs, grainy appearance, as well as a dull back. It has a semi stiff drape, it is also medium weight, thereby making it best for tailored silhouette, simple formal wedding gowns as well as base for embellishments. A-line, column, mermaid gowns, ball gowns. It is considered by far the most luxurious of all fabrics, as well as the most expensive which is three times fold by silk taffeta. It is not as durable as the poly satin. This type of satin is a bit heavier than other fabrics. Since silk cannot be bleached without ruining the integrity of the fabric itself, it cannot be made in pure white which is the case for most of the silk fabrics. Such qualities makes it best in being worn in the winter or cooler months, or it can be used anytime as well. 
Peach Satin Bridesmaid Dresses
It is a finely woven, smooth micro fiber fabric obtained from a polyester or silk. It's soft, smooth surface gives it a soft drape and a medium weight. It is best for column, and empire line.
Italian Satin Bridesmaid Dresses
This is a heavier satin fabric. It is brimming with body. It features an antique sheen.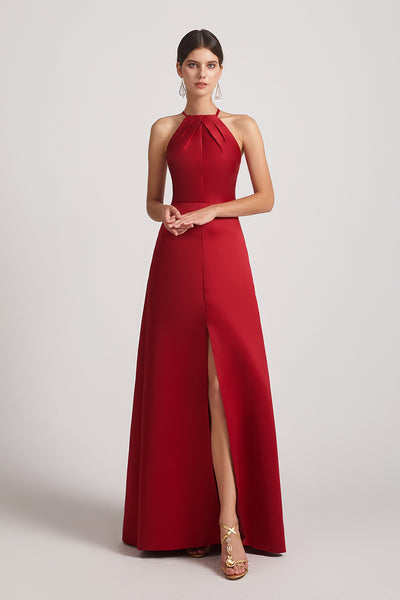 (get this halter satin bridesmaid dress)
Slipper Satin Bridesmaid Dresses
It is soft and light. It is closely woven that has a satiny feeling fabric which shines in the light. 
We have introduced so much about chiffon and satin, you should have an understanding of these two fabrics, and know which fabric of bridesmaid gown is the most suitable for your wedding, right?