Which Is Better Chiffon or Tulle?
When you are deciding which fabric to pick for your bridesmaid dresses, picking out can be difficult when you are deciding between tulle or chiffon. The fabrics are very different from each other and they also fit different needs. So today we are going to tackle which one is the best.
Now on to the topic. There is really a big difference between the tulle fabric and the chiffon fabric for the bridesmaid dresses. The fabric are both gorgeous and beautiful on their own way. They have their each and own merits. But for you which one is the right one to pick. What is your vision for your wedding? Let us keep exploring about tulle and chiffon.
What is a Tulle?
Among different types of clothing, tulle is a mesh fabric which is especially used in wedding industry. Tulle is commonly used for wedding veils and as well as wedding dresses. Rather than a sheet on its own, tulle dresses usually have one or two under layers as tulle rather than a sheer on its own. Generally, tulle bridesmaid dresses are much more flowy than chiffon dresses and they tend to have more whimsical aesthetics than most chiffon dresses.
What is a Chiffon?
Chiffon in comparison with tulle, this fabric is way more popular. It is because when you compare chiffon with tulle, chiffon is more smoother and less transparent. Also you can take note that a chiffon is does not really require a lot of layers to be less sheer than a tulle. That is why when a chiffon dress is worn by the bridesmaid there is less shape than tulle bridesmaid dress. Chiffon bridesmaid dresses are typically available in a whole lot of colors than tulle dresses.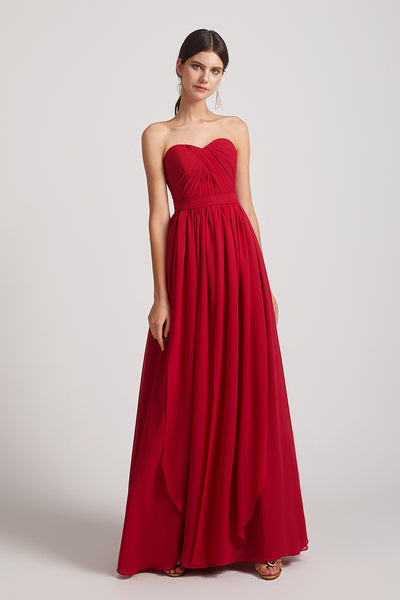 (get this strapless chiffon dress)
Since that we have tackled all of the differences between the two fabrics, which fabric would you decide to choose? Now, we will delve about what are the reasons you should get each. There are so many advantages in buying chiffon bridesmaid dresses. Chiffon is favored always by brides and bridesmaid. If you are a fan of traditional dresses. The most traditional fabric for bridesmaid gowns is the chiffon fabric. If you have a vision of the traditional wedding as your goals then it would be perfect for you to opt for a chiffon fabric.
Top Reasons for Choosing Chiffon And Tulle
Highlight Your Curves - Chiffon
Even if chiffon is very flowy in nature as we have discussed earlier, it can be easily designed with the body shape of the wearer. So if you are looking for the dress that is supposed to highlight your curves you should opt for chiffon fabric. You would not really encounter a tulle dress that is form fitting. You are picky about the colors, and wants only the colors specific from chiffon. Tulle bridesmaid dresses are limited in color variety, whereas chiffon maids of honor dresses have much more colors to choose from. So you can base that decision in your preferred color.
Adding Wedding Texture - Tulle
Since we have discussed already some of the advantages of buying chiffon dresses earlier, now we will discuss what are the advantages of buying tulle bridesmaid dresses. You are looking forward on adding texture in your wedding aesthetics. If you want to add texture in your wedding aesthetics Tulle would be so gorgeous to wear. Since it is a fun fabric that adds a soft texture. Some of your guests will love it because it will look absolutely fantastic in photos.
Unique Style - Tulle
Tulle bridesmaid dresses are still being seen as an unconventional approach if you would wear it because most of the weddings usually still use chiffon fabric. If you want to be unconventional, maybe a little bit unique in expressing yourself tulle bridesmaid gowns would be so fun to wear.
Having Volume in Your Dress- Tulle
Tulle bridesmaid dresses usually have more volume and shape than wearing chiffon dresses, we'd totally love that. Tulle would be the most perfect fabric in adding fun shape in your wedding event.
Top Recommendations for Bridesmaid Dresses
NO.1 Convertible Tulle Bridesmaid Dresses
This A-Line Ruched Tulle Long Bridesmaid Dress is universally flattering. A maid of honor dress that looks absolutely gorgeous on everyone, it is very light and comfortable. Why? I can say that it is comfortable since the long tulle bridesmaid skirt will make you feel absolutely gorgeous while leaving room to party. With the complete v-neckline, v-back and a waistband. The dress leaves room in being dressed both up and down for any wedding theme.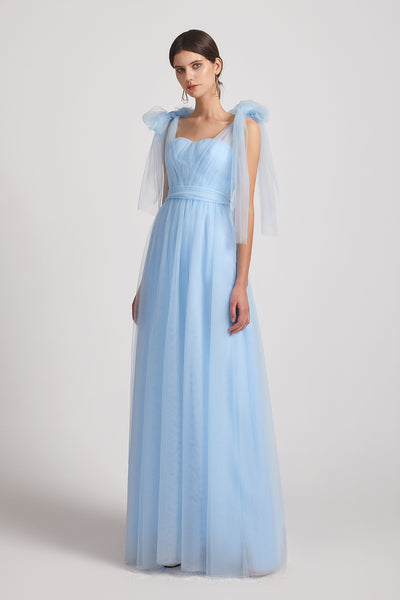 (get this convertible bridesmaid dress)
No.2 One Shoulder Tulle Bridesmaid Dresses
We would totally adore a one shouldered dress! The illusion of the tulle overlays a soft sweetheart neckline which fades into a gorgeous tulle bridesmaid skirt. It is very elegant, flowy, and comfortable. We promise that you will love everything about this dress.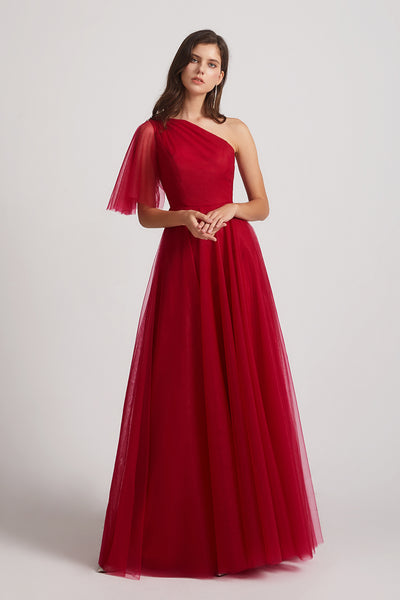 (get this one shoulder tulle bridesmaid dress)
No.3 Off The Shoulder Tulle Bridesmaid Dresses
Wo totally adore how gorgeous this off shoulder long tulle A- line pleated bridesmaid dress. Tulle off shoulder with a sharp v neckline having a fitted bodice is making this dress incredibly fantastic to everyone. Such characteristics add whimsical element in the dress that is absolutely unbeatable.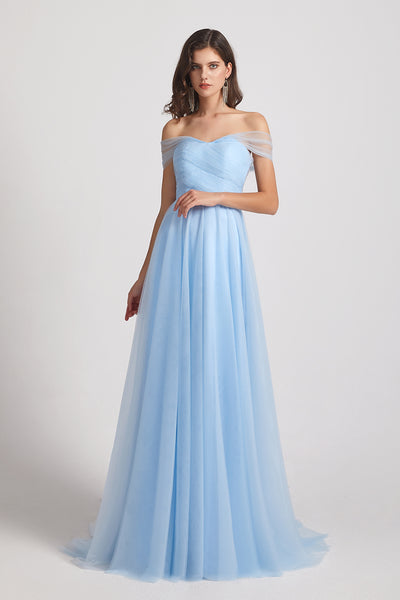 (get this off the shoulder bridesmaid dress)
Now we know what is chiffon and tulle and the advantage of them. You should know which fabric bridesmaid gowns to choose for your wedding. You can consider some of the three recommendations for you if you don't know how to choose.