Tips to Choose Rustic Bridesmaid Dresses
Wedding trends are always evolving, just like fashion trends.  If you have always dreamed of a wedding in the barn or farmhouse that is complete with burlaps on the table, linens tied with twines, wooden boxes as centerpieces, chalkboard decor and wooden signs, then a country wedding held in the barn or a meadow is perfect. A farm wedding is a classic rustic style wedding. There is something charming and cozy about weddings in the barn. Saying 'I Do' at a farm can be a completely unique experience for you and your guests. The beautiful rustic surroundings make it a great Insta-worthy wedding backdrop. Drinking from mason jars and eating at long wooden tables in a beautiful distressed theme decor are all the rustic details that help define the elegant yet laid-back setting of a farm wedding.
The venue that you will be choosing for your wedding will have a significant impact on the day itself. If you are looking for the perfect location for your big day and wondering why barns or farmhouses are the best, then do scroll ahead to read the reasons that you should choose this venue.
Barns, farms or ranches are very low-key and laid-back. As wedding planning can be rather stress-inducing, many couples are getting hitched in these venues because of the atmosphere.  A relaxed ranch-style wedding helps to put everyone at ease.
Barns look amazing especially when they are decorated for weddings. Barns have plenty of character and charm on their own and also they can be a blank canvas that would work perfectly with any theme or color palette.  It is truly a magical experience and with the right whimsical decor, it can be transformed into a dreamy unforgettable venue.
There are plenty of outdoor spaces such as the courtyard and the gardens.  These spots are idyllic for post-ceremony drinks and photography sessions.
There are lots to love about barns because they have personality and each one is different. The details, features, and special touches everywhere make them utterly unique. As opposed to boring and cold banquet halls and crowded hotels, barns have rustic features like wooden floors, weathered plank walls, wooden beams wrapped in fairy lights and large windows.
Due to the spaciousness of the barn, everyone is under one roof to celebrate the wedding.
Barns are also fantastic throughout the year.  Whether it is a bright summer wedding or a cozy winter wedding, the surroundings and barns are ideal
Once you have found the right venue for your wedding and have picked out your dream wedding dress, the next step is to find rustic bridesmaid dresses. Brides are becoming more and more open minded and confident when selecting the beautiful dresses to create standout bridesmaid looks. Throwing a rustic country style wedding requires rustic bridesmaid gowns that blend in seamlessly with the surroundings and complement the wedding vibe. Whether your ceremony is set in a barn or ranch, the bridesmaid dress options are endless considering that A-line silhouettes and short looks work effortless in rustic settings. All too often brides find it a struggle searching for maid of honor dresses that match this unique look. As we all are aware, dressing your bridesmaids can be quite tricky. If you are not sure what type of dresses to pick out, well check out the tips and rustic bridesmaid gown style recommendations below:
Top Tips to Choose Rustic Country Bridesmaid Dresses
Light Fabric Dresses
Dresses made with light fabric such as chiffon are generally more suited for rustic weddings. The reason is because many weddings held at the farmhouses or barns are in outdoor locations. Therefore, it is important to choose fabrics that are lightweight and breathable for your squad. Rustic bridesmaid dresses will help keep your bridal party feeling cool and comfortable.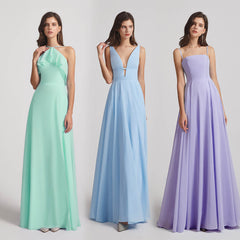 You can even jump on the ultra-chic bridesmaid gown bandwagon that is the floral bridesmaid dresses. This trend fits right in at country-style weddings. The best thing is that there are lots of options when it comes to floral dresses for your best friends. From big floral patterns to subtle prints that are sweet and soft, the choices are abundance. You can even have your best friends in mix and match floral maid of honor dresses. Some of your bridesmaids can wear solid colors while others don the florals. This will create balance and structure to the bridal party. Your bridesmaids will appreciate because you let them choose whether or not they want to wear floral dresses.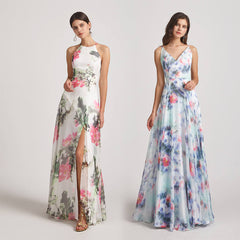 Lace Bridesmaid Dresses
Another popular rustic bridesmaid gown trend is lace. This is the fabric that bride usually wears but it is not the fabric that compliments that bride only. Lace is the perfect way to embrace the rustic and authentic vintage look. With the right color of style like this sleeveless sheer lace tulle dress, it can look simply fabulous for the bridesmaids. For an even more rustic chic look, try mixing fabric dresses such as chiffon and lace bridesmaid dresses which your girls would absolutely adore. Different texture dresses are lovely and totally fit right into the rustic wedding theme. These are the dresses that not only feel elegant, your maids can actually wear again and again. If you are feeling bold, go for different colors that complement the same color family.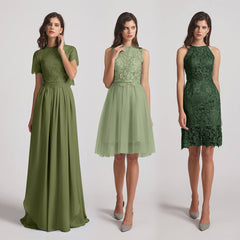 Long Bridesmaid Dresses
Bridesmaids adore rustic long bridesmaid gowns for their airy look and flattering silhouette. Natural colors and simple design dresses will make the bridesmaids look fabulous.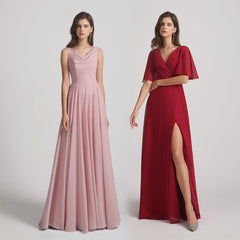 When it comes to choosing the maid of honor dress colors for rustic weddings, there is an abundance of choices. The most popular on-trend colors include pastels like light pinks and baby blues, earthy tones, white and neutrals. Pastels are pretty vintage and to achieve the rustic look, you can mix cool and warm shades to help balance the look.
The best way to have your bridesmaid gowns look right at home in the wedding venue is to choose tones that match the colors of the rustic setting.
For fall weddings, poppy and marigold are great color combo to create a rustic chic look. A pop of turquoise will give the wedding and elegant touch. This shade is a great choice for a country western wedding theme. Shades of white, ivory and grays are best for the classic neutral palette and especially suited for whimsical weddings with a vintage vibe. Shades of yellow like marigold and canary are more suited for farm weddings, garden weddings and barn weddings. Purple and gray are usually more for formal weddings but this color combo is now making its way into the rustic wedding scene. When paired with natural decor such as branches, green leaves and wood, purple and gray tones offer a formal, traditional look. Peach tones when paired with white or green is an attention-grabbing color palette that is charming and classic without being overpowering. Blush pink and olive green is a great color combination that gives out a fairytale feel. It is sophisticated and elegant without being overly traditional. A great choice for rustic weddings with a touch of vintage or glamor.
Rustic wedding decors include many dark wood which work best with warm and earthy colors. Paler shades are good too but they may look cold against the wood. If you choose to have dark colors in your wedding, make sure that you balance them with lighter color too. This will brighten your maids' look while keeping up with the rustic chic vibe.
Here is a tip - If you wish to choose several different colors for your bridesmaids, then do try to keep the dress designs simple and so that they match. Otherwise there may just be too much going on and this may spoil the simplicity and elegance of the look.
Rustic Weddings About Shoes, Hair, And Accessories
As barn or farmhouse weddings are casual and laid-back, certain dresses may appear a bit too fancy for the venue when paired with a certain shoe style and accessories. Long bridesmaid dresses seem to have an air of femininity about them which makes them perfect for a wedding. They are more formal than short or knee-length dresses so it is better to avoid any fancy jewelry when your maids are wearing the full length dresses. For a more casual bridesmaid gown, you can have them wear beautiful wedding flats.
If you want to embrace the chic western ranch wedding look, then choose boots for them to wear with short bridesmaid dresses. For long dresses, they are best paired with shorter boots. Pairing a formal maid of honor dress with unique footwear can give it a fun twist. Flats or boots are definitely comfier than heels. Your bridesmaids will thank you for this when they hit the dancefloor.
Small details like how your bridesmaids style their hair can tie the wedding look together. If you are choosing long dresses for our squad, you may want to consider having your girls wear their hair down.
Bridesmaids' headpieces are a popular option when it comes to dressing up your bridal party. Besides a beautiful coiffed hairdo, flower crown provides an effortless way to decorate your maids. 
Related Posts: