Essential Elements for Modern Bridesmaid Dresses
Weddings are always fun while they bring a lot of excitement and warmth with them. Nowadays, wedding enthusiasm is at its peak. And when it comes to the wedding of a close relative or a best friend, the wedding enthusiasm hits another level. Modern weddings need modern bridesmaid dresses to accomplish its charm.
This article is for all the bridesmaids out there who want to doll up glamorously in their loved one's grand event. I am here with some tips that will always help you find the right choice. Not only this, we have some exclusively designed modern bridesmaid dresses for you.
Fashion and styling also need to be understood in its real charm and glamour, because what you wear; should make you look unique and elegant. While selecting apparel for yourself, you need to take care of certain essential fashion elements and can be a great help in selecting an outfit for the modern era and also flatters you.
If you are to be a bridesmaid next month, looking for something that will glamorize your look at that big event, you are undoubtedly at the right place. Here are some essential fashion elements described that will help you understand what type of dresses will suit you based on your complexion, hair color, and body shape.
COLOR
The color was and will be the most critical fashion element that needs a lot of attention. Every woman is different concerning complexion and hair color. Some colors flatter fair complexions but are not suitable for darker skin tone and vice versa.
Before selecting a bridesmaid dress for you, one must be well aware of the colors that suit you. If you are short or chubby, dark colors like flame red are always an excellent choice for you as they make you look taller and thinner. 
However, different colors influence your overall look differently. You need to understand which color flatters you the most.
Keeping in mind the essential elements of fashion and styling, the dress's color should be chosen wisely. Check out our catalog for modern bridesmaid gowns to find a variety of colors. Here is a suggestion.
If you are considering color as the main element in choosing modern bridesmaid gowns this is our top suggestion. This is a sleeveless, cowl bridesmaid dress. The dress is not only modern but elegantly designed to glorify your look at your best friend's wedding. The dress is a long, floor-length A-line sleeveless gown. From the front, it has a draped neckline. However, it has a v-shaped design at the back of it.
The exquisite chiffon dress is available in all sizes and all colors. The variety includes a series of red, green, blue, purple, black, brown, and grey, ranging from the lightest to the darker shade of all the colors. Talking about the trends burgundy and flame red from the darker ones whereas to go for soft colors, you can check out lilac, sky blue, blushing pink, grey, and mist being the most popular shades presently. You can check out and select the color of your choice.
SILHOUETTE
In fashion, silhouette refers to the garment's overall shape that defines the body structure of the women wearing it. Before selecting an outfit, keep in mind that the silhouette is compatible with your body type to feel and look comfortable in it, and the dress enhances your entire look.
Over decades several silhouettes have been trending, hourglass being the most popular silhouette presently. Silhouette is also one of the essential elements of fashion. If one knows the silhouette which sets best for her, she can make herself look even more flattering than ever by selecting the right apparel.
Before selecting modern bridesmaid dresses, make sure that you select the right silhouette as per body type. Searching for the bridesmaid dresses with the right silhouette? Check out one of our suggestions below.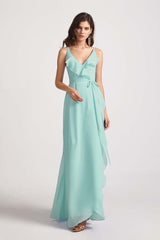 A beautifully designed spaghetti strap, floor-length silhouette gown with asymmetrical frills down the length is one of the most attractive dresses for all the classy and stylish women out there. The gown has a v-shaped front and an open back.
The fabric used is chiffon, which makes this dress extremely comfortable and pleasing. If you want to style up gracefully, you need to give it a try.
The dress is available in all sizes and colors with the additional customization services available to get it tailored as per your demands.
TEXTURE
The texture of the fabric used to influence the overall look of a dress you wear. A soft and delicate texture can surely be appealing to the eyes as well. However, a rough and bumpy texture does not feel right. So make sure that you buy an outfit with a fabric that enriches you well. Especially when it comes to choosing modern bridesmaid dresses, choose wisely.
Pro tip: A glittery fabric will make you glow in the event than a boucle texture of the material, which looks darker. Here is one of our best dresses with a glitter texture.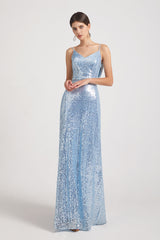 One of the most popular, and glossy modern bridesmaid dresses is the spaghetti straps sequin bridesmaid dress. It has a lot of sequins sewn on it, making it glossy. The dress is an A-line floor-length gown with a V-neck design.
The sleeveless, backless, and spaghetti straps design of the apparel makes it a lot classier and stylish. If you want to shine brighter at your best friend's wedding, you should look at this dress. The dress is available in light and soft colors, and the variety extends to darker shades, including red and black that are incredibly beautiful.
FABRIC
The fabric used to design modern bridesmaid dresses also defines the fate of that dress. A thing to be kept in mind before selecting a bridesmaid dress is the quality of the fabric. Make sure the fabric is of high quality. Otherwise, it will enormously affect your overall look and confidence. However, fabric designs are also trending. These designs enhance the look of your dress without making it extravagant. One of our best picks on printed fabric is listed below.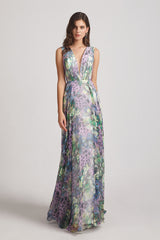 A long sleeveless double V- neck floor-length gown with the peacock floral- printed fabric is one of the most exquisite products of our modern bridesmaid dresses catalog. The soft and delicate floral design adds an increased feminine and romantic feel to the dress.
Such gowns are perfect for a classy bridesmaid during an evening or afternoon wedding event in spring and summer. The dress is pleated with a nearly invisible zipper in the center of the backside, thereby enhancing the gown's silhouette.
This sleek and stylish, soft tropical bridesmaid dress is a perfect choice to look glamorous at your loved ones' big event. It is available in only one color with a variety of sizes. But you can still get your customized color or size on our website.
LINES
Lines on an outfit are for are great for keeping the outfit together. Outfits with lines are entirely responsible for the whole shape of the dress. They can be horizontal, vertical, zigzag, etc. They play a vital part in the visual appeal of a dress. If you want to look taller and thinner, go for a dress with vertical lines. Diagonal lines are used to beautify jackets, skirts, and bell bottoms.
Curved lines are used to add elegance to a dress. These are all types of lines that are being used to beautify the dresses. Lines have always been in trend from centuries as it enhances the beauty of the dress and makes the dress even more appealing to the eyes.
Check out our modern bridesmaid dresses catalog with a variety of products having different types of lines at alfabridal.com.
Some Other Trendy Modern Bridesmaid Dresses
Strapless Metallic Sheath Slit Long
An alluring strapless design with a seductive sheath split metallic dress is exclusively designed for the stylish bridesmaid to glorify in their loved one's big day. The dress is sleeveless, strapless with an open back. The metallic sheath used in the dress makes it a lot more attractive and glossy.
Metallic sheath slit long bridesmaid dress is available in a variety of sizes and colors. So please choose your favorite color or get it ready according to your requirements by our customization services.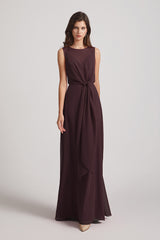 An elegant dress with a diagonally cut fabric accentuating the body curves and lines makes you look more attractive and stylish. The tie-waist design is perfect according to the trending hourglass silhouette.
The dress features a v-shaped neckline with an illusionary overlay that ties at the waist. There is a draped keyhole at the back of the dress. The dress is simple, elegant yet with an incredibly stylish design.
The bias cut tie-waist bridesmaid dresses are available in various colors and sizes on our website with additional customizable services.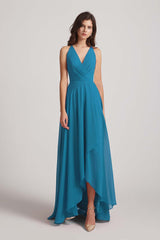 An exclusive hi-lo design featuring a v-shaped neckline and the gowns floor-length makes it an attractive choice for the girls with a unique taste. The dress is sleeveless with a crisscross back. The alluring dress is available at reasonable prices in a variety of colors and sizes.
In the end, keeping in mind all of the about elements, we have got some great options for you. Feel free to check these modern maid of honor dresses at alfabridal.com and make sure to select the one that goes best for you. Enjoy the glam ladies!!