Flattering Bridesmaid Dress Colors and Combinations
One of the most important tasks of a bride in her to do list is picking the bridesmaid dress color. After finding the venue, wedding attire as well as choosing aesthetics. Deciding this is very difficult. Firstly the bride must decide whether all of the bridesmaids would wear the same dress. If you would opt to traditional or a modern trendy mix and max look having different styles. Next, bride along with the bridesmaids must decide and think about silhouettes and fabrics as well. Finally, the bride along with the bridesmaids must decide the colors which will flatter everyone's skin tones. Choosing bridesmaids dresses with a vision in mind along with a guide for the most popular bridesmaids dresses colors, as well as alternative options and different colors would be so helpful. So read along in this article.
Grey tones. The combination of light and dark gray bridesmaids dresses along with a variety of fabrics such as velvet, chiffon, crepe, etc for a contemporary twist on sophistication would be so whimsical.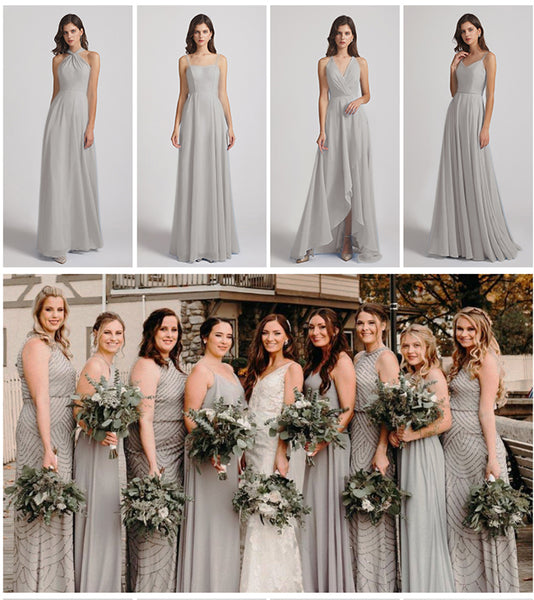 (click here: choosing the color palette for the bridesmaid dresses)
All white dresses. White bridesmaid dresses were usually seen as controversial to wear a few years back. Because some of the couples feel that only the Bride and Groom wear the white. But recently everyone is breaking the norm and wedding traditions. They follow their own rules we have been seeing more and more bridesmaids who wear ivory and white styles of course they look all so fabulous. This bridesmaid dress color is one of the most flexible of the hues since it coordinates with practically any wedding theme from bohemian to classic styles.
Pastel metallics. If you want a glamorous vibe to your wedding sparkly bridesmaid dresses are so stylish for this. Complementary pastel colors such as neutral champagne and pale pink works so well in achieving a romantic look when you outfit your bridesmaids.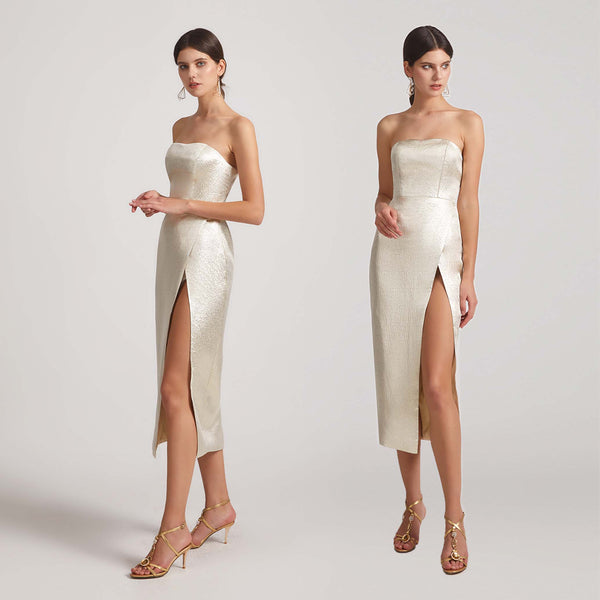 (get this metallic bridesmaid dress)
Taupe and gold. Colors such as taupe and gold that are warm neutrals are so flattering for bridesmaids dress which fits for a wide range of skin tones. Choosing midi lengths dresses and then adding greenery bouquets for an aesthetic wedding party that is so laid back and trendy. 
Grayish green. Like a neutral color, greenish hue with brown undertones works which is so adorable for an outdoor wedding or a rustic theme wedding, desert wedding also. Heeled sandals and loose braids help complete the outfits. 
Buttercream yellow. Yellow is obviously not a neutral color. Although a barely there shade like buttercream yellow is nearly as likely the same as an ivory style or an off white style. This sunny hue would be so amazing for a summer or spring wedding.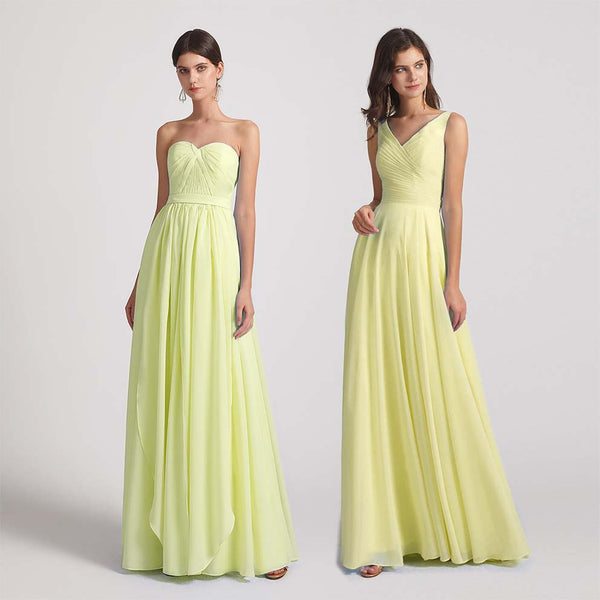 (shop yellow chiffon bridesmaid dresses)
Blush pink. The most popular bridesmaids dress colors of all the time is the blush pink. By mixing and matching dresses into the wedding attire it would be incorporated so aesthetically. There are multiple types of dresses in each color that most bridesmaid dresses designers offer which makes it so easy for the bridesmaids to choose their most favorite blush style while matching everyone of the rest on the group.
Assorted pastels. If you want to switch up a bit the look of blush bridesmaid dresses, you can have your bridesmaids wear mix and match dresses on all different pastel colors. A grouping such as dusty blue, lavender, blush dresses with dainty floral prints that were added creates an eclectic and feminine palette look. 
Sorbet hues. Assortment composing of peach, purple, mauve, and blue colors is like a fruit sorbet palette since it feels so refreshing. Colors of such can look so great on any season because they are toned down to match winter or fall wedding theme and punchy enough for summer or spring wedding.
Bright coral. In the early eighties, coral was a popular bridesmaid dress, which then again become so popular in nineties and 2000's wedding ideas which are suddenly trending once more. This cheerful color is so bold enough in standing on its own which is recommended in choosing matching coral bridesmaid dresses for the most cohesive effect.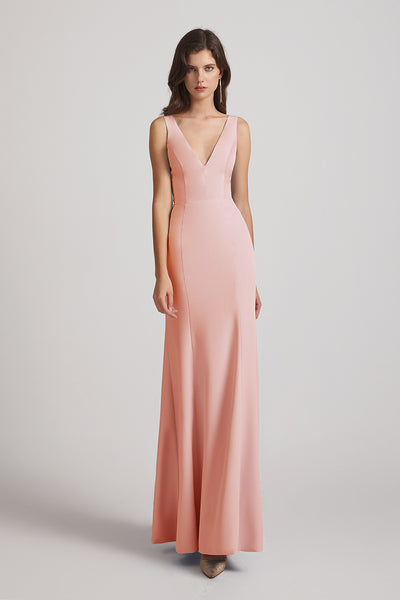 (get this coral satin bridesmaid dress)
Mix and match rosy hues. When you love this vintage style you should ask your bridesmaids to wear mix and match dresses in an assortment of tones in pink patterns and fabrics. It will make them feel so comfortable and maybe they will rewear their dresses after the wedding day is over.
Gold and orange. When you feel whimsical and funky, orange is the most fun choice to pick for the bridesmaid dress and it is on the track to be one of the next big trending wedding colors. Seemingly this color is overwhelming but adding richer tones such as gold and mustard yellow rounds it out. 
Contrasting colors. Dark colors such as emerald green and navy blue, when you pair them with bright accents like red and tangerine orange might be out of your comfort zone but don't fear because these colors are playfully eclectic and artsy for your group. 
Matching burgundy. Colors such as maroon, burgundy, merlot which is wine inspired hues are extremely popular bridesmaid dresses for fall weddings. If you would want a symmetrical, elegant look, make your bridesmaids wear similar floor length dresses in dark red color.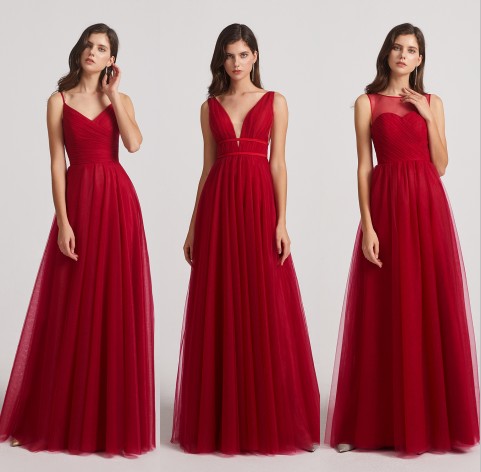 (click here: top five red formal bridesmaid dresses you can try)
Two toned purples. For fall months purple is the go to wedding color. Such regal hue would be flattering year round and works for all skin tones. Dark plum bridesmaid dresses palette with contrasting lavender dresses is very dramatic and rich. 
Lilac prints. Bringing an elegant color to the  wedding attire such as patterned purple bridesmaid dresses would be lovely. A floral burnout print for these lilac dresses would be eye catching but not overwhelming. 
Jewel tones. Even if none of the bridesmaid dresses are matching it is possible to make the wedding party feel cohesive. By using jewel tones such as magenta pink, eggplant purple, sapphire blue, jade green would be the most common color options and easiest way to do this. This works so well because these gemstones inspired hue are all on the darker side of color spectrum and share cool undertones as well. 
Periwinkle and violet. For the winter wedding, an icy blue and purple bridesmaid dress color would be so especially dreamy. Everyone must create the most balanced group by choosing 2 or 3 colors and then have the bridesmaid pick dresses which are similar to each other in the neckline, length, and fabric.
Matching french blue. Color of the year, a classic tone which would be so perfect to experiment with the same color or different style bridesmaid dresses trend. You will achieve a modern classic look by outfitting your bridesmaids in blue dresses with different necklines and details like lace and ruffles. 
Mix and match navy blue. Being timeless in wearing a bridesmaid dress is achievable by using navy blue which is such a sophisticated color for any season. By outfitting the bridesmaids with various necklines you can give this dark blue shade a less formal vibe.
Seafoam green and blue. Are you having a beach wedding? Bridesmaids dress colors that will speak to your inner mermaid are seafoam inspired greens and blues. These colors would be so perfect and pretty on flowy dresses made of lightweight fabrics such as chiffon, tulle, and organza. 
Tropical prints. Styling bridesmaids with tropical print is perfect for a beach wedding. Island getaway theme for bridesmaids like palm leaf patterns and cheery colors like peach and blue would fit.
Garden inspired greenery. Are you going to get married in a garden setting? You can make a statement by having all of the bridesmaids wear floral print dresses. Oh my this would be so lovely. If you're worried about the pattern being too overwhelming, choosing dresses with an understated color palette like cerulean, sage, mint would suit.  
Dark emerald. For fall and winter weddings this luxurious hue is universally flattering which is why it's one of our all-time favorite bridesmaid dress colors for fall and winter weddings. Choosing mix and match velvety dresses in dark emerald color while adding white bouquets for a gorgeous contrasting look. 
Satin shamrock green. Whether you're getting married around the holidays. Shamrock green would be a festive color for your bridesmaids. If you're matching satin dresses with high low hems they are chic but not so stuffy which is great for dancing and will give the bridesmaids chance in showing off their stylish shoes. 
Teal and white. If you will match skirt and top sets it would be so stylish alternatives to ordinary bridesmaid dress options. For a moody wedding vibe, you can opt to dark teal skirts with white crop tops. 
Dark floral prints. An edgy romantic aesthetic is achievable with dark floral print bridesmaid dresses. It will look so amazing next to a blush pink wedding dress.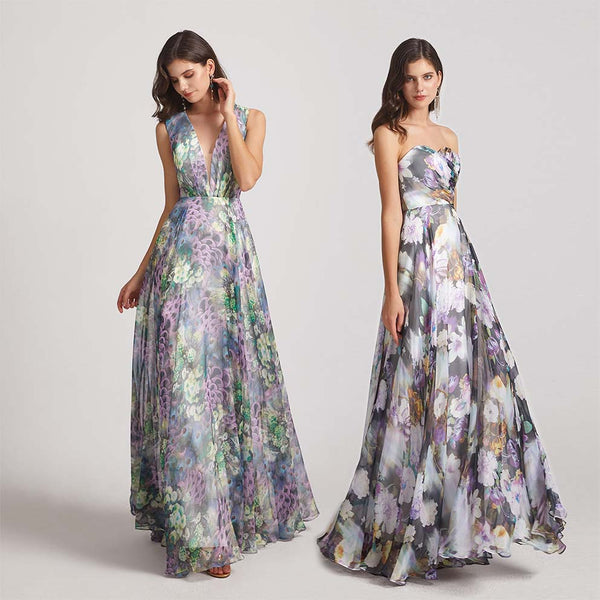 (shop floral bridesmaid dresses)
Mix and match black. If you would like the same color but different style bridesmaid dress trend, black would be one of the easiest colors to help you pull off the look. You can use the dresses with the same fabric for the most formal effect. You can also experiment with black dresses with different materials such as velvet, sequins, or satin. 
Black and raspberry pink. Breaking up the black color palette with pops of pink raspberry in your wedding attire whether it's maid of honor's dress or flower girl's tutu.