What Is The Best Fabric for Bridesmaid Dresses?
Have you ever had the experience of receiving a bride's invitation? I bet you did! This article is perfect for you. Then, there is only one thing that you need to do for your goals. Well, that is to show up with the perfect dress, makeup, and hairstyle in the event. How? Now, here you will find all kinds of bridesmaid dresses, we will tackle and delve the best fabrics for the vintage, and for the latest trend. It will be magical. It will be inspiring. It will be informative for you to read this article.
From romantic and being dream like-esque to being refine, elegant, and luxurious, fabric shapes are the essence of a bridal party dress for the bridesmaids. The design, style, and cut go hand in glove with fabric in bringing a designer's vision to life. When you find the perfect fabric for your body type, the effect is magical. Discovering a variety of beautiful fabrics and styles is easy.
The bridesmaids are the most important assistant to the bride since they are also witnesses of the event itself. They always give their full support to the bride before, and during the wedding day. Bad jujus are gone because of them, they drive evil spirits away since they look like the bride they help in making the ceremony more lively and fun. Planning the perfect outfit for he bridesmaids is a lot of work. But brides are always with the bridesmaids on organizing everything. The support from the bridesmaids that the bride has is an amazing one.
Style and color is not the only factor in the bridesmaids dresses because it is the fabric that makes up the overall effect on the look of the bridesmaids on her most presentation wedding day. So if you would choose different fabrics, it would entirely be different even if it is the same color. Also, depending on how soft the fabric may be or how structured it is. It is the dress pattern that would drape differently.
Bridesmaids dresses are always available in different fabrics similarly like wedding gowns. In the theme and formality of your wedding, when you are very sure, and you decided your options already, you can find the best-suited bridesmaid dresses. If you are either letting someone else do the shopping for you for the bridesmaid dresses or you if will order online, it is good to know and helpful what you will be getting. It is very crucial.
In making your decision, the primer on bridesmaid dress fabrics will provide you with information about it.
Some Of The Info Graphics Regarding The Fabrics
Regarding the fabrics, it is best to be informed. You should be informed about the terms such as the fabric, the finish, the fibers, and blends, and so much more. On the other hand, if you are a seasoned expert in textiles, these terms may mean the same thing in your comprehension. But, even if they look the same or mean the same to you they refer to different things. So, you have to understand your options. You should also gain an understanding and knowledge of what this term means. Here are the terms for your info. This would be very informative and helpful to know.
Fibers. They are the strands that are used in making yarn. The strands are the smallest or the most basic unit of any piece of clothing. For example, a dress that is cotton. A cotton dress, is made up of fibers from the cotton. This comes from a cotton plant. The other fibers are consisting of silk, wool, and hemp.
Fabric. When fibers are woven or knitted they can create a fabric. This means, that fibers make up a fabric. When yarn is woven together in different variations and ways. Such as the number of horizontal threads and vertical threads used or how they are interlocked. It will depend on the pattern and thickness, and the structure of the fabric. Different things will vary.
Blends. This is referring to a different combination of fibers that is in a fabric. Using the same fibers in a fabric is not always necessary. Like for example the synthetic fibers maybe mixed with the cotton fibers like polyester in creating a durable and wrinkle-free fabric.
Finish. This is referring to the final look and feel of the material after the rendering and the processes that are ready for use in the garment. So, for example when a satin is finished which is achieved with different combinations with types of fibers. If a dress is called a satin there is a characteristic silky sheen. This means that it is not a necessity that the satin is made out of silk fibers because this can be achieved also by suitable combinations of the other fibers.
If our topic is all about bridesmaids. We emphasize more on finishes since it is more important so we are more interested in finishes, rather than the fabric, blends, or fibers. So we will tackle all about the common finishes which are seen in our collections. You can learn more and about each of them in greater detail.
Chiffon. This is a lightweight sheer fabric that has a distinct see-through characteristic. It is slippery, light, and is softer than a georgette, which it is sometimes often confused with. There is a main distinction between these two which is that chiffon is more lustrous and smoother. Chiffon also does not cling, that is why it is a good choice for the dresses with layers. Chiffon is commonly used in a layered style, in covering up the sheer effect that is the characteristic of the material. The light fabric feels amazingly cool on your skin. That is why this material is usually ideal for outdoor weddings during the warmer months. You should always keep a note of the current season.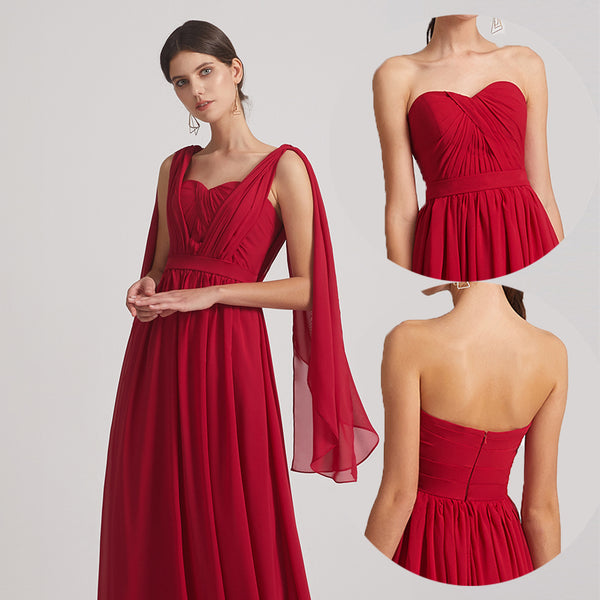 (get this chiffon bridesmaid dress)
Satin. This is referring to the weaves that have smooth and shiny surfaces and dull backs. Satin is usually originally made from silk. But, nowadays synthetic varieties can be used in making a satin. It has a very luxurious look and it is typically fitting the word silky. It is very soft and is very lustrous. It has drapes that are snug. That is why this is a good choice for dresses that are form-fitting. There is a characteristic sheen from its light glossy surface which makes this material appropriate for night time events. This may not be good for outdoor events in warmer months, because sweat is usually seen. The weight and the actual thickness usually depends on the materials that have been used in crafting the satin finish. This is the reason on how you can expect a silky satin to have a different feel from satin that is made from polyester or rather from a rayon.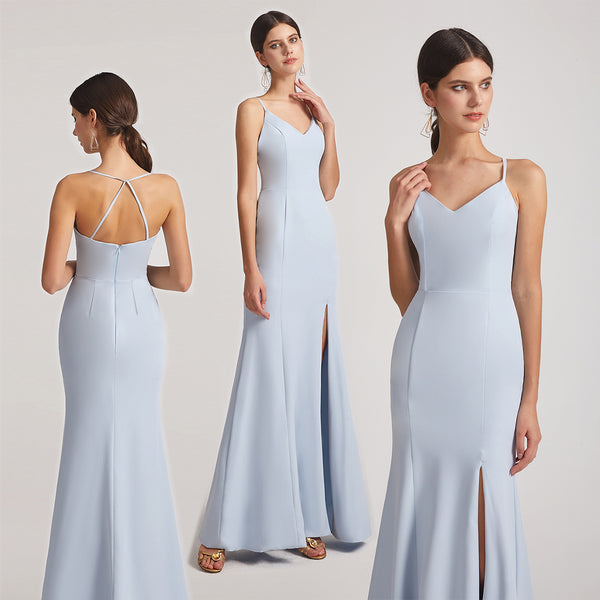 (get this satin bridesmaid dress)
Georgette. This is often confused with chiffon because it is also a thin, sheer fabric. But the difference is that this is less lustrous but springier. Compared to the chiffon it is dull. Originally a georgette comes from the silk. But the finish is achieved using polyester that is a synthetic fiber. There is a crispy crepe like structure that is a characteristic feature of a georgette. This factor distinguishes it from chiffon. The drape is similar but it is slightly heavier than the chiffon.

Mousseline. It is having a silky finish and a lustrous texture which makes it a lightweight and sheer fabric. This is also originally derived from the silk which is now available in synthetic fiber blends. This is more structured and heavier than its chiffon counterpart. This is also known as mousseline de soie which is often paired with a soft overlay that has a more dramatic effect.
Tulle. This is derived from the word tutus which is similar to a very fine netting. The finish is super lightweight, and this can be made from different types of fibers such as cotton, silk, and nylon. It is used as the uppermost layer in dresses and can also be used to add a defining layer to a dress. Since it has a sheer nature of its fabric which makes it necessary to use in several layers or as an overlay. This material is commonly used in most wedding gowns. But of course, the bridesmaids feature this material as well.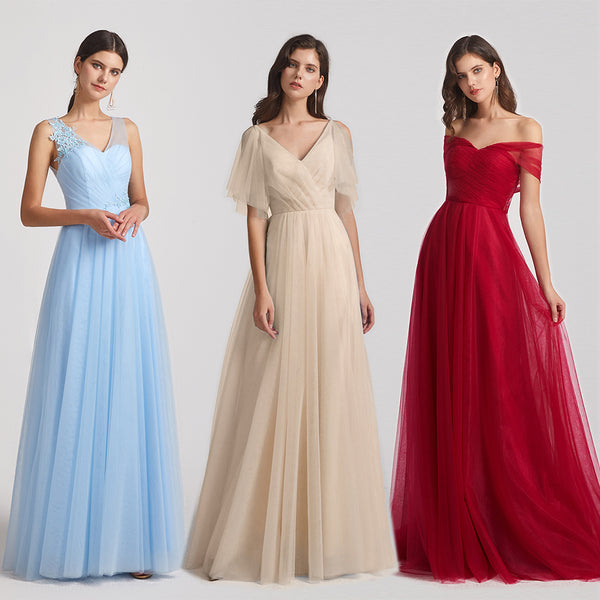 (shop tulle bridesmaid dresses)
Lace. It has made its name as being vintage, which possesses a weblike structure that is formed with intricate details maybe done by a machine or by the hand. The lace can be made from a lot of synthetic forms such as yarns, silk, and cotton. There are different designs and motifs which can be incorporated with lace which also takes up different forms and also different names. It has to have a thicker fabric layer beneath it because it is sheer. The lace can be used in creating a beautiful illusion style for the sleeves, on the neckline, and as well as the back of used without a lining. The most common laces are florentine lace, Alencon lace, chantilly lace, and the most recent one which is called a laser-cut 3d lace.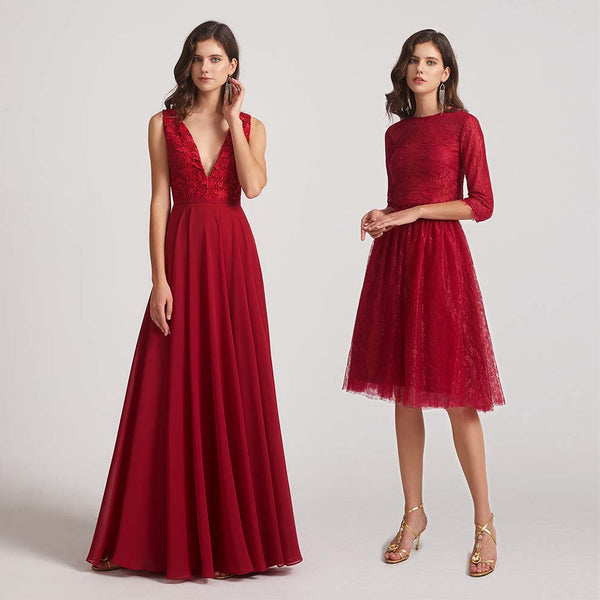 (shop lace bridesmaid dresses)
Dupioni. It has an almost iridescent effect Dupioni is a crisp form of silk. By mixing different colors of thread as by weaving the unique feature, this is achieved. Since the surface of the fabric is very lustrous, the weave that is tight does not let any light pass through. Having a quite heavy fabric makes this fabric quite suitable for cooler evening receptions and weddings during the winter or autumn.  The surface of the texture makes the colors pop that is why this is an excellent choice for bright colors. It is also stiff which holds its shape.
Jersey. It is a stretchy fabric since it has a closed knit structure. One characteristic feature of Jersey is that it has one flat side with the wrong side showing fiber piling, as well as being very lightweight. When there are more than two single jersey layers that are knit together the finish is so much heavier which makes the stretch relatively reduced. Having a beautiful drape Jersey is a fantastic choice for the bridesmaid dresses. There are interlocking knits that make it very comfortable, this makes it an ideal choice whether you are looking for a snug-fitting garment that feels so comfortable.
Crepe. It has a crispy appearance which usually looks like it's crinkled. It can be made using a variety of fibers such as wool and silk. The fabric has a structured and rigid characteristic which makes it a definite drape that does not fall softly. However, being lightweight and stretchy the fibers making up the crepe determine its heaviness and one form can be very distinct from the other such as in overall luster and appearance.
There are two main factors that are to be remembered if you are choosing a finish for the bridesmaid dresses. That is how suitable the material is for the weather and how you would like it to drape on your bridesmaid.
It depends on the body structure of your bridesmaids on the bridal party. No one is the same. Some individuals have a slim and toned body, some are voluptuous, while others are ruler shaped, pear-shaped, and apple-shaped.  So you may play around with your fabric to find which is the best fitting for them. You want them to look at their best, aren't you? Of course, they want that as well. Hiring a stylist might be also an option, after the stylist arranged the best fabric for the bridesmaids you can decide what to buy. Since slim and well-toned figures can carry figure clinging fabric finishes, structured drapes are more suitable for girls who do not want to highlight certain parts of their body that will further show their best features.