Floral Bridesmaid Dresses: Best Spring & Summer Wedding Choice
Preparations for your wedding such as deciding on the venue, theme, seating plans and selecting your wedding gown will probably have you snowed under with all the decisions you have to make. On top of them, there are bridesmaid gowns that you have to think about. Bridesmaid dress shopping takes less time than shopping for a wedding dress, but even so, you should still sort it out months in advance. We all know that trying to decide what your besties will wear on the big day is not the easiest task. While shopping for maids of honor dresses can be a fun bonding experience with your besties, the process can also pose some challenges. Finding the perfect dress for several women who have different personalities, styles, size and figures is bound to cause a bit of stress.
All brides want their wedding bridal party to look and feel amazing. Does your wedding ceremony fall between March and September and you are on the lookout for bridesmaid gowns for your squad? In typical wedding fashion, bridesmaids are usually wearing matching dresses in the same hue and some may have a slight variation in style. Recently, many modern brides are doing away with badly fitted shapes and in favor of fashion-forward bridesmaid dress trend. Instead of the usual solid hues that are a norm at weddings, they have now given way to dresses with flower-themed prints. If you want a unique wedding style, then floral maid of honor dresses are the way to do it. Nothing says spring or summer like floral prints which is always a staple for weddings during these seasons. 
The warm weather months is a great opportunity to leave the winter time rut behind and dress your squad in cheery, colorful prints. They are definitely a fresh alternative to the usual monochromatic matchy dresses. Besides beachside knot tying, garden wedding or a wedding in the vineyard, bright floral bridesmaid dresses are equally well suited for a bohemian style wedding. This lovely blossoming trend is an ideal way to set your bridal party apart.
Fashion trends are always changing and the same goes for the wedding fashion trends too. Although the floral bridesmaid trends have been around for a while, it is getting more and more attention among today's fashion-forward brides. Do keep in mind that a bridesmaid dress is not just a gown that can be worn only once. Ahead, you will find some affordable yet chic floral bridesmaid gowns styles that are great for outfitting your maids. These are the dresses that your bridesmaids will want to wear again and again.
Best 6 Floral Bridesmaid Gowns You'll Love
If you would like your maids to wear the same floral prints but in different styles, then the convertible bridesmaid gowns is a great choice. A convertible dress can be transformed into a variety of necklines like strapless, sleeved, halter or a chic one shoulder strap. What's cool about this style is the versatility. A bridal party's favorite style, convertible bridesmaid dresses can be used to create several types of looks. If your girls want a sexy off shoulder sweetheart neckline, just put the dress on with the waistband under the bust, and wrap each strap around the back and to the front again to create a sweetheart detail. For a more modest maid in your squad, the convertible dress can have cap sleeve to drape over the arms to cover the shoulder and the back. This will solve the problem of your maids who are self-conscious. To get this look, just drape each tie over one shoulder and fan out. Cross the tie across the back with an X and wrap them around the waist. This style also adds a little cover for the bridesmaids and keep them warm and comfortable during the chilly months or evening. A convertible dress makes every bridesmaid feel comfortable and gives them a chance to show off their personalities.

A floral cold shoulder bridesmaid dress allows your girls to show off their shoulders while slightly covering the top of their arms. This pretty and romantic dress style is a flattering look that your bridesmaids will love.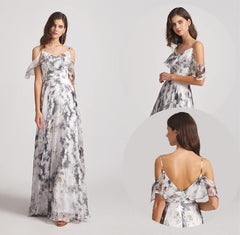 If you have decided not to have a head to toe dress in floral, you may want to take a look at this V-neck spaghetti strap maxi dress that looks like a two-piece dress. This dress is great to tone down bright colors and loud prints. The top is an open-back in solid hue and the bottom features a floor-length skirt with a lovely purple floral print. This is a unique look that your squad will love.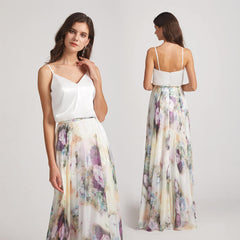 Sometimes dresses with plunging necklines are rather tricky to navigate. It may be too revealing or show more cleavage that your friends would like. Therefore, a gown with a higher neckline like a halter floral bridesmaid dress is a great option. A halter neck floral bridesmaid gown is flattering and elegant.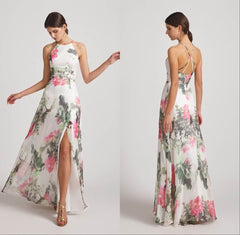 Sleeved floral dresses take a wedding to another level. Regardless of the shapes and sizes of your bridesmaids, floral bridesmaid dresses with sleeves offer a sophisticated and timeless vibe.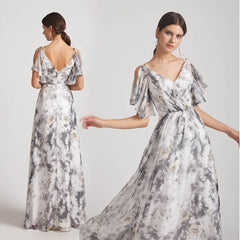 Bridesmaid dresses need not be long, especially for weddings in the summer or seaside destination wedding which calls for bridesmaid dresses in short hemline that sets the legs free. Short floral bridesmaids dresses are also an excellent choice for a modern bridal party look or for those who want a less formal option.  The knee-length styles are flattering for petite girls in your lineup.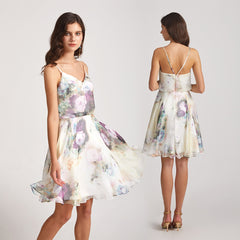 If you are planning for your girls to mix and match floral dresses, make sure to keep to the same color.
For flowers bouquet, remember to keep them simple when your maids are in floral dresses. A bouquet in one color or monochromatic hue will compliment One color or a monochromatic bouquet compliment the floral dresses.
Be consistent with the dress length. If you want your bridesmaids in maxi dresses, then only go for this style and do not mix a maxi dress with a short A-line dress.
How to Accessorize Floral Bridesmaid Dresses?
Keep everything simple when it comes to accessorizing. Avoid statement pieces and also multi-colored accessories to avoid serious clashing. A simple accessory like pendant necklace or a pair of beautiful studs is sufficient. Or you can even choose to go without any jewelry and let the floral dresses speak for themselves.
Before you start adding these floral bridesmaid dresses to your cart, here are a few things you may want to consider:-
Venue of Your Wedding
If you have already decided on the venue of your wedding day, do keep in mind if your maid of honor dresses will fit into the décor and the wedding theme. Some venues like a church ceremony may make with your floral bridesmaid dresses look out of place. Remember to find a minimalist wedding venue if you are dressing up your maids in floral dresses. Seaside nuptials or garden themed weddings are the best for bridesmaids in floral dresses.
Season Of The Year
Spring is the season for flowers thus making floral dresses the best fit for spring or summer weddings. Having said that, there are bridesmaids who don floral dresses in early fall by choosing darker floral prints. If you are planning for a fall or winter wedding and would love to have your maids in floral dresses, you may choose black, burgundy, dark blue or earthy color for a bit of edge or boho vibe.
Same Fabric For Your Bridesmaids
If your maids are going for the mix and match look like some in solids and some in floral dresses, then it is advisable to keep the dresses in the same fabric. For example if you choose tulle bridesmaid dresses for your solid, then you should also have the same tulle for the florals too.   
Don't Overpower
Floral dresses are romantic and flirty with prints that have bold visual impact.  The most important thing to effortlessly pull this stylish look is by not allowing them to appear overwhelming. One of the best ways is to have your bridal party wear mix and match dresses in different colors and prints. For example, you can have your maid of honor wearing a solid color dress while the rest wear floral bridesmaid dresses. You could also do it the other way around by outfitting her in a floral dress and the others in solid color dresses. By doing this will create a balance to nail the floral dress trend. This will also please your bestfriends by allowing them the options to choose their dresses.
An easy way to tie the bridal party together when they are wearing mix and match dresses is to get them to wear matching flower crowns. This gives the whole squad a whimsical boho vibe.
So, if you simply love to be surrounded by flowers or are looking for a unique approach to your wedding style, floral bridesmaid gowns are the best choice for you. By incorporating floral patterns into your bridal party will make the wedding photos more interesting.