What to Expect Regarding Proms in 2022
Prom nights are well known for the excitement, thrill, gorgeously dressed up couples and gatherings. Is the prom even a prom without a massive gathering? Probably "NOT". But COVID-19 has made many things possible and a lot of things impossible at the same time. Even for educational institutions, it didn't show any mercy.
Will There Be Regular Proms in 2022? 
This question is in the limelight nowadays. Students love to attend prom. It has an entire history that evidences the thrill and entertainment of this auspicious night. COVID-19 pandemic is making studies, as well as all events doubtful and un-predictable.
Coming back towards the question, it's almost the end of the year 2022. Students are excited about the events of the new year. But this pandemic has brought a twist in the entire season of events. More than half of the students who always attended prom are eager to find out whether the proms in 2022 are going to happen or not?
Let us shower upon you a ray of hope! Many schools across the world have decided not to cancel prom night. Some schools are conducting physical classes even though the circumstances are quite challenging. So, there is a chance that they might hold proms in 2022. It is quite obvious that the proms in 2022 are not going to be the normal and traditional ones.
The Concept of Virtual Proms
There is a possibility that the schools that are conducting physical classes would hold proms as well. They would have to ensure all the precautionary measures along with proper social distancing. But as far as prom nights for students whose schools are closed are concerned, the answer and possible solution to their problem are a VIRTUAL PROM.
WHAT VIRTUAL PROMS IN 2022 LOOKS LIKE?
Now the question arises: How exactly would a virtual prom in 2022 look like? Well, virtual is all about modern technology. Schools are creating a proper system to hold prom events. The good news is that the teachers, school authorities, and sponsors are on board with this entire idea of virtual prom.
Something is better than nothing. A virtual prom is way better than a no-prom. The students would connect to the event using their smart devices such as phones, tablets, and laptops, etc. Students can create small groups with their close friends and have a mini prom party at their homes. The virtual prom setup would connect all these groups which aren't that annoying.
The proms in 2022 are going to be different and students would never forget this event. Because nothing is going to be done in a normal way. Students would be able to invite their family members as well. So, to a minimal extent, the prom in 2022 is going to give a chance for a family reunion in a very different way, and the idea is quite interesting!
THE MOST IMPORTANT THING TO LOOK FOR PROMS IN 2022
A prom without a gorgeous gown and a formal tuxedo? A big "NO". This would be unacceptable. We cannot ignore the significance of a nice dress, not even during a virtual prom. Nice formal dresses, cute couples, and limo rides, this is what prom is all about. So, the point is, nothing should be missing!
Now talking about the dresses for girls, gowns are always in. The style and design may vary but nothing is better than a fancy gown for prom night. The good news is Alfabridal recently launched a wide variety of prom dress for making it easier for you to choose your perfect prom gown.
Visit Alfabridal's official page to check out the stunning variety. Let us give you some ideas so that you find it quite easier to select the right prom dress for the evening you have been waiting for so long. Let's dig into the details!
How to Choose Your Dream Dress for Proms in 2022?
Although the prom season is a bit far away, there's nothing bad or weird if you start planning your prom dress a little earlier. After all, it is going to happen at every cost. Whether you are going to spend the prom night with your partner or with a group of close friends and family, you need a dress that would take the fashion world by storm.
BALL GOWNS
Ball gowns will make you a fan of the trend. If you want to look like a princess on prom night, then a ball gown is perfect for you. These stunning ball gowns give your fairy tale effect because they have a white skirt with layers of tulle. The overall appearance is something that matters even a basic round-shaped ball gown would help you slay All Night.
TWO-PIECE GOWNS
Two-piece gowns never go out of style. You don't have to take to the basic ball gown only but you have a variety of dress ranges to choose from. The modern prom dresses having a separate top and bottom would make you look super cool. Short skirts with long-sleeved tops are also a very great idea.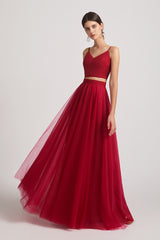 HIGH-LOW GOWNS
There are high-low gowns that you can't wait to try. This dress shows off your legs with the back which is comparatively longer and gives you a flowy look. You can find high-low dresses in almost all the colors and the styles that would meet up your expectations for your prom night and would help your vibe perfectly.
RED DRESS
Let's talk about the red dresses that are worth-trying right now. And let us tell you a secret, these good old red dresses are going to be trending in 2022. No one would be able to take his eyes off your dress because it would be a statement piece. For the night functions, the scarlet and ruby shades of red would suit the theme.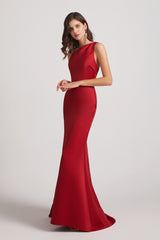 OPEN BACK DRESS 
You need an open back dress as soon as possible. The open back dresses not only make you look photogenic but also grab the attention of the entire audience. Showing your back is one of the most elegant ways to dress up for an event. It is expected that open back dresses are going to be very popular among the girls in 2022. 
These were some amazing dress ideas that would help you find a perfect dress that suits your body type. But we cannot ignore the on-going pandemic which has affected every single industry and showed no mercy to the fashion industry as well. So, you might find a little difficulty while finding your desired dress.
Just like the students, the dress designers, and fashion house owners are not sure whether the proms in 2022 are going to happen or not. So, this wave of uncertainty has caused many problems. The designers have stopped creating innovative pieces for their customers. The biggest reason behind this attitude of designers is none other than the students who did not order their prom dresses.
How Can I Get My Perfect Evening Dress in 2022? 
Alfabridals is the simplest solution to your problem. Instead of visiting a designer and ask him to make your desired dress. Visit our website and check out the amazing prom dresses collection. We can get your perfect dress for just as low as $99. There is a huge variety of colors and sizes. Select the color of your choice and the size that suits you best.
You can also get you to customize the size of your perfect prom dress only for an extra $9.99. We also offer to rush time to get ready your desired formal dress in just 8 days at your doorstep for a $30 add-on.
WHAT ELSE NEEDED FOR VIRTUAL PROMS?
Virtual prom done, dresses done, what about the home decor? Yes, you can transform your simple house's living room into a prom venue. All you need is an amazing idea and some essential material. Even the basic material would help you get the vibes of the disco club in your living room. We are here with a solution to your every prom problem.
For prom home decor, grab some fancy balloons with a golden and black theme. You can select the theme of your choice, but for now, we are telling you some basic ideas. We know that's quite typical but trust us, your living room would look amazing and you will get those perfect prom night vibes. To have more fun, why miss music? A loud music system with a strong base is not difficult to find these days.
Wrapping It Up
Let us jump to the conclusion, pretty dresses, a little decor, a gathering of the close ones, and some delicious food would surely make your virtual prom memorable. All you need to do is to make sure that you follow precautions. Make fancy masks a part of your theme. You can get a mask that perfectly matches your outfit. I hope this article has given you a lot of innovative ideas for your proms in 2022.
Happy Virtual Prom!