New Bridesmaid Dresses Trends 2023 You Have to Know
Are you planning to tie the knot in 2023?  If you are, you are most probably getting all the details such as the date, venue, theme and the invitations ready, on top of choosing your wedding gown.  The next thing on your to-do list is to pick out the dresses for your maids of honor. Buying your own wedding dress is stressful enough, so one can imagine how it can feel to find the perfect bridesmaid dress for your bridal party. There are different personalities to various taste preferences and more often, brides can find this process more difficult than they anticipate. Are you feeling stuck and not sure where to begin?  Most brides want their best friends to have fun, enjoy themselves, and feel good about wearing a dress that they are comfortable in and also a dress that can be worn again.
Like fashion trends that keep changing every season, bridal trends also follow the same route.  Every new year comes with it new season, new fashion and trends.  Bridesmaid dress trends vary from one season to another and if you are a stylish bride, you want your closest friends to be dressed in some killer bridal party style.  Want to know what is going to rule the aisle next year for your squad?  Here is a sneak peek at the new bridesmaid dress trends in 2023 to make sure that you are right on trend.
Bridesmaid Dresses With Waist Tie
There are many reasons to love bridesmaid dresses with waist tie because they are super flattering and slimming.  Not only does this dress features a minimal and sophisticated design, the waist tie emphasize the waist, breaks up the line of the body and give it a bit of a shape.  This style is the ideal option to accentuate curves if you have girls with long, lean figure.  The waist tie creates a distinct outline that flatters the body type beautifully.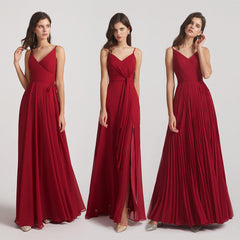 Bridesmaid's dresses that show off the shoulders are flattering and exude a romantic look. These dresses have an extra strap that supports the shoulder and sleeve, while modestly covering the upper part of the arm.  You may find some sleeves grazing the shoulder and some are draped further down the arm.  This flattering open neckline dress style looks best when paired with choker necklaces. Cold shoulder bridesmaid dresses are a favorite for both the brides and bridesmaids because of the extra support they offer compared with a strapless dress.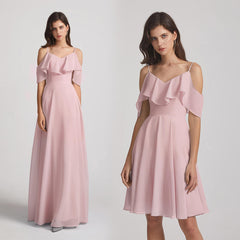 Two Piece Bridesmaid Dresses
Bridesmaids gown separates are becoming increasingly popular as this style offer many benefits.  This two-piece look which is also known as separates, are versatile, chic, and perfect for your maids. The crop top trend has become so popular in the past season and is showing no signs of slowing down.  It can be classy and still show a bit of skin.  It can be a challenge to find a dress that fits perfectly from head to toe especially if the body proportions are not the same.  With two piece bridesmaid dresses, it is much easier to find the silhouettes that flatter the figure.  It is also easy to alter if the need arises. You can choose to pair patterns with solids or go for a two-tone look to create your own one of a kind style. The best thing about a two-piece bridesmaid dress is that your girls will definitely wear each part of this outfit again.  Opting for the two-piece design allows you to outfit your bridal party for any season.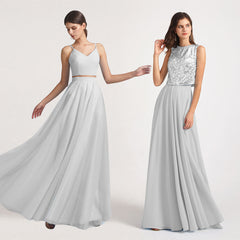 A halter neck bridesmaid dress is one of the most popular styles in the bridesmaid dress world.  This neckline is like a slimmer version of a turtleneck that ends in the middle of the throat.  If you have a conservative bridal party or prefer a modest wedding, halter neck dresses are an ideal choice. By choosing high-neck dresses, your bridesmaids can feel comfortable enough during wedding reception or on the dance floor.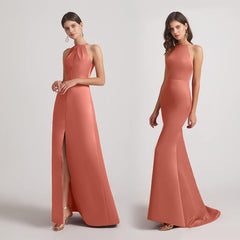 It allows your maids to show off their shoulders while drawing attention away from the middle part of the body.  It also adds an illusion of an overall slimmer figure.  The halter bridesmaid dress is very fashion-forward and flatters the upper body.  This style is a statement look and there is no need to accessorize with any necklaces. A pair of statement earrings with an updo hairstyle is all they need to rock this style.
Floral Bridesmaid Dresses 
Many brides are doing away with the usual solid hues that are a norm at weddings.  If you are looking to set your bridal party apart, then look no further than the floral bridesmaid dresses.  Although floral bridesmaid trends have been around for a while, it is not going away anytime soon.  Long gone are the days of bridesmaid dresses that your maids will only want to wear once. Your bridesmaids will thank you for choosing floral bridesmaid dresses because these dresses will definitely be worn only once. Talk about versatility!  Floral bridesmaid dresses are a staple for spring and summer weddings.  Having said that, it does not mean that floral bridesmaids do not work for fall or winter wedding.  Opt for darker or earthy tone floral dresses.  When it comes to accessorizing floral dresses, do keep it simple with a pendant necklace or just a pair of elegant earrings.  You can even choose to go without any jewelry and let the floral dress shine.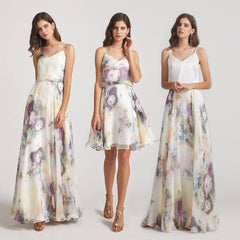 Convertible bridesmaid dresses are a highly popular wedding look.  A convertible dress is a full-length dress with a long piece of fabric that hangs from the waist.  It is one of the most versatile dresses one can buy because it can be styled in a myriad of ways.  As all your bridesmaids are truly unique, choosing convertible bridesmaid dresses will give them a chance to showcase their personal style.  Who doesn't love an outfit with options?  They are available in a variety of fabrics and can be simple, sophisticated, and dramatic.  Here are some of the ways that one can style a convertible dress:
One-shoulder - Twist the strap once or twice to keep it secure, and then wrap the excess fabric around the waist. Next, tie it in the front, on the side and in the back.
Short sleeve with coverage - Drape the straps over each shoulder and fan out the fabric out so that it covers the top of the shoulders. Next, crisscross the back panels, wrap the straps around the waist, and tie them together at the back.
Strapless - A strapless bridesmaid dress is classic and stunning.  Begin with crisscrossing the straps at the waist twice.  Then, pull the fabric up to cover the bust and then pull the straps around the back. Next, stretch them around the waist and tie a simple knot or pretty bow at the back.
Cap sleeve - Start by draping one strap over each shoulder, crisscrossing them in the back.  Next, wrap the strap around the waist, and tie them together.  Pull down on the fabric a bit at the shoulder until the desired length to create the cap sleeve.
Sleeveless - The sleeveless silhouette is the easiest to style is one of the more popular weddings looks.   Just put one strap over the shoulder, do a criss-cross at the back and wrap the strap around the waist, and tie.
The Best Place To Shop For Bridesmaid Dresses
The best place to shop for bridesmaid dresses that will fit, flatter and make your girls feel like a million bucks is at Alfabridal, an online retailer specializing in the latest bridesmaid fashion.  Alfabridal has a stellar collection of gorgeous dresses that will fit any wedding vibes.  Their designs are fresh, romantic and modern.  Another reason to shop with Alfabridal is their dedication to size inclusivity. Their extended range of sizes are from US2 through US26 which means that your bridal party can wear the same dress and feel amazing regardless of their size.
Due to the current pandemic and everyone is trying to stay at home to practice social distancing, Alfabridal makes it a seamless and straight-forward experience for both you and your maids to shop for the dresses online.  If you are not sure what color to choose from, you can order a fabric swatch to test before you make your purchase.  To ensure that the dresses fit well, you can refer to Alfabridal's size guide chart.  All the bridesmaid dresses are handmade to order and once you have placed the order, you can expect to receive the shipment within 3 weeks.
A wedding can be a wildly expensive affair and if you or your best friends are worried about reaching deep into your pockets, well don't worry.  Alfabridal is here to save the day with every one of their beautiful and high-quality bridesmaid dresses retailing for under $100.  Now that you know the best place to buy bridesmaids dresses online, be sure to check out Alfabridal today.