Top Wedding Color Palettes We Love
As soon as a wedding plan starts to unveil itself, one of the most crucial point to decide for one's special day is the wedding color. It is of great significance to consider since much of the wedding details will go over it. From the wedding invitation, the entourage's outfit, the bridesmaid dresses and even the wedding cake just to name a few. Safe to say, the wedding color is what binds the whole wedding outlook that the couple would like to go for. Whether you are going for something more classic or more modern, choosing a wedding color palette will definitely help a lot in building an impeccable wedding celebration. It could be an overwhelming task at first but once you have a particular wedding vision in mind, everything will fall into place.
If you are someone who is about to walk down the aisle, we hope that these five color palettes will help you. What we have here is a humble mix of classic and trendy palettes that would easily match the aesthetics of today's couple.
Bohemian Jewels
This color palette is composed of muted colors such as maroon, moss green, cream, mauve, and gray.  This makes the most out of neutral shades which give off a regal and dramatic impression. Although this color combination is often utilized during fall or winter season, you can definitely have this on your wedding all year round. This is also best if you want to go for a bohemian feel since the colors in this palette can be very much associated with the usual earth colors. Why do we love this palette? This is also works for a vintage-inspired wedding.
Rustic Rush
This palette is one of the best loved color combination when it comes to being fashion forward. Golden sunsets and bright earth tones in the shade of orange are the inspiration which makes this palette full of energy. This is also probably the most Instagram-worthy aesthetic tone to date. Years ago, who would have thought that one can incorporate dried plants and flowers such as pampas grass, cotton, and eucalyptus in a wedding? This rustic look makes all of those possible. Coupled with decors and bridesmaid dresses in gold tones and brown neutrals, this makes a laid-back yet elegant color palette. Why do we love this palette? This is basically a modern twist on the classic wedding glam.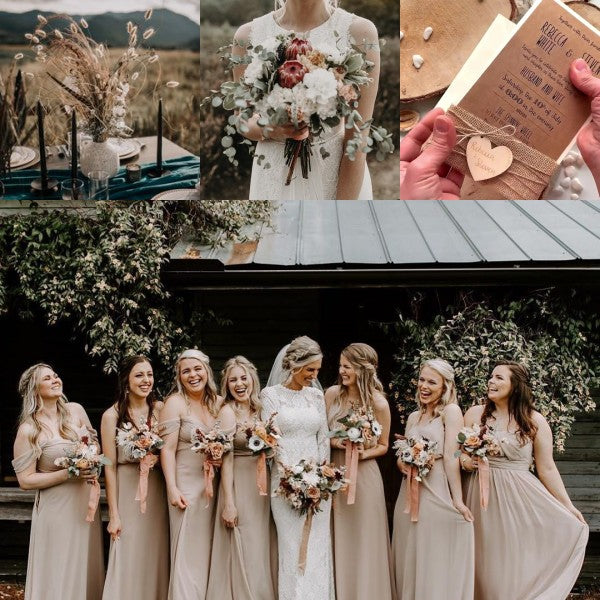 Tropical Hearts
Most to-be-wed couples find it difficult to stick to one color especially if both have specific tones in mind. But if you are one of those couples who would like to embody fun, bright, and sunny in your wedding, this color palette is for you. This palette is composed of upbeat colors present in the tropic – aquamarine blue, yellow, red, orange, and fuchsia. Perfect for beach weddings on a bright summer day, this color combo will take you and your loved ones to paradise even without heading to the nearest beach. Why do we love this palette? This brings sunshine to anybody's day!
Pastel Perfect
If you are going for a shabby chic delicate wedding set up, pastel color combinations would be your perfect choice. The pastel palette automatically transforms any wedding into something romantic. In incorporating this palette, it's important to keep balance and contrast so you may play with different whimsical patterns. Why do we love this palette? With its soft bright colors such as carnation pink, baby blue, peach, mint, and lilac, this color palette instantly creates a straight out of fairytale wedding vibe.
Classic B and W
We enjoy a classic PB and J when it comes to sandwiches. However, for wedding colors, we do have the classic black and white combination. This might be an unusual match for traditional weddings but this has taken the wedding industry by storm. Not only because this can be styled easily and in so many ways possible, but this palette is also budget friendly as it is minimalist in nature. That means you don't have to take so many considerations in pulling off these colors. Why do we love this palette? This is classic, edgy, and simply iconic!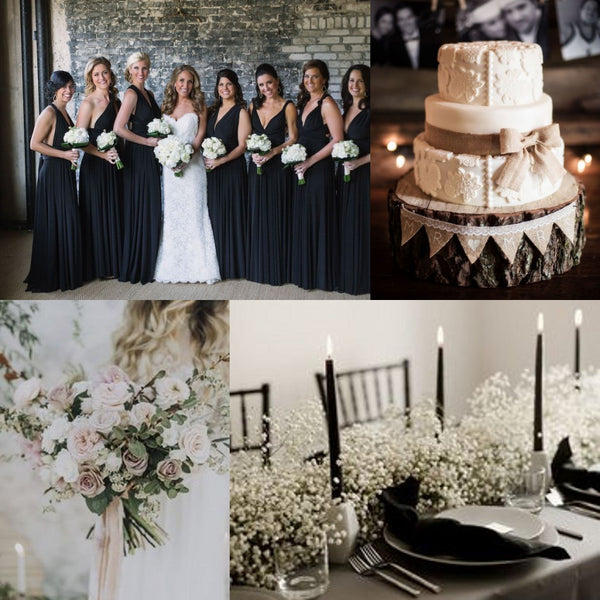 Which of these wedding color palettes do you like most? Whichever your choice is, we wish you luck on your wedding day.