The Best Place to Shop Affordable Chiffon Bridesmaid Dresses
So you are getting ready for one of the most important days in your life and one of the crucial decisions to make is about the dresses that you would be picking out for your bridesmaids. One of the biggest days in a woman's life is her wedding day.  The bridesmaids are the ones who help her plan all the finer details of the wedding. Which is why it is important that the bride chooses which dress works best and that the bridesmaid is most comfortable in.
The huge variety of options available can be overwhelming. There is a decision to be made at every step, from the designs, fabric and color.  If you have just started searching for some options, you may want to take a look at chiffon bridesmaid dresses for your best gal pals.  Why chiffon bridesmaid gown?  Wedding ceremonies usually are a full-day affair so the comfort of a maid of honor dress is very important, particularly if your wedding is held in summer and the temperature is soaring. Your best pals would sweat easily in the dresses made of other fabric. The chiffon bridesmaid dresses are your best choice to keep your bridesmaids happy all day and leave you a wonderful memory.
Chiffon is a highly popular choice for bridesmaid dresses because of its versatility and adaptability.  This lightweight fabric adds just the right amount of volume to a dress.  Lighter-than air, dreamy, floaty, and feminine, there are so many things to love about a chiffon dress.   Your maids will thank you for it.
It is no secret that preparing for a wedding is very time-consuming so who has the extra time to comb through endless bridesmaid gown retailers?  Well, no worries because there are many retailers online that can make shopping for memorable gowns easy and the best place to shop for affordable chiffon bridesmaid dresses is at Alfabridal.  This popular and leading bridesmaid retailer has a gorgeous and affordable bridesmaid collection where you can expect to find dresses that cater to all body types from petite to tall to curvy.  Take your pick for floor-length gowns to tea-length dresses available in a wide range of styles, colors and sizes from US2 to US26W.  Alfabridal is committed to styling real women.
Are you swamped with the not-so-simple matter of choosing bridesmaid dresses that fit and flatter your squad? Ahead, you will find some contemporary tips for outfitting your nearest and dearest.
If you are planning for a formal wedding ceremony, choose long chiffon bridesmaid dresses like this cowl neck red dress.  Red is the color of love and this simple sleeveless dress is super flattering. The skirt sways with the gentle pleats down the body.   Cowl necklines which were popular in the 90's and early '00s are making a major comeback.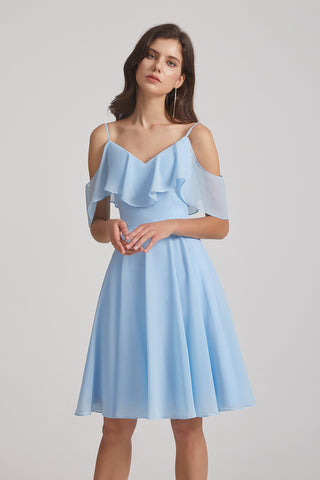 For a more casual wedding ceremony, short chiffon dresses are going to be a big hit with your bridal squad.  Light, easy and breezy, short bridesmaid dresses like this gorgeous V-neck dress below are great for dancing and help to keep your maids cool if your ceremony is going to be held outdoor.  This pretty piece is a good choice because it suits so many different body types.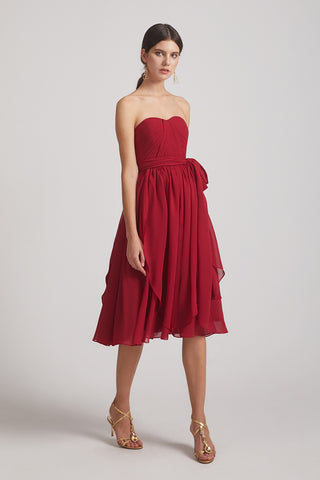 A convertible dress can address the concerns of your bridesmaids who may want a specific design or neckline.  This stylish chiffon convertible sleeveless dress could be the answer to the bridesmaids' neckline concern. Its neckline can be converted to more than one neckline such as a one-shoulder neckline, halter neckline, and even strapless sweetheart neckline.