Top 5 Sexy Chiffon Bridesmaid Dresses
It is a common scenario where brides find themselves stressing out about every single thing about their wedding so that it will be perfect. Things such as invitations to the wedding favors, to the look and style of their bridesmaids dresses. When it comes to picking out the dress fabrication that you want for your bridesmaid dresses, it can be difficult deciding between them.
If you are looking for versatility, chiffon is the perfect answer! There are so many reasons to go for chiffon bridesmaid gowns. This fabric has been a long-standing favorite amongst brides and bridesmaids alike. Below are some of the reason why you and your best friends would love chiffon:
If You Love Traditional Dresses
Most bridesmaid dresses are available in chiffon. If you are planning a more traditional wedding and want to stick with what you know, chiffon is the perfect fabric for you.
If 

Y

ou Prefer

 Form-fitting Dresses

If you prefer a dress that is form-fitting, other materials like tulle or velvet won't be able to do that. Although chiffon is a flowy material, it can easily be shaped to hug those curves because of its versatility.
Specific Colors 
If you are only looking for a specific color to match your wedding theme, then very likely that you will find that color when you look at chiffon dresses. This is because chiffon bridesmaid dresses are typically offered in a wide variety of colors, unlike other materials.
Chiffon is highly popular for bridesmaid gowns because this fabric is light and airy and ideal for camouflaging any imperfections. Due to its versatility and adaptability, chiffon is great with pleats and ruffles because it is thin enough to be folded, draped, tied and layered. This sheer fabric is great for weddings held in spring or summer because of its breathability and gentle flow.
Chiffon dresses can make anyone look fabulous with just the right amount of volume. There is a huge range of designs for chiffon maids of honor dresses and if you are looking for sexy chiffon bridesmaid dresses, here are the top 5 sexy chiffon bridesmaid gowns from Alfabridal: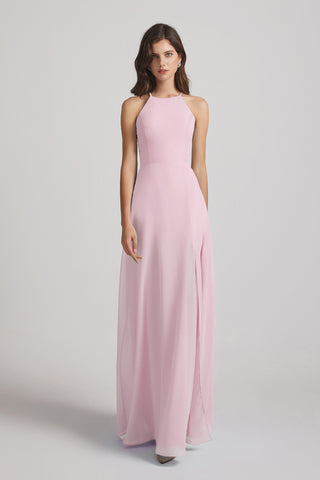 This pink floor-length chiffon bridesmaid dress is ideal for a formal wedding. The side slit and criss-cross back add a modern, sexy twist to the dress.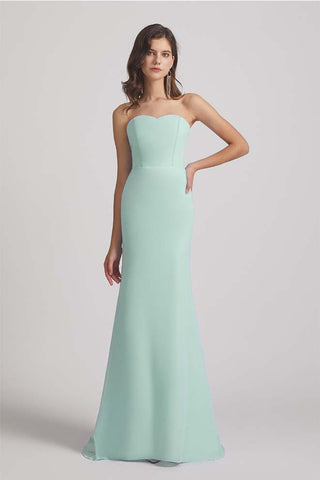 Strapless sweetheart necklines are a charming, feminine and timeless design. Chic details like the off-shoulder and low back beautifully blend the classic style with trendy features.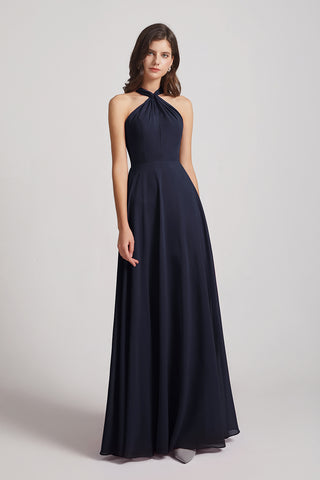 Halter bridesmaid dresses are perfect for the ladies who intend to show their sexy back and shoulder blades.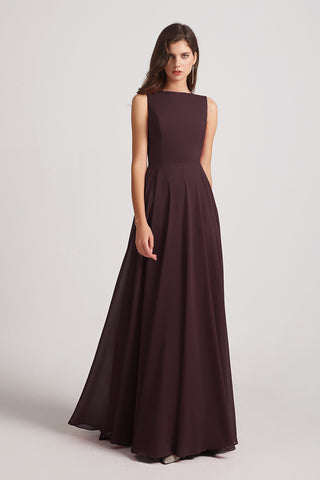 Simple and modest necklines are always a safe bet for those are having a traditional wedding, but that does not mean your bridesmaid dresses have to be boring. This sleeveless A-line gown features a sexy keyhole back design but still gives off a classic feel with its high neckline.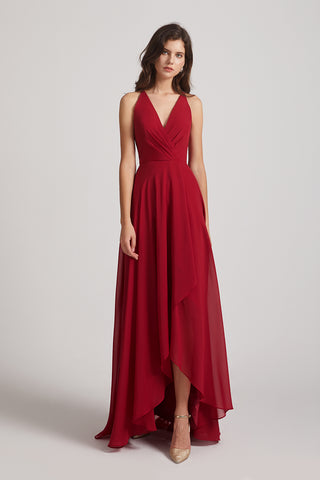 This flowy hi-lo chiffon gown exposes just enough skin in the deep v-neck and criss cross bare back. The delicate touch of this glamorous dress whispers a subtle sexiness.
Alfabridal makes blissfully beautiful bridesmaid dresses and most styles are available in over 50 hues. You will be sure to find a design and color that complements and flatter any body type.