Top 5 Cute Short Bridesmaid Dresses
Bridesmaid gowns do not always have to be floor-length. Although less popular than longer silhouette, short bridesmaids dresses are an excellent choice for bridal parties that are held during the warmer weather. A seaside wedding is also a great time to have your maids of honor wearing short bridesmaid dresses as it is easier for them to walk around the sandy beach. Whether you want a semi-formal wedding or have a couple of petite girls in your squad, a shorter hemline is what you may want to explore.
Short bridesmaid gowns are fun and cute to wear while still being stylish.  Here are some advantages of short maid of honor dresses:
1. They allow your squad to show off the latest flair on their feet. Pick some gorgeous shoes and show them off by having your maids of honor wear knee-length dresses.  It will make a really fun fashion statement!
2. If your maids are of different heights, long dresses do not work well. Outfitting your favorite ladies in short bridesmaid dresses are more flattering, especially for petite women.
3. Darker hues are trending so if you are plan on choosing a deep color for the bridesmaid gowns, a shorter style would look less gloomy. For example, a grey floor-length bridesmaid dress may look very stark compared to a shorter dress in the same color.
4. Short maid of honor dresses offer great value because they can totally be worn as a cute cocktail dress or summer dress in the future.
5. Your bridesmaids will thank you for choosing short bridesmaid dresses especially if the wedding takes place in the warm season.  Short and tea-length dresses are more comfortable on a hot day.
There are a few types of lengths for short bridesmaid gowns.  Mini length is cute and flirty, above the knee styles are great for petite shapes, and midi which is slightly longer make a good choice for those who prefer a modest look.  Keep scrolling for the Top 5 Cute Bridesmaid Dresses from Alfabridal that will suit every aesthetic and taste.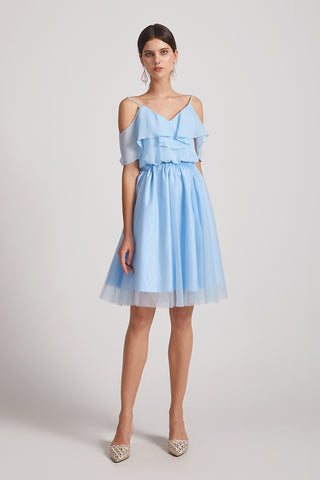 With enchanting detail like ruffles, this pretty V-neck cold shoulder dress has springtime written all over it!.  Pair it with stylish strappy heels for walking on grass.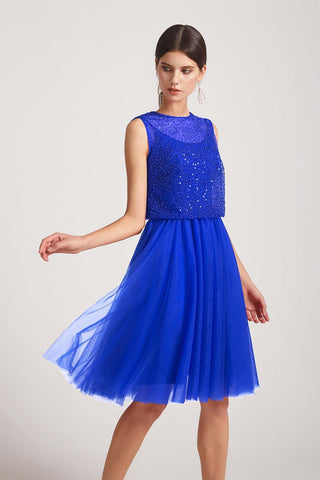 The sleeveless dress in royal blue features a jewel neckline in a pleated A-line skirt is the perfect amount of comfort.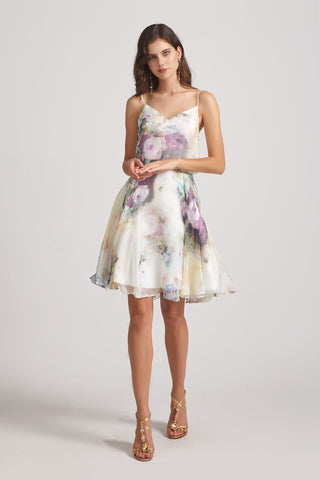 This romantic and sweet floral spaghetti strap dress is a no brainer for a spring or summer bridal party.  It will definitely become your best friends' go-to summer dress long after the wedding is over.
What reflects springtime more than florals and pastels? This coral halter sheath lace dress feels clean, modern and totally on-trend.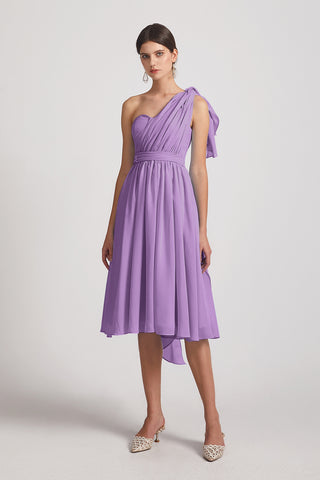 This draped convertible dress with a sweetheart neckline is a universally flattering look. The skirt falls just below the knee and offers a flowy and flirty romantic look. The sash can be used to tie around the waist or turned into a one-shoulder dress for a unique look.
No matter what kind of look you are going for, these short bridesmaid dresses are sure to be a hit with your nearest and dearest.