Where to Buy Affordable Bridesmaid Dresses?
Finding the perfect bridesmaid dress for each of your lovely girlfriends can be one of the toughest parts of your wedding planning. It's challenging as you have to take into consideration a range of body types, personal preference and budgets.  Some of your favourite ladies may be from different geographic locations.  But the Internet is here to make all our lives much easier with online shopping.  Buying bridesmaid gowns online saves time, hassle and even money than it takes to shop at brick and mortar stores.
We have some handy tips here to help you when you shop for your affordable bridesmaid dresses online:
1. Budget
First, you need to determine who is paying the bridesmaid dresses. In most customs, bridesmaids pay for their own dresses. If you're concerned your wedding might be a financial burden for one or more of your bridesmaids, focus your search on dresses in a more affordable range, or select a color you like and let them pick their own style.  This is where online shopping can be extra helpful – you can find beautiful dresses for almost any budget.
2. Browse for Ideas
You can browse thousands of gowns from the internet, flip through bridal magazines or window shop at bridal salons in your area. Alfabridal carries hundreds of elegant bridesmaid dresses at affordable prices where you can find your inspiration to help zero in on the colours and styles you like best.
3. Style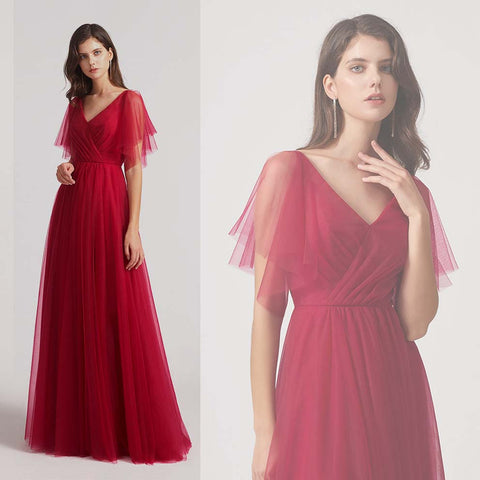 As your gals don't come in a standard body size and shape, try working with them to figure out a style that is both flattering and affordable. A trending style these days is allowing for mix-and-match bridesmaid dresses that vary in style to suit different body types, but still follow the same colour palette and are made of the same materials. This is hugely popular because it allows your bridesmaids to have the freedom to choose a style that they prefer. You set the guidelines and they find a dress that works, which is a great win-win situation.
Alfabridal offers high-quality yet affordable bridesmaid dresses in long & short styles, chiffon, lace, sequin, velvet, floral, tulle and many more fabrics. With over 50 colors and hues to choose from, girls with all shades of skin tone and body shapes, every piece of bridesmaid dress at Alfabridal comes with a price tag of only $99.
Alfabridal has made the process of shopping for bridesmaid dresses from home a breeze for the entire bridal party. This online boutique that specializes in bridesmaid dresses has hundreds of budget-friendly styles in 50+ color options for an abundance of options. To start, brides can order fabric swatches ranging from chiffon, tulle, lace, satin, velvet and sequin to decide on the color palette and materials.  You and your lovely girlfriends will appreciate even more than the quality dresses at this affordable price point is the body-positive designs that range in sizes US2 to US26W and can also be made with custom measurements. 
Finally, if you want to buy your maid of honor dresses online, try to get the dresses ready at least three months before the wedding. It takes half a month or one month for these dresses to arrive, and it may take longer if they need to be altered or replaced.