Top 5 Red Bridesmaid Dresses 2022
The colour of the bridesmaids dresses is one of the most critical decisions you will make as it sets the overall look and feel for your wedding day.  While some bride-to-be's already know exactly the colour they want for their dresses, there are others who really struggle to make a decision on colour.  When making a decision, the key elements to consider are your wedding theme; your venue; the season; the colouring & body shapes of your bridesmaids; and your unique personality!
If the venue is very grand and luxurious, then you can look at more formal gowns, and select royal coloured gowns like deep red, gold or cobalt blue. Red is an elegant color.  Red represents fire and is the most popular colour in China. It is also the national colour representing good fortune, joy, beauty, vitality, success and good luck. People wear red during weddings, festivals and other celebratory events.
In other cultures, red is the colour of passion, romance and energy, so naturally, many brides choose to use it in their wedding colour palettes. Red bridesmaid gowns add the perfect touch of romance to your big day and can work for any season, depending on the shade of red you choose. Red bridesmaid dresses can put up a beautiful contrast to your white or ivory wedding gown.
These are 5 top red bridesmaid dresses in 2020 and they can be ordered at Alfabridal, the specialist in bridesmaid dresses. Your chaperoning girls will look absolutely stunning in red on your wedding day!
This elegant velvet dress in red is made from luxurious velvet. The cowl neckline design makes this dress really charming and the V-neck cutting creates a slim illusion on girls with a round face or double chin.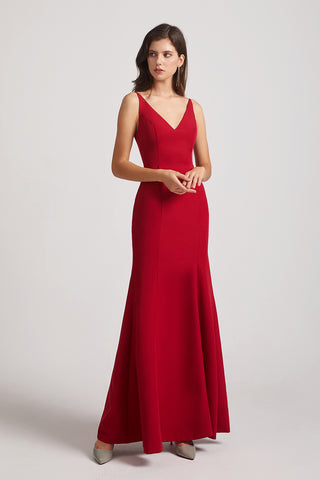 This sleeveless floor-length dress in lustrous satin has a deep V-neck cutting with slim straps, making it a sexy yet polished dress. It has a revealing deep V-neck open back with a slight fish tail ending making every step oh so graceful.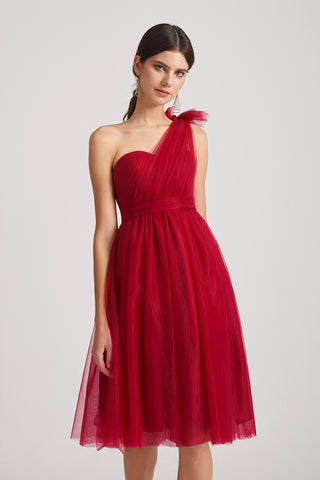 Your bridesmaid will look like a Greek goddess in this A-line dress made from tulle. The dress comes with a tulle sash that can be tied in multiple ways making this dress highly versatile. The sash can be tied in many styles and can be re-worn after the wedding in a more casual setting.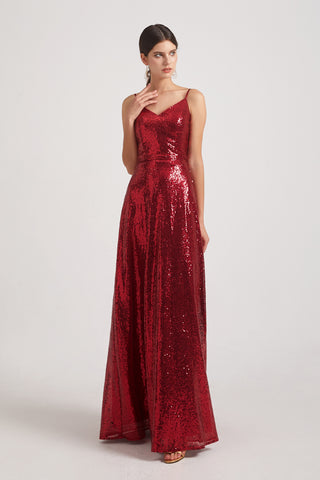 There's something about sequin that almost every girl love on their dresses! Perhaps sequins are sparkly and shimmering and it makes a girl feel sophisticated and affluent to be in a sequined dress. This floor-length sequin dress comes in red and other colours. Once put on, your bridesmaid will never want to take this dress off!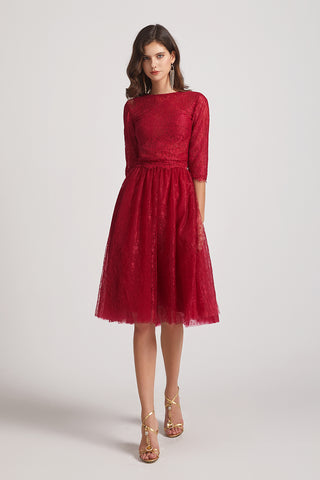 This delicate lace dress in A-line is a short knee-length pleated dress. The jewel neckline and three quarter sleeves makes this a modest yet elegant dress. This dress will be a perfect dress for bridesmaids who prefer to bare lesser skin on their shoulders. The bride's modern mother-in-law may be eyeing this modest lace dress in striking red as well!
Your bridesmaids will look amazing in red and your red beauties will only make you, the bride look even better on your big day!