Top Five Red Formal Bridesmaid Dresses You Can Try
Across time and culture, colors have been a pivotal point of interest especially in choosing one for an auspicious occasion such as weddings. For instance, purple is a color associated to royalty. Meanwhile, red has been a symbol of luck for most Asian countries. However, you don't have to limit yourself because even if you are living somewhere else around the globe, you can always go for the red color.
Red has always been a striking color. It is also associated with love and passion and not to mention, everyone looks good in a red bridesmaid dresses. Regardless of your skin tone, you won't be missed if you are wearing the color. The only thing left then to check is the style of the dress. We do have countless styles to choose from especially in this digital age, but we still have to consider if it goes pretty well with our body types and if the dress itself makes us feel more confident. Remember, confidence is synonymous to priceless beauty. With that being said, our article here will consider every body types as well as the formal occasion when choosing the perfect red dresses for you.
Red Maxi Bridesmaid Dresses 
Maxi bridesmaid gowns may not be new to the game, but it has always been a trendy way to dress up. One of the reasons why is that it is versatile and can be worn in different occasions. If you are going to attend a formal party, you could go for something bold like the ones in deep red or in summer you can opt for something brighter such as scarlet red. Red maxi bridesmaid dresses with delicate prints are also good choices. Maxi dresses would match best for those who got an hour glass figure, but anyone can always look good in it as well.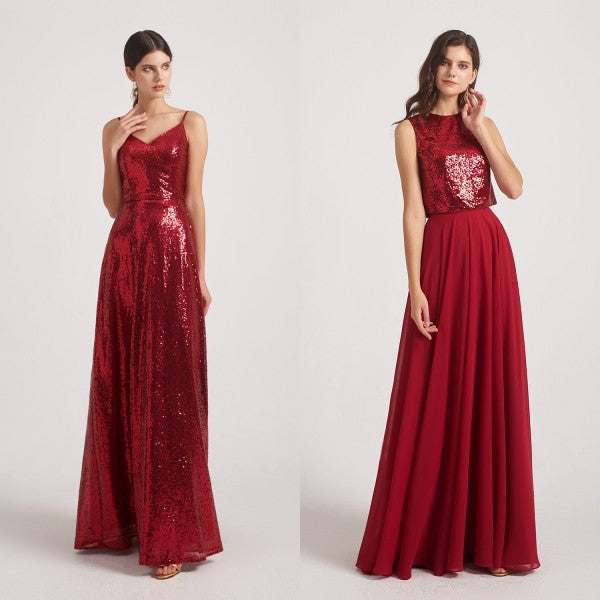 (shop maxi bridesmaid dresses)
Red Bridesmaid Dresses with Ruffles
Every lady loves a little bit of drama and flare in their outfits especially when it comes to red dresses. If you are wearing one, you know that you are already looking like a show stopper so you don't need more extravagant detail on your outfit. One detail which is apt for dresses of formal occasions are ruffles. Ruffles are effortlessly chic significantly turns your dress from yes to wow. Red ruffle maid of honor dresses are great for those who have athletic body types. While it could be chosen by everyone, the key lies in its placement. Before buying one, check if the ruffles itself are placed strategically in the dress.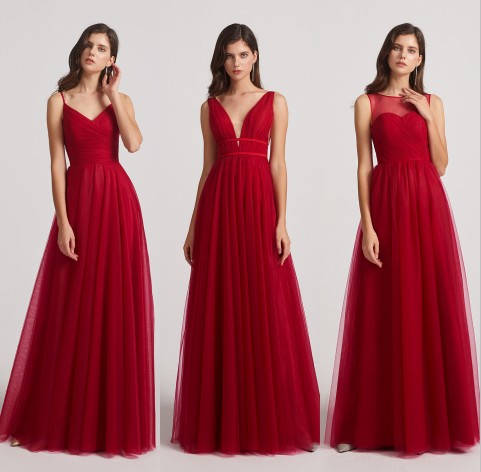 (shop tulle bridesmaid dresses)
Bold Off-Shoulder Bridesmaid Dresses 
We love the good old off-shoulder dress. Not only that it can be worn and styled in many ways, but ladies in any body type would look sexy in it. For formal occasions, we recommend wearing it in bold red tones. That way, it would make the bridesmaid dresses look more appropriate and elegant. Style it with pretty necklace whether chunky or minimalist and you're ready to rock the party all night.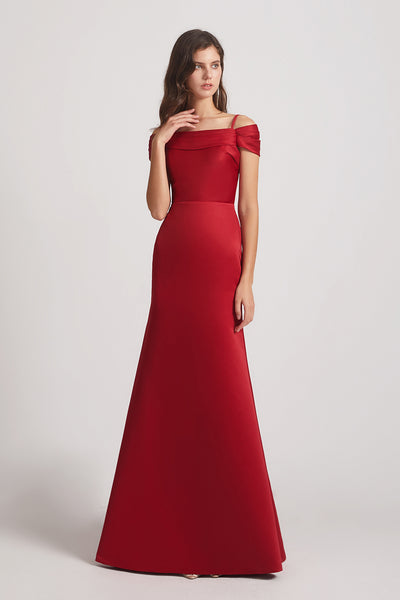 (get this bridesmaid dress)
Red Velvet Camisole Bridesmaid Dresses 
If you are blessed with a cute petite body, a camisole bridesmaid dress would be perfect for you. Not only do its length would match your built perfectly but it would also accentuate your curves. It might be a simple choice for some, but trust us, it's really not. To spice up your dress, play with the texture. A red camisole bridesmaid dress made with velvet would be great. The dress itself is also open for 101 ways of styling. You can pair it with a fun pair of boots, espadrilles, or your best nude pumps. Styling it with an oversized blazer or a leather jacket is a killer look.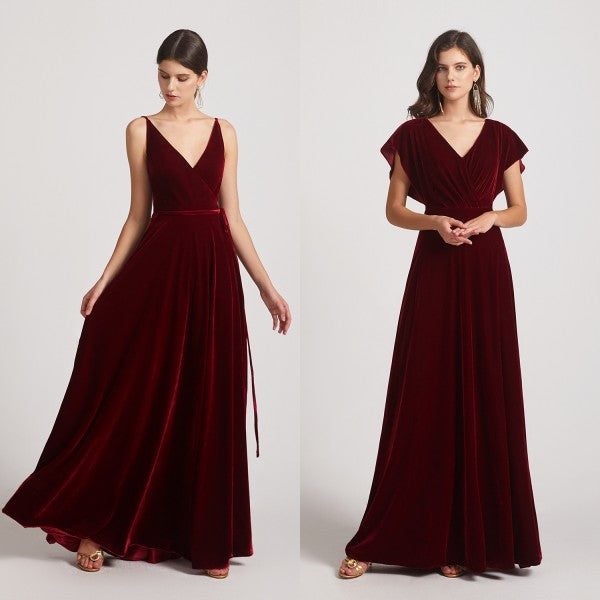 (shop velvet bridesmaid dresses)
A-Line Bridesmaid Dresses 
Ladies with a lovely pear-shaped body would look extra with an A-line dress. It would flatter their curves and highlight their best assets. A v-neckline is a perfect match for it. Red A-line bridesmaid dresses with minimal patterns or prints are the ideal choices. Going for something that would accent the waist line is something that should be considered.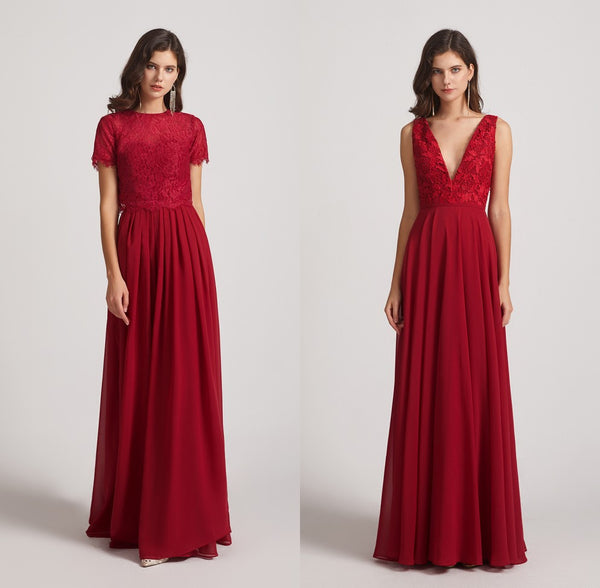 (shop lace bridesmaid dresses)
Keep in mind that being in style is not about being in the trendiest bridesmaid dress available. A simple formal dress could always go a long way and the best part about it is that you can sport it all over again in other occasions.