Trendy Chiffon Bridesmaid Dresses
Most brides today are millennials who are very much into new trends especially when it comes to fashion. Their choices does not only include the color of their clothes but also its overall styles. Weddings will always be one of the most significant occasion in a woman's life so as much as possible, it must be perfect and detail-oriented. We can't blame the brides honestly. Given generous chance and opportunity, who wouldn't want their entourage including their bridesmaids to look good on their wedding day?
Although the most important dress in a wedding is the bridal gown, we can't deny that bridesmaid dresses must also look lovely. That is because in some way, it has to complement the bride's look and the overall vibe of the celebration. For such purpose, we are listing down five of the trendiest chiffon bridesmaids dresses that we love.
Maxi Chiffon Bridesmaid Dresses with Floral print
Maxi dresses have been around for quite some time but it never went out of the spotlight. Imagine wearing one made of chiffon for a bridesmaid dress? Delicate and oh so romantic. What's more if it has flower print all over it? This is the type of bridesmaid dress perfect for an outdoor wedding or by the beach. The key is to check if the print matches the color of your wedding theme.
(shop maxi bridesmaid dresses)
Knee-Length Chiffon Bridesmaid Dresses
We're all used to seeing long and lengthy bridesmaid dresses. To keep the dress in style, and yes, to make the look interesting especially if the bride is wearing a lengthy train, knee-length chiffon dresses would be a great match. This will result into a dainty and well-thought look especially if you're going to play with the colors of the dress. Somehow wouldn't this also give a classic 1950s retro vibe? Of course it does!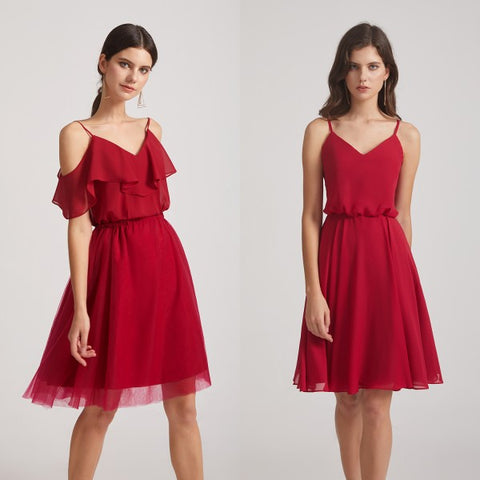 (shop knee-length bridesmaid dresses)
Off-Shoulder Chiffon Bridesmaid Dresses
We know that you want everyone to be happy during your wedding. In such occasion, tears are welcome only if they are tears of joy. Otherwise, it isn't. A key step in choosing your bridesmaids' dresses is to involve them and make sure that they love the dress as much as you do. That is also a perfect time for you to bond with each other. A great and trendy style for such them are off-shoulder chiffon dresses. Why? Because it looks simply good in every body type.
Infinity Chiffon Bridesmaid Dresses
Infinity dresses are also very much into vogue these days. Many brides opt for such because not only they are easily available online, they are also easy to style, versatile, and can fit to almost every body type. Your bridesmaid can also experiment with their looks on such dress without compromising the theme of your wedding.
Backless Chiffon Bridesmaid Dresses
This last type is not only trendy but also classy. These are backless chiffon dresses. This is a perfect choice if you are holding an intimate and somehow conservative wedding regardless if it is civil or not. Honestly chiffon dresses even in its simplest cut or style are would already fit into the occasion. However, there is absolutely nothing wrong in stepping it up even with as simple as backless dress. Think of it as a surprise number. It's also a sexy way of dressing up without showing too much skin.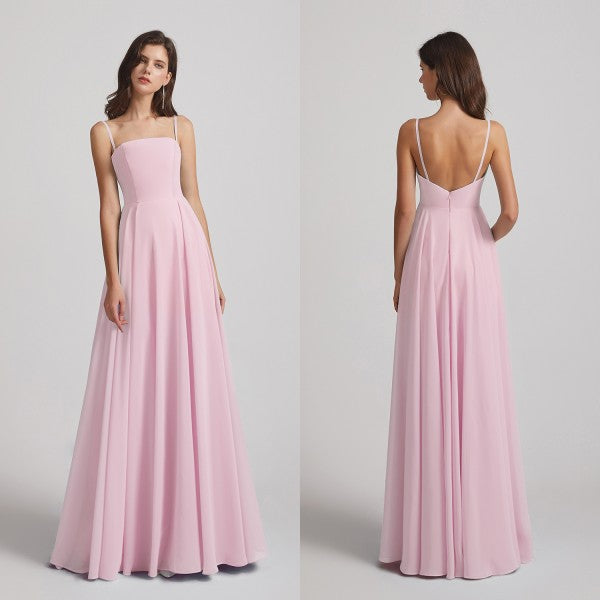 (get this backless bridesmaid dress)
Do you also love chiffon bridesmaid dresses as much as we do? We hope that the style we've chosen delights you. Which one would you consider for your bridesmaids?